Camping Propane showers are no doubt man's best invention! What most campers do not know is that Propane showers have been around for a long time. But, most people are just now realizing how useful they can be at camp. They are simple yet convenient portable devices that you can bring anywhere. A standard camping propane shower runs off a 1lb propane canister and can heat water nonstop for about two hours.
Mr. Heater BOSS-XB13 Basecamp is, by far, one of the best camping propane showers on the market. It is a full portable shower system that is reliable and easy to operate. With such a device on your camping trip, you have enough power to provide two hours' worth of hot water, assuming you are heating water at the highest setting. Some of the reasons why this beautiful ensemble stands out to include;
CSA safety certified. Safety is assured
It's cordless
Heats water up to 35 Degrees
Has a scald-proof feature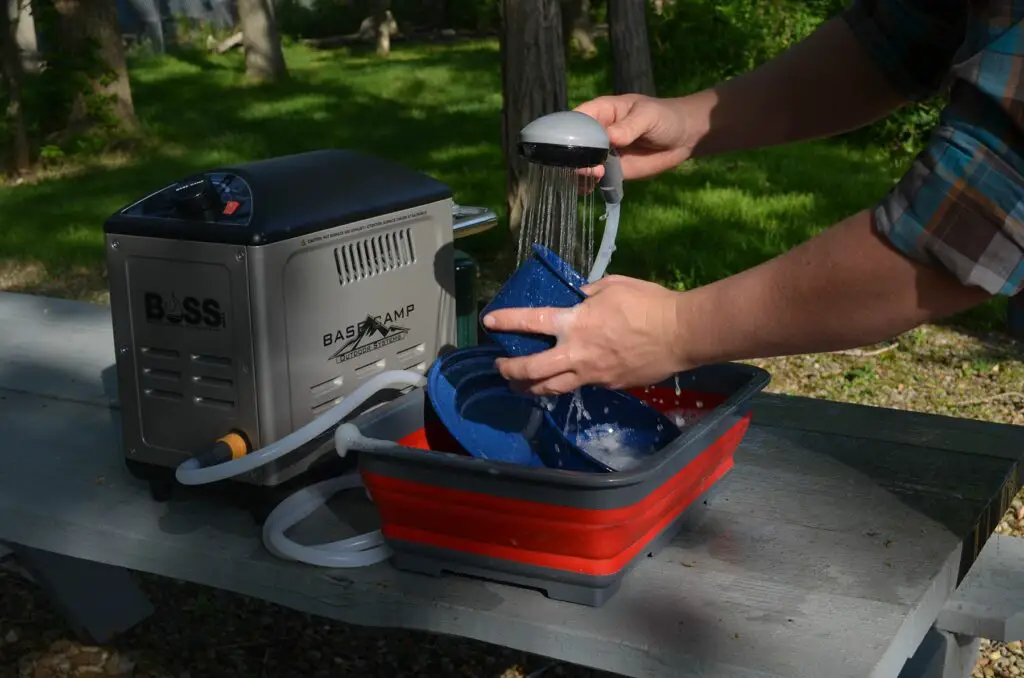 Camping propane showers are excellent choices if you plan to go for a long camping trip or spend some time off the grid. In this detailed read, you'll learn more about how these portable showers work and see top picks available in the market.
How Do You Use a Propane Shower?
Most propane showers have a flow sensor that automatically turns on when water is turned on. The flow sensor automatically activates the propane gas heater to start working. The heating will not stop until you turn off the water which in turn turns off the gas burner. 
A complete camping propane shower has three main components.
The propane gas tank which comes with the unit upon purchase
The heating system 
And the shower attachment cord
If your portable water heater doesn't work right away, check to see if the batteries are working. Your unit needs battery power to trigger the heating system to start. 
Do Showers Use a Lot of Propane?
That depends. A single 1lb propane canister is enough to last for up to two hours at the maximum setting. If you take shorter showers and use a lower setting, you will have more propane left for more showers. 
Certain factors can determine how much propane you use in a single shower. These factors include;
Length of each shower
How many people take a shower using the same unit
Heater setting. A high heater setting uses more propane while a lower setting uses less propane
The bottom line, when you're out camping, you take quick showers to save gas. 
How Much Propane Does a Shower Take?
Depending on the length of your shower, you may end up using more or less propane. Propane consumption is measured in British Thermal Units-BTUs. The amount of energy required to heat a gallon of water is 91,500 BTUs, per hour, per gallon. 
When you're out camping, a short five-minute shower will suffice. Thus, if you do the math, you'll use about 305 BTUs. 
Best Propane Camp Showers
Camping is fast becoming more modernized. Gone are the days when you'd be stuck in the wilderness without any means to heat water fast other than with a bunch of firewood and a boiling pot. Thanks to advancements in technology, campers have access to convenient appliances that make camping more clean, hygienic, and fun!
Portable camping propane showers are the in-thing for camping enthusiasts. Physically intensive activities, a simple shower can help reboot and refresh your system in readiness for a restful evening. 
But with so many options to choose from, it can be hard to figure out which propane camp shower is better. So, to point you in the right direction, below are four excellent propane camp shower options you should try out.
The Coleman Brand is no newcomer in the camping appliance arena. The Coleman H2Oasis Portable Shower is a one-of-a-kind appliance for anyone looking for a reliable unit to use at camp. 
This unit can heat water from 0 degrees Fahrenheit up to a whopping 120 degrees Fahrenheit in less than 30 seconds. It comes complete with a shower head and a six-foot silicone hose which you can easily hold or set up on a tripod. 
The Coleman H2Oasis Portable Shower has a built-in, rechargeable Lithium-ion battery used to power the unit's electric pump and LED display. The unit comes with a charger that you can attach to a car outlet whenever you need to recharge the battery.
The pump system on this unit is electric-powered and facilitates ample and consistent water flow. During purchase, you'll also get a free storage bag which makes carrying the 15lbs camp shower unit easy and safe.
Key Features:
Can heat water up to 125 Degrees Fahrenheit in 30 seconds
Instant Ignition system
Has an easy-to-operate, visible Full LED Display
Comes with a free storage bag
If you have a tankless water heater at home, this propane shower works similarly. 30 seconds after turning the water on, you have hot water. But first, ensure that the pump is properly connected to the five-gallon water carrier and that the hose is also correctly attached. Set the desired temperature, which ranges from 54 degrees Fahrenheit to a maximum of 125 degrees Fahrenheit. Turn on the shower and enjoy pure bliss, albeit for a few minutes.
Giving other manufacturers a run for their money is the range of Mr. Heater Basecamp shower range of appliances. If you want an affordable, easy-to-operate unit, then the Mr. Heater BOSS-XB13 Basecamp Shower is your best bet.
This unit has a powerful battery and a large enough propane gas tank that guarantees up to two hours' worth of hot water on the highest setting before it needs recharging. The battery uses four D-cell batteries, enough for six five-minute showers before they need replacing or recharging.
The Mr. Heater BOSS-XB13 Basecamp Shower is designed to heat water up to 35 degrees Fahrenheit, which is far more than most appliances on the market can guarantee, considering this is a portable battery-powered water heater. 
It has a temperature cut-off system and a trip switch. What this means is that you never have to worry about scalding accidents from this appliance because the safety features in place are adequate. It's an excellent option, especially if you are out camping with kids and family.
Other notable features include a built-in flow detector designed to keep water flowing consistently at a flow rate of 0.6 gallons per minute.
Key features
Can heat water up to 35 degrees Fahrenheit
Is CSA safety certified
Has a scald-proof safety feature
Has a cordless design. No need to stay close to a sink or a water outlet, fill in the water tank and get going.
The best thing about owning this unit is that you can always upgrade to different models available from the same manufacturer. The BOSS-XW18 model, for example, falls in the same price range and can heat water up to 42 degrees, and is efficient.
Want something powerful and reliable enough to tough out the cruel outdoors? If yes, the Hike Crew Portable Propane Shower will blow your mind. It's an effective system that can heat water up to 125 degrees Fahrenheit and has inbuilt temperature control for easy temperature adjustments. 
Other useful features of this beauty include the hand faucet, free shower head attachment with different spray patterns and an integrated shut-off mechanism that keeps the water from heating up beyond the maximum 125 degrees Fahrenheit.
Key Features
Comes with a safety shut-off feature that takes effect when the water reaches 125 degrees Fahrenheit.
The shower head attachment has three different spray patterns for an enhanced shower experience.
Has a flow sensor that is energy efficient and keeps a constant flow of water
An affordable unit that works even under difficult circumstances.
This unit has a water flow sensor that keeps the water running smoothly during your shower. This feature also facilitates low energy consumption while offering the best showering experience. While all of the attachments and accessories come as a free package deal, you'll have to buy the propane tank separately. 
If you love camping, hiking, backpacking, or fishing, this all-in-one water heating system is all you need to complete your experience. 
Final thoughts
Finding the best camping propane shower is like looking for a needle in a haystack. Most of the options available are either solar-powered or require an electric outlet to function. Above are the top three portable shower options that are super easy to operate, reliable, and affordable.
To arrive at these three, we factored in crucial features like;
Flow rate-Flow rate is measured in Gallons per minute-GPM. The flow rate of all the listed units is reliable and constant. You can also adjust the flow rate on each unit to suit your needs.
Power source– Some propane showers need D-Cell batteries, others have an internal rechargeable battery, and a select few need a direct 12V source from a cigarette plug on a car.
Run time-These units can run continuously for a minimum of two hours at the highest temperature settings
Maximum temperature– The listed units have scald protection rendering them safe for kids and family use.
You can bank on the above camping propane shower options to meet all your cleaning demands in outdoors.