If you are going to the Norwegian mountains, but you do not have much hiking experience, then there is a chance that you will take a lot of unnecessary things with you and forget something really important. In this article, we bring to your attention a list of hiking gear and equipment that we use ourselves and consider necessary for hiking in the mountains.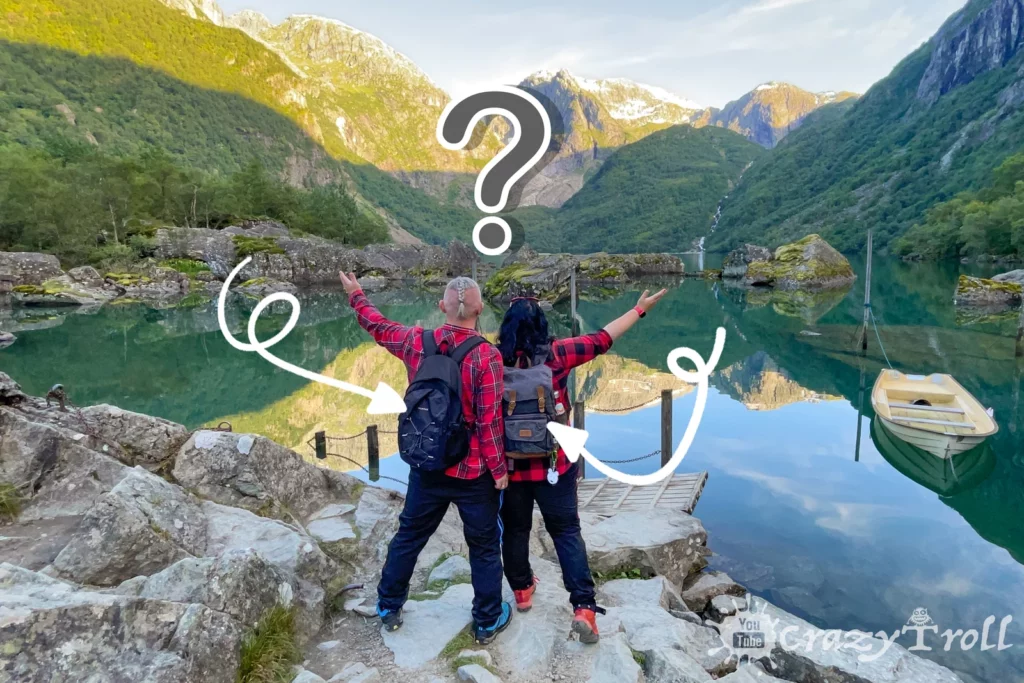 Hiking Essentials
Hiking Gear Packing List
Hiking Gear
Backpack
Rain protection for backpack
Tent
Sleeping bag
Carimat
Sitting mat
Trekking poles
Spikes on the feet
Map and Compass
Little Hatchet
Lighter, matches
Clothing and Footwear
Pants, shorts
Thermal underwear
Fleece jacket
T-shirts and Trekking Shirts with Long Sleeves
Raincoat or Windstopper
Panama / Sun Buff
Protective gloves
Underwear
Socks
Trekking waterproof boots
Personal Protective Equipment, Health, and Hygiene
Sunscreen
Sunglasses
Personal care products
Camp kitchen
Plate, Spoon, Mug, and Knife
Flashlight
Personal first aid kit
Water bottle
Sealed bags for things
Photo and Video Equipment
Money, Documents, Keys
Chargers, Power Bank, Batteries
Food and Water
The stock of food and water for the duration of the trip
Gear and Packing List for Short Day Hike in Good Weather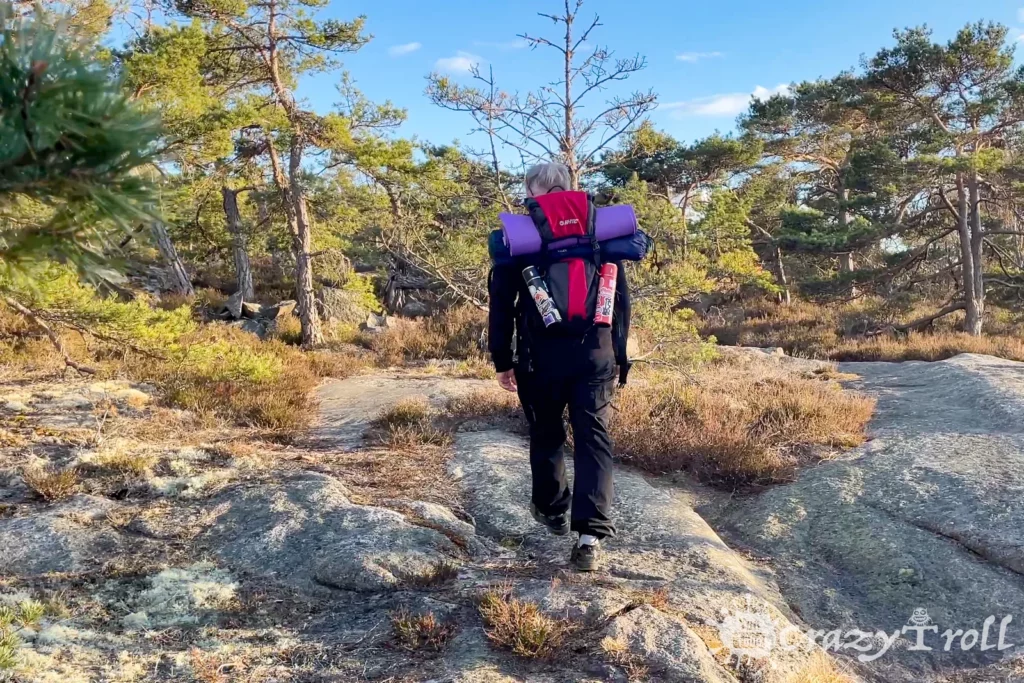 The content of your backpack is highly dependent on the route you choose, the weather, and your overnight plans. Therefore, we divided things into logical types of trips for us. And here is a list of things you will need for a short day hike in good and dry weather:
Backpack: It is more convenient to carry things on your back, a good backpack will justify itself, as it will help to properly distribute the load on your back and improve the quality of your hike.
Sitting Mat: Even on a short hike, you will definitely want to sit down to rest your legs and enjoy the view. But in Norway, the landscape consists of cold and sharp rock, which is not comfortable to sit on and can easily stain your clothes. So the padded seat will definitely come in handy for you, it is light and necessary on a hike of any duration.
Pants or Shorts: The choice depends on the weather, air temperature, and your preferences. The main thing is that the pants should not be cotton, because if they get wet, they become heavy, uncomfortable, and dry slowly. All modern trekking clothing is synthetic or semi-synthetic from waterproof materials. Try to choose ones with openable zippered holes for ventilation.
Fleece Jacket: This is an important piece of clothing in any weather, as it is light and warm, and when hiking in the mountains, these are the most important characteristics! For better thermoregulation, we recommend choosing a fleece jacket with a zipper and a hood.
T-shirt or Long-Sleeved Shirt: In good weather, this is the first layer of clothing to the body, and it should be comfortable for you. Someone prefers synthetics, but we prefer cotton. Depending on the weather, you need to choose the length of the sleeve. For example, on a clear and warm day, it is better to wear a long-sleeved shirt or T-shirt to further protect yourself from the sun's rays.
Panama and Sun Buff: In the mountains above the 1000m line, the vegetation becomes sparse. Large open spaces appear under the scorching summer sun. And in order not to get sunstroke, it is better to take a hat and a sun buff to protect your face and neck.
Trekking Waterproof Boots: We consider this one of the most important pieces of your equipment! Footwear should be durable, reliable, and with dense soles. It is better to use trekking boots with Gore-Tex membranes or their equivalents. Such shoes usually protect the footwell from dislocations, do not get wet. Also, our personal advice is not to go to the mountains in newly bought new boots, walk in them beforehand.
Cotton Socks: Since trekking boots are rather stiff, socks should be sufficiently dense and cotton and end above the boot line to avoid mechanical chafing of the skin and discomfort during the hike.
Sunscreen: Despite the fact that Norway is a northern country on a clear day, sunscreen will definitely come in handy, because in the mountains in the open space you can burn out very quickly.
Glasses: It is worth remembering that in the summer in the mountains, you will definitely need sunglasses because the snow that is almost always present at a height is very blinding.
Personal First Aid Kit: Useful on any trip, even a short one. The first aid kit should contain bandages, plasters, and hemostatic and disinfectant liquid. And also put in it the necessary minimum of personal medicines, pack it tightly, and keep it in a backpack in an easily accessible but safe place.
Photo And Video Equipment: Carefully consider what equipment you will need with you and the duration of the trip to understand if additional batteries are needed. Often there is no network in the mountains and the phone will run out faster in search of it, so in such cases, do not forget to turn on airplane mode before going to the parking lot.
Money, Documents, and Keys: Also, do not leave such important things as documents and money in the car. Put your car keys in the inside pocket of your backpack and zip them up so they don't fall out.
Water Bottle: Water is an important part of any hike, especially in the mountains and at a considerable height. Here, due to the dry rarefied air, and even in the bright sun, the liquid is lost much faster than on the plain. Much of the water leaves us with our breath. So there is a general rule – you need to drink more on mountain hikes than on the plain. But of course, it is important to listen to your own body, drink at will, better a little, and often.
Light Snack: They say that in the mountains all foods taste better. And we believe that fresh air always stimulates the appetite. So, of course, take something to eat with you, because when you reach the goal of your trip, you will want to stop and enjoy the moment. And the food will help you gain strength for the trip back. But remember, you need to take all the garbage with you and leave the mountains in the same pristine clean state as they were before you.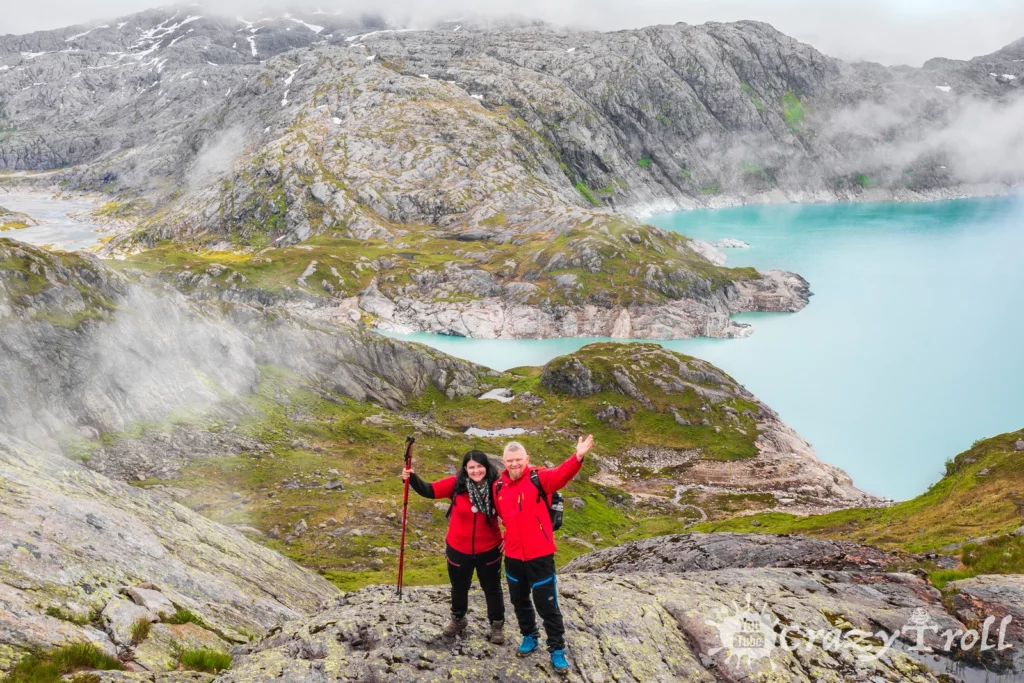 Hiking Essentials for Long Hikes with Changeable Weather
When compiling this list of things, we take into account that you have taken everything that we described in the previous list for the "Short Day Hike in Good Weather". So now we will describe additional things that will come in handy on a long hike with changeable weather and these are:
Trekking Poles: A very important piece of your personal equipment. Allows you to better balance on difficult terrain. And when climbing and descending, they will help save your legs and knees, transferring part of the load to your arms and shoulder girdle.
Spikes on the Feet: In winter, spring, or late autumn, studs on boots will definitely come in handy for hiking in the mountains. Since the air temperature varies greatly during the day from plus to minus, sections of the trail with ice may appear. And also with fresh snow that has not yet melted or vice versa. Spikes are worn on boots and do not take up much space, but they will greatly help to increase your safety.
Map and Compass: These things will come in handy on any hike, as telephone communication and, accordingly, the Internet often disappear in the mountains. A compass and a map will help you orient yourself, understand your direction, or even safely get off the trail and make a circle, for example, to some lake, confidently return back to the route.
Thermal Underwear: Thermal underwear will wick moisture away from your body and keep you dry during active walking on a hike. Thin models are suitable for summer, and dense synthetic or woolen ones made of gelding are suitable for winter. Thermal underwear is the base layer of clothing and a must-have item in your backpack during a long hike with changeable weather.
Raincoat or Windstopper: In the Norwegian mountains, the climate is harsh and it often rains or winds blow. You definitely need a waterproof and wind-resistant lightweight jacket as your top layer. It is also necessary that it has a hood and reliably protects you from bad weather.
Rain Protection for your Backpack: Consider protecting your backpack as well. It can be either a special elasticated rain cover, or an additional polyethylene poncho, or a large plastic bag. But keep in mind that the package can quickly tear on tree branches and stones.
Protective Gloves: On a clear day needed to protect from the sun. And also in some parts of the trail where you may need to climb or hold on to a rock or a chain in steep places. They will also be useful when chopping firewood, so as not to injure your hands.
Flashlight: When hiking, we recommend using LED headlamps. When choosing, pay attention to the operating time and modes. For simple hiking trips, ultra-high power is not necessary, but lightness and the longest possible time of the flashlight are important. And also, if you are not going on a hike alone, get used to not looking at a person in the face when talking with the flashlight on, it is blinding and annoying.
Sealed Bags For Things, Equipment, and Documents: Moisture can get everywhere. And it's especially insulting when she gets close to valuable things. So take the time and think about how you will escape from moisture, work out at home. Take airtight bags with you, they usually weigh a little, but they will significantly improve the mood and quality of the trip in case of rain.
Stock Of Food And Water For The Duration Of The Hike: As we said earlier, water is very important on a hike. And on a long trip, food becomes very important, as your energy depends on it. We recommend bringing something of your choice. And do not forget to put an extra couple of energy bars, which will definitely help restore strength and will not take up much space.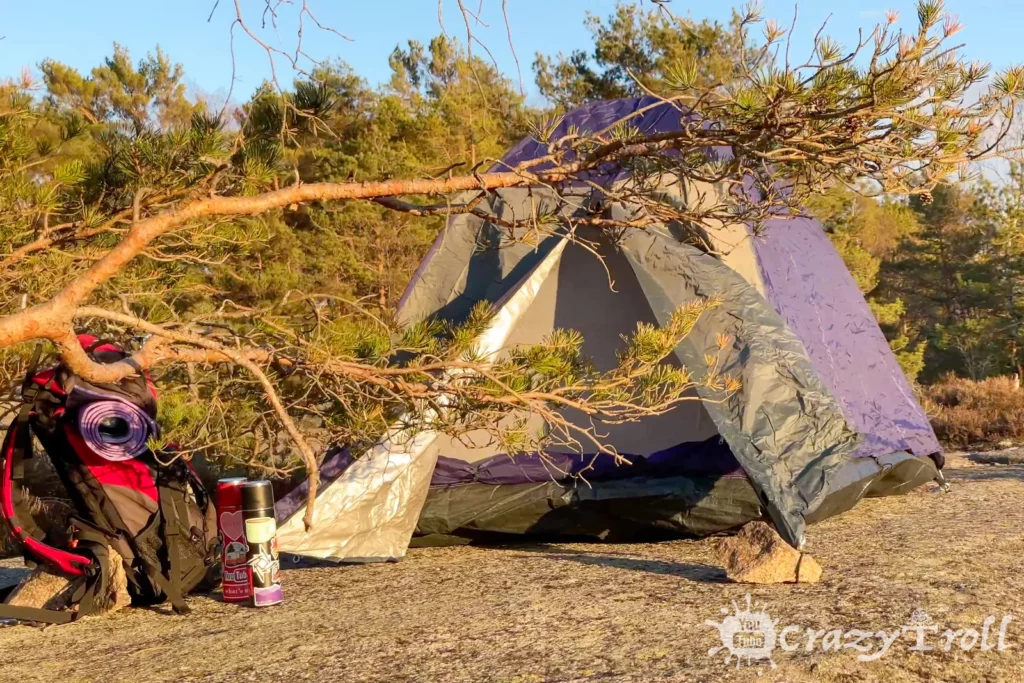 Additional Gear Need for Overnight Hiking
In compiling this list, we take into account that you have taken everything that we described in the previous two. So here are some important additional things that will come in handy in case of a long hike with an overnight stay in changeable weather and these are:
Tent: An essential part of an overnight camping trip, as it is your personal home in the mountains. The tent should be two-layer, and its frame should be reliable and light. Then it will well protect you and things from bad weather. But the pattern is that the lighter and better the tent, the more expensive it is. But it's definitely not something you can save on. So it's probably better than buying a low-quality tent to find out about the nearest tent rental places and rent it for the duration of your trip. Or arrange a place in a strange tent with those with whom you go to the mountains.
Sleeping bag: The choice of a sleeping bag should be taken very seriously. After all, it depends on him how you rest at night after a daytime transition. Usually, sleeping bags differ in the temperature at which they are comfortable to sleep. So watch the forecasts and choose according to the weather. Our advice is to always count on the fact that it will be colder in the mountains than it is written in the forecast. And for Norway, take sleeping bags from 15 degrees Celsius and below even in summer.
Karimat: Classic polyurethane mats have good density and weight, but take up a lot of space. There are also inflatable rugs, but with them, you need to carefully choose and prepare a place to spend the night so as not to accidentally break through a sharp rock or branch. But the main thing to remember is that in no case should you go camping with an overnight stay without a carry mat. The soil in Norway is rocky, cold, and uneven.
Extra Underwear: If you are hiking for several days, you will definitely need extra underwear. Think it over and take it with you.
Personal hygiene items: On a hike, as in everyday life, you will need: soap, a toothbrush and paste, a small towel, toilet paper, a comb, a tiny mirror, and other personal hygiene products. The main rule when collecting hygienic is miniaturization. Pour the shampoo and toothpaste into small tubes, so you will noticeably gain weight.
Camp kitchen: It can be either a ready-made kit, which is light and all parts fit well into each other, or a classic pot over a fire. It is important to think about what the fuel will be, if it is a kit with a stove, then do not forget to take gas, a windshield, and a lighter. And if you are going to cook in Norway on fire, then it is important to know that this will not work from April 15 to October 15, since an open fire in nature is prohibited on these dates. But when traveling outside of these dates for cooking on an open fire, be sure to bring a pot, oven mitt, a long spoon, and a small axe.
Lighter or matches: Useful on any type of hike. And in a campaign an overnight stay is necessary. The main thing is to protect them well from moisture and keep them away from children.
Small Hatchet: Useful both for driving in tent pegs and for cutting dry brushwood for a fire. So, if you are going on an overnight camping trip, take one with you, it will be enough for the whole camp.
Plate + Spoon + Mug + Knife: Dishes can be plastic, silicone, stainless steel, titanium, or aluminum. The main characteristic is maximum lightness. The easiest way is to buy a ready-made set of tourist dishes. Also, your choice should take into account the camping menu. For example, if you cook food from freeze-dried products in thermal packaging, you will not need a plate.
Chargers Extra Batteries and Power Banks: Think about what kind of equipment you bring with you and take chargers, extra batteries, and power banks with it. Keep them warm, then they will charge and store energy more efficiently. But pay attention to power banks with a solar battery, they are convenient to attach to the top of the backpack during the day trip and they are recharged. That will make their use more efficient, and the weight justified.
The stock of food and water for all days of the trip: Plan your menu in advance. Think about what you will have each day for breakfast, lunch, and dinner. And it's better to immediately put the products into packages and sign them by day. So you won't forget anything. Try to make the menu hearty and varied. Choose compact products. Do not take something that will crumble when carried, or deteriorate in the heat. If you are going high into the mountains, refrain from canned food in cans, because you will have to carry the cans back and forth. It is better to choose dried or freeze-dried products.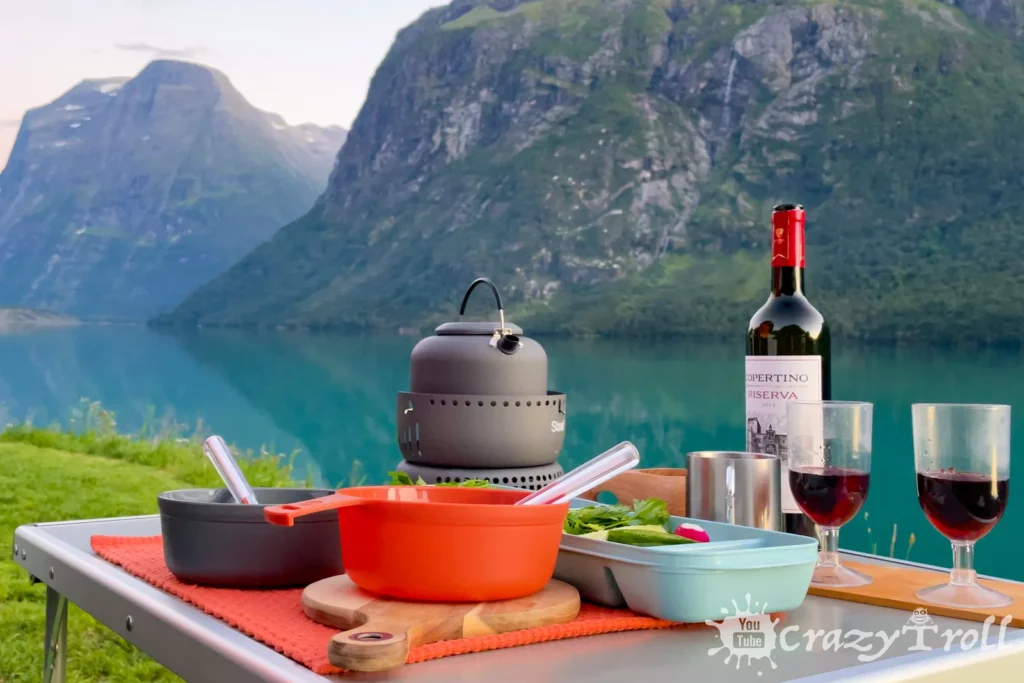 What Else To Think About Before Hike
Camping Leisure: Think about what else you're going to do while camping. For example, if there is a lake on your way and you plan to swim, do not forget the things for this. It is better to take a towel made of microfiber, it dries quickly and takes up little space. Also, if you are not going alone, take an interest in the interests of your comrades and share the games. Someone can take small camping chess or cards. They do not take up much space, but they will perfectly help you to occupy yourself in bad weather.
Choose More Suitable Clothes: Try to take something that dries the fastest and is not heavy. For example, instead of a wool sweater, take a fleece jacket with you, and instead of a huge raincoat or umbrella, take pants and a jacket made of waterproof membrane materials.
Remember the rules of free camping in Norway: Norway is one of the few countries where free camping is allowed, but you need to follow a few simple rules. And we wrote about them in detail in an article on our website (link!)
Calculate the number of things you need: It is important to correctly calculate the days of the trip and the things you use. For example, if you're hiking for 2 days, you'll definitely need a few pairs of socks and maybe extra t-shirts. And also a sealed bag where to put already used ones.
Don't take too many things on a hike: Often people take a lot of unnecessary things with them, and as a result, their backpack is much heavier, fatigue comes faster, and the enjoyment of the hike is reduced. So it's important to stick to your basic thoughtful list. No need to take extra cosmetics, laptops, thick books, and extra clothes. And also if you are not alone on a hike, you should discuss the list with your partners so as not to accidentally take a few bowlers or axes.