In Norway, glaciers are a large part of the landscape and can be found in nearly every region. Your visit to Norway may become your unique experience if you will choose to visit and least one of the spectacular glaciers of Norway.
Some of them are not easy to reach, but some are much closer than you might even imagine. Here's everything you need to know!
The glacier ice hikes that you can do on them range from easy to difficult, but they're all beautiful! This blog post will list five glacier hikes that you can do in Norway. If you are interested, don't forget to take a glacier museum tour.
These glacier tours are a great way to learn more about glaciers' history and how they exist. Recent studies show that the total glacier area is reduced by 12% since the 1960s, which is why it is worth visiting glaciers as soon as possible.
Jostedalsbreen glacier
Jostedalsbreen glacier is the biggest glacier in mainland Norway. It is located in the southern part of Jostedal valley and has a surface area of about 487 km² (188 sq mi).
Jostedalsbreen glacier is surrounded by large mountains and the highest mount is 2083 meters in height. The thickness of the ice varies depending on where you are measuring it, but entire areas are frozen more than 600 meters down.
There are many glacier arms and some of them are easy to visit. Here is the list of our favorite places and short videos we posted on our YouTube channel from our road trips.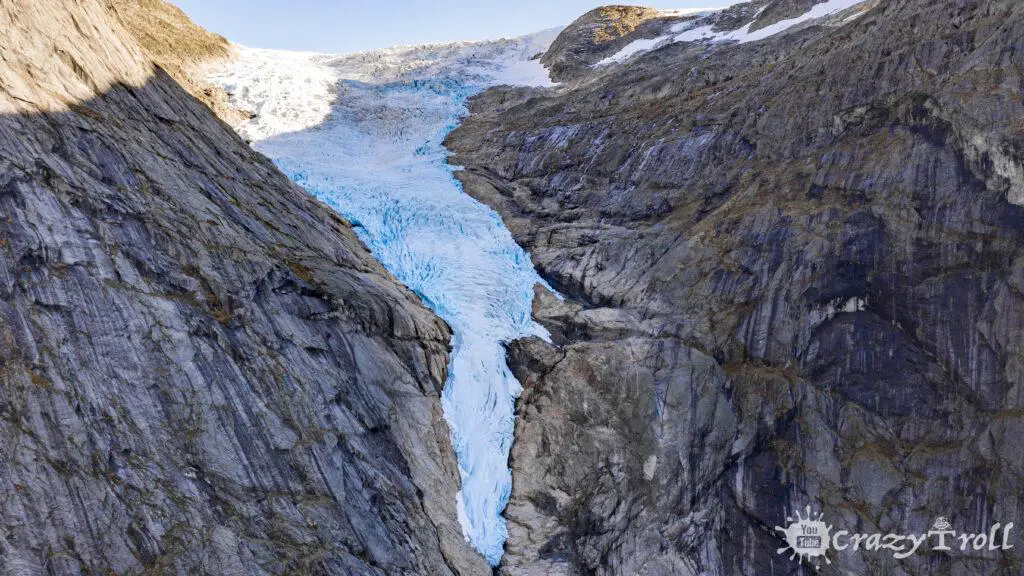 Bøyabreen Glacier
Bøyabreen Glacier is the easiest to approach glacier arm of Jostedalsbreen (Jostedal glacier), the largest glacier in continental Europe. While driving between Skei and Fjærland by road 7 you won't be able to miss the spectacular view as it is very close to the road.
If you want to have a closer look – take a stop at Bøyabreen Glacier parking and viewpoint and walk about 600 meters to the lake under Bøyabreen Glacier and you will enjoy the glacier. The glacier arm is melting, so don't miss your chance!
Kjenndalsbreen glacier
One of the most popular glacier arms among tourists is Kjenndalsbreen glacier as it is located at the end of Lodalen valley you will find Kjenndalenbreen.
Lodalen is a three-hour drive from Bergen and during that time, you will be overwhelmed with the beauty of Norway's coastline. The beautiful drive through Lodalen to the glacier is worth the trip alone.
Lodalen valley is famous for its Lovatnet lake and the amazing turquise color of the water, great photo spots, and charming camping sites on Lovatnet Lake.
The narrow roads and the enchanting green-blue lake are a sight, and if you are in the area, you must stop by.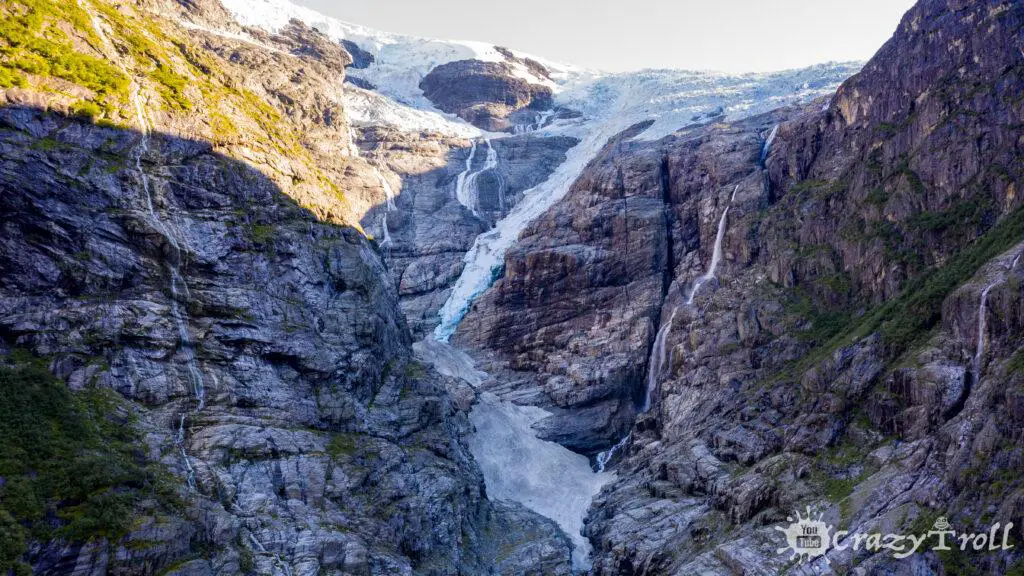 Nigardsbreen glacier
Nigardsbreen is easy to access but will require some driving through a nice valley. You can hike to the glacier around the lake and the hike will take about 60 minutes.
If you are tired, you can enjoy a short boat trip across the glacier lake that will cost you 60 Krones for a round trip. The boat will bring you closer to the blue ice, but you will still need to hike to the glacier.
Hiking from parking is about 3km, but taking the boat will save you about 1,5km and 30 minutes. Hiking the path to the glacier is quite easy and well-marked – suites for everyone.
What makes Nigardsbreen glacier very special is that you can join a group and join glacier guided tour up on the ice.
Briksdalsbreen glacier
Briksdalsbreen is one of the most accessible and best-known arms of the Jostedalsbreen glacier. Briksdalsbreen is located in the municipality of Stryn in Vestland county, Norway in Jotunheimen National Park, which is close to Gjende Lake and Mount Skåla.
The glacier lies on the north side of the Jostedalsbreen, in Briksdalen (the Briks valley) which is located at the end of the Oldedalen valley, about 25 km south of the village of Olden.
It is located inside Jostedalsbreen National Park. Briksdalsbreen terminates in a small glacial lake, Briksdalsbrevatnet, which lies 346 meters above sea level.
Briksdalsbreen is also a popular hiking destination. The round-trip will take about 1,5 hours and you will pass by Kleivafossen waterfall.
It can be avoided if you are unable to complete longer hikes and use "Troll Car" to be taken to all the scenic spots.
What if the glacier meets a lake?
Nearly every glacier forms a lake of meltwater in the valley that is created during the last millions of years. But what happens when a glacier encounters the sea or a lake?
A great example of such a place that you can visit is a glacier arm Austdalsbreen that can be easily visited from Gaupne. This dam was built in the '80s and over time joined to lake into one lake formed with Styggevatn Dam. You can meet both names now Austdalsvatnet and Styggevatnet, so don't be confused.
This road is closed during the winter period but can offer you a unique experience of paddling over the lake to the glacier, between icebergs, which fall down from the Austdalsbreen glacier meeting the lake.
Visiting Styggevatn Dam you can make a kayak tour to Austdalsbreen outlet. Austdalsbreen is a rare example of a glacier that encounters an Austdalsvatnet lake. It forms a continuous wall of the glacier ice of about 50 to 150 meters. The spectacular view and scarifying cold of the water that you feel through the kayak and your cloth enforce the beauty and respect of the Jostedalsbreen glacier.
But there is a danger to visiting this glacier as the fall off of the huge ice blocks is unpredictable and not only can harm visitors but even create huge waves in the vicinity of the glacier. Take a guided tour, especially if you are in doubt.
Folgefonna glacier
In Folgefonna National Park you can hike to the third largest glacier in Norway to discover stunning views of the glacier and surrounding landscape.
Some of the glacier arms are quite remote, but visiting Odda you can see the top of the Buerbreen glacier ice over Sandvinvatnet. Alternatively, you can drive closer to Buarbreen car parking and hike to the glacier, but this hike is not for everyone as it has a significant incline.
If you have more time and looking for an easier hike, you can drive around the Folgefonna glacier and reach Svelgabreen. Local roads are rather narrow and I would recommend driving by car, but with a caravan or motorhome.
From Mosevatnet parking you can see Folgefonna glacier over Insta Mosevatnet lake. Hike along the lake to the glacier is obstructed and will allow you to come slightly closer, but the views are amazing and you will be able to make some good shots.
For those who wish to get closer to glacier ice, I recommend starting a hike from Mosevatnet parking to Svelgabreen. The hike will take about one hour one way and has a slight incline.
Svartisen glacier
Svartisen glacier is the glacier among the biggest in Norway. It is located in Nordenskiøld Land National Park and has a surface area of about 369 km², which makes it one of Scandinavia's largest glaciers.
Worth mentioning that Svartisen is the name of two huge glaciers in Norland. Precise names are Vestre Svartisen ("western Svartisen") and Østre Svartisen ("eastern Svartisen").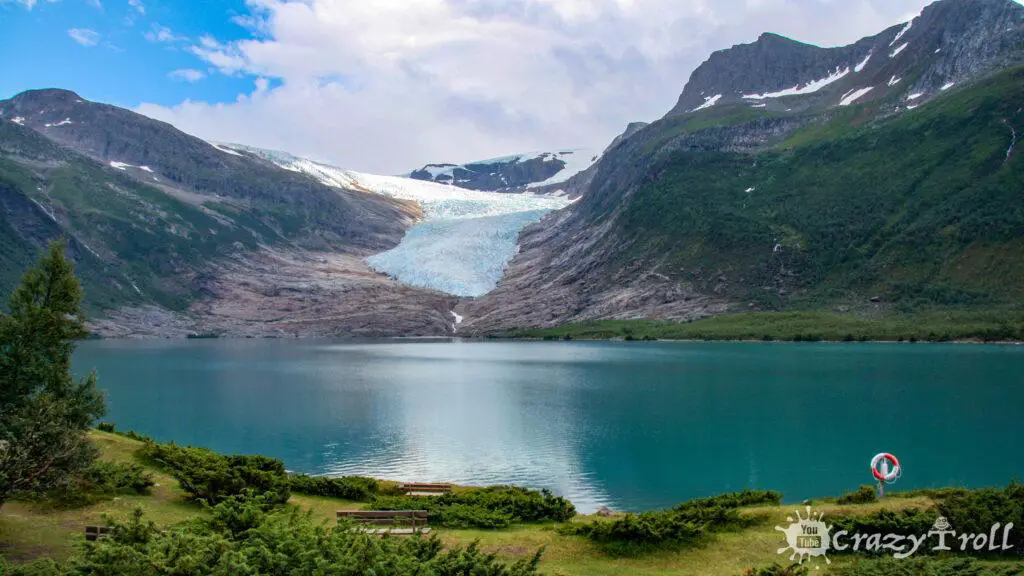 Vestre Svartisen glacier
The western Svartisen glacier is mainly accessible from driving Bodø near Glomfjord. The most famous glacier arm is the Engabreen glacier which lies inside the Arctic Circle. Holandsfjord is where the glacier gets closer to the sea than any other glacier in continental Europe.
To reach it you have to take a boat and cross Holandsfjorden and then hike around the lake. Depending on how close you wish to reach the glacier, your hike may take 2 or even 4 hours for a round trip.
Østre Svartisen glacier
The eastern Svartisen is accessible from Mo i Rana and is the fourth largest glacier on the Norwegian mainland.
To get to glacier arm you can drive to Svartisen Rana and continue your trip with a boat over Svartisvatnet.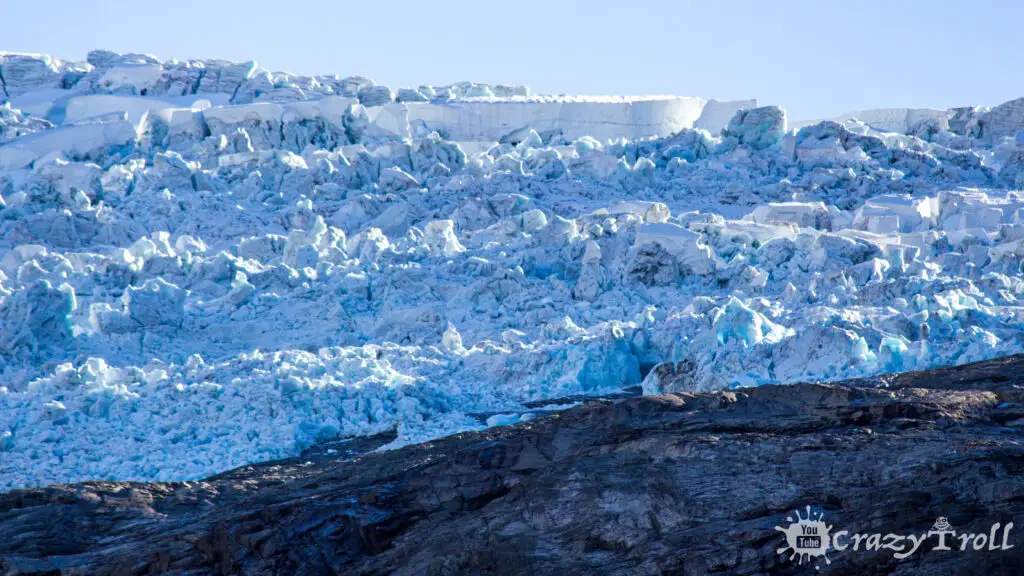 Lendbreen glacier
It is worth mentioning the Lendbreen glacier as it is one of the main sources of new archeological discoveries over the years. Melting of the glacier ice leads to loss of glacier ice and change of the landscape but the melting of this glacier brings to the surface something new and reveals archeological artifacts.
Lendbreen glacier is located near the city of Lom often called the "gateway" to the Jotunheimen Mountains and to Jotunheim National Park.
Lendbreen glacier lays on the mountain pass that appeared to be part of the Lendbreen pass used by farmers, merchants, and other travelers beginning around 300 A.D. to reach fjords.
This mountain pass was at its peak of activity during the Viking Age for more than 1200 years and now melting ice emerges long-hidden objects that have huge value for archaeology.
The Lendbreen pass was used by farmers, merchants, and other travelers beginning around 300 A.D.
Here is the source to the Science Norway website if you are interested in one of the latest findings on this glacier: https://sciencenorway.no/archaeology-vikings/glacial-archaeology-activity-over-this-mountain-pass-was-at-its-peak-during-the-viking-age/1675101
Svalbard glacier
Another popular glacier tour is Svalbard. The ice of glaciers covers 60% of the archipelago. Glacier tour that takes you to one of two glaciers: Isbukta glacier or Bells.
The Largest Glacier in Norway
Austfonna is the largest glacier in Norway and is situated on Nordaustlandet in the Svalbard archipelago in Norway, covering 7,800 square kilometers or 3,248 square miles with ice up to 560 meters thick. The glacier split up into three main parts – Austfonna, Sørfonna, and Vegafonnd.
Glacier Museum
The Norwegian Glacier Museum is a museum for the whole family, which gives you knowledge about glaciers and climate in new and innovative ways.
The interactive exhibition will help you to better understand how glaciers build up, how they formed the landscape, and why they play an important role in the search for knowledge about past and future climates.
To get to the glacier museum drive the road to Fjærland by road number 5 from Skei or Sogndal. Follow the signs along the road, the museum is just 7 km from Bøyabreen Glacier parking.
The Norwegian Glacier Museum is open from April to October and tickets cost 140 Krones for adults and 70 Krones for children.
Conclusion
Glaciers make Norway a very special country and if you are visiting Norway you definitely should visit a least one of them.
I'm almost sure after seeing one of them you will try to see others as well before it became too late. Glaciers are melting and changing their shape, size, and look.
If you decided to hike on longer trails with plans to camp, remember the rules of wild camping that you have to follow in Norway.