If you plan your trip to Norway and you are a drone pilot, then it is natural to wish to take your drone with you. Every year regulations for UAS (unmanned aerial vehicles) or simply drones become more and more strict and also in Norway.
So should you consider flying drones to take photos and aerial videos in Norway? Is it allowed and legal?
Yes, you can fly drones both for recreational and commercial purposes. However, there are legal requirements for drone pilots that are common to EU rules and local restricted and prohibited areas for flight in Norway. By following the rules your flight will be legal and you will avoid fines and penalties.
How Is Drone Use Regulated In Norway?
The Civil Aviation Authority of Norway or CAAN and EASA developed a set of rules and regulations for European Union countries, Norway and Liechtenstein. Switzerland and Iceland still follow their own rules, but hopefully will join and implement developed rules.
The regulation came into effect 1. January 2021, and all operations fell into two categories:
Open category – for low-risk operations with small drones
Specific category – for operations with higher risk that does not fit in open category
All pilots flying a drone that has a camera or is heavier than 250 g, need to register themselves at Flydrone.no or to be registered in any other country that implemented these rules. It is important to pay attention that even if your drone is 249 grams or less, but carries a camera, you have to be registered.
This is one of the biggest myths that buying a small drone up to 250 grams, for example, the super-popular Mavic Mini 2, you will fly outside the system! This is not true! There is a camera installed on it and for flights you will need both registration and insurance.
The Open category is divided into three sub-categories:
A1 sub-category for C0 and C1-marked light drone up to 250/500grams with limitations for flying over assemblies of people and/or uninvolved people.
A2 sub-category for C2-marked or drones upto 2 kgs with minimum distance from uninvolved people and 1:1 rules
A3 sub-category for C2, C3 or C4-marked or drones upto 25 kgs with minimum distance from from residential, commercial, industrial or recreational areas and no uninvolved people in the area and 1:1 rules
More accurate regulations can be found in the table below: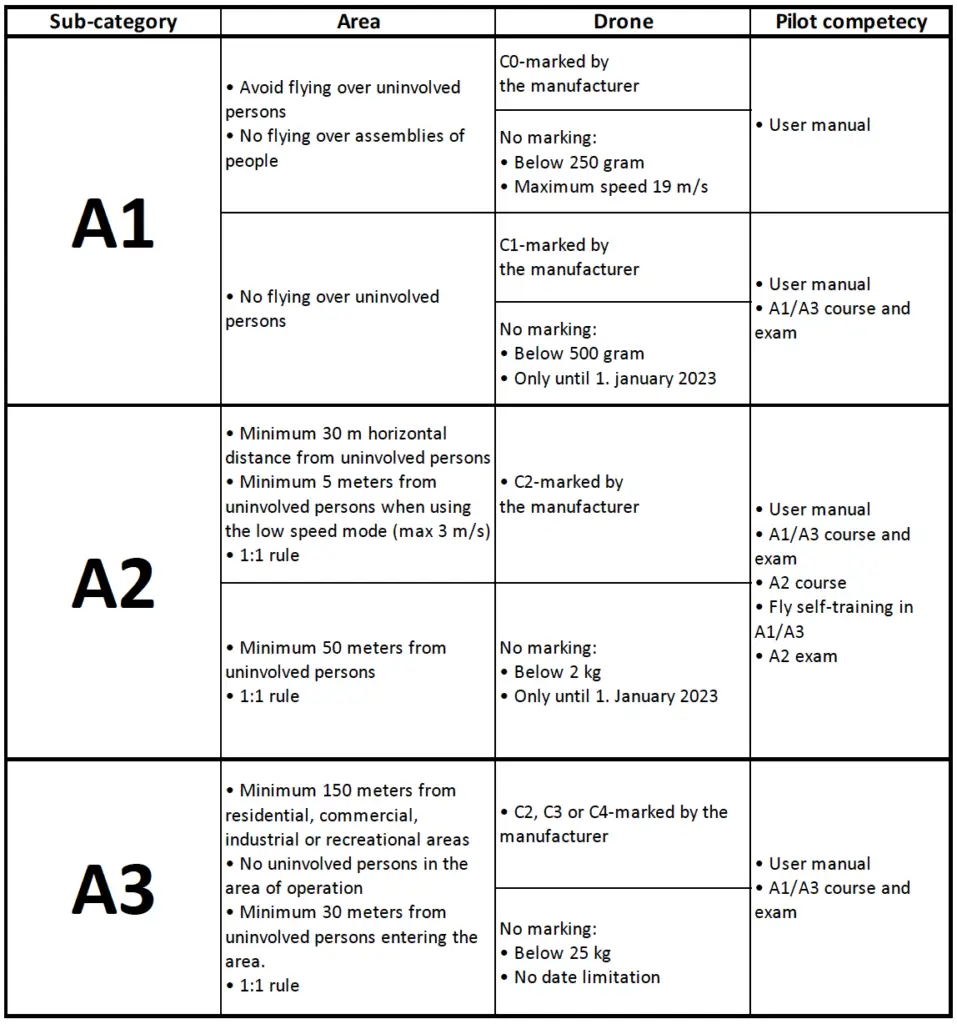 For most of the tourists who are planning a trip to Norway, A1 and A3 sub-categories are the ones that will fit all your needs. A1 and A3 drone sub-categories are combined together and require to go through the course and successfully complete the examination.
How To Get A1/A3 Sub-category License?
If you decide to register in Norway, then this can be done Only on the website flydrone.no, where you will also find links to all applicable rules. Registration at flydrone.no will cost you 180 Krones per year (or about 18 EUR).
Then you will be able to take a free online course for subcategory A1 / A3 in English and then pass the exam. The test is not difficult and logical, it consists of 40 questions. To pass successfully, you need to answer correctly 30 or more, and the number of attempts is not limited.
During the course, you will learn that A1/A3 license is a pre-qualification requirement for the next level and how to get an A2 license.
General Rules For Flying Drones In Norway.
To fly safely and responsibly you will have to follow rules for licensing and
Register and take the exam at flydrone.no for the sub-category that corresponds to the type of your drone and area of the flight.
Keep your drone in sight at all times. The pilot or observer must maintain eye contact with the drone at all times, so do not lose sight of the drone. And if you see a drone, then you can fly even at night.
Keep at least 5 km distance from airports, stay away from no-fly zones and never fly near accident areas.
Always fly below 120 m from the ground and at a safe distance from others.
Respect other people's privacy and follow the GDPR rules when taking photos or videos of others.
Drone pilot shall be 16 years or older
Drone Pilot Insurance
To fly a drone in Norway you need to have valid liability insurance. This requirement for insurance is based on the air law that reads that the owner of an aircraft is liable for any damage that may occur under flight conditions, regardless of guilt.
New regulations define all types of drones and model airplanes as unmanned aircraft and in Norway, all aircraft that weigh less than 500 kg must be insured for at least 750 000 SDR or about 9,5 million NOK.
The easiest way is to contact your insurance company and get some advice on this kind of insurance. If your insurer or other companies in your country don't offer liability insurance for drone pilots, then you should consider joining the national RPAS organization in Norway – UAS Norway. This is a non-profit and independent organization and membership includes tailor-made drone insurance.
The price starts from 1290 Nok or about 130 EUR, so it is worth studying the offers from insurance companies you are able to reach. We made our research on the offers of insurance for drone pilots from local and international companies that we will keep updating.
Drone No-fly Zone Map Norway
Before taking off your drone, make sure it is allowed to fly in this area. You also need permission from the landowner of the area where you will take off and land. Here is the list of areas with restrictions in Norway:
Within 5 km from airports. (Go to Ninox Drone and Avinor for more info.)
Restricted airspace
Prisons
Embassies
Military areas and vessels
We advise you to check if drones are allowed in the area where you are. This can be done at safetofly.no – just turn on the corresponding layers on the map.
Can You Fly A Drone In Oslo?
Yes, you can fly with a drone in Oslo if you stay outside restricted area R102 or have permission from the Civil Aviation Authority of Norway to fly inside the restricted area R102 that covers the Oslo city center. This area is created to protect the inhabitants, and central government functions, from aviation incidents.
Here you must have permission from CAA Norway to be able to fly. Here is the map with the R102 restricted area which shows that the most popular part of Oslo city center is covered by this area.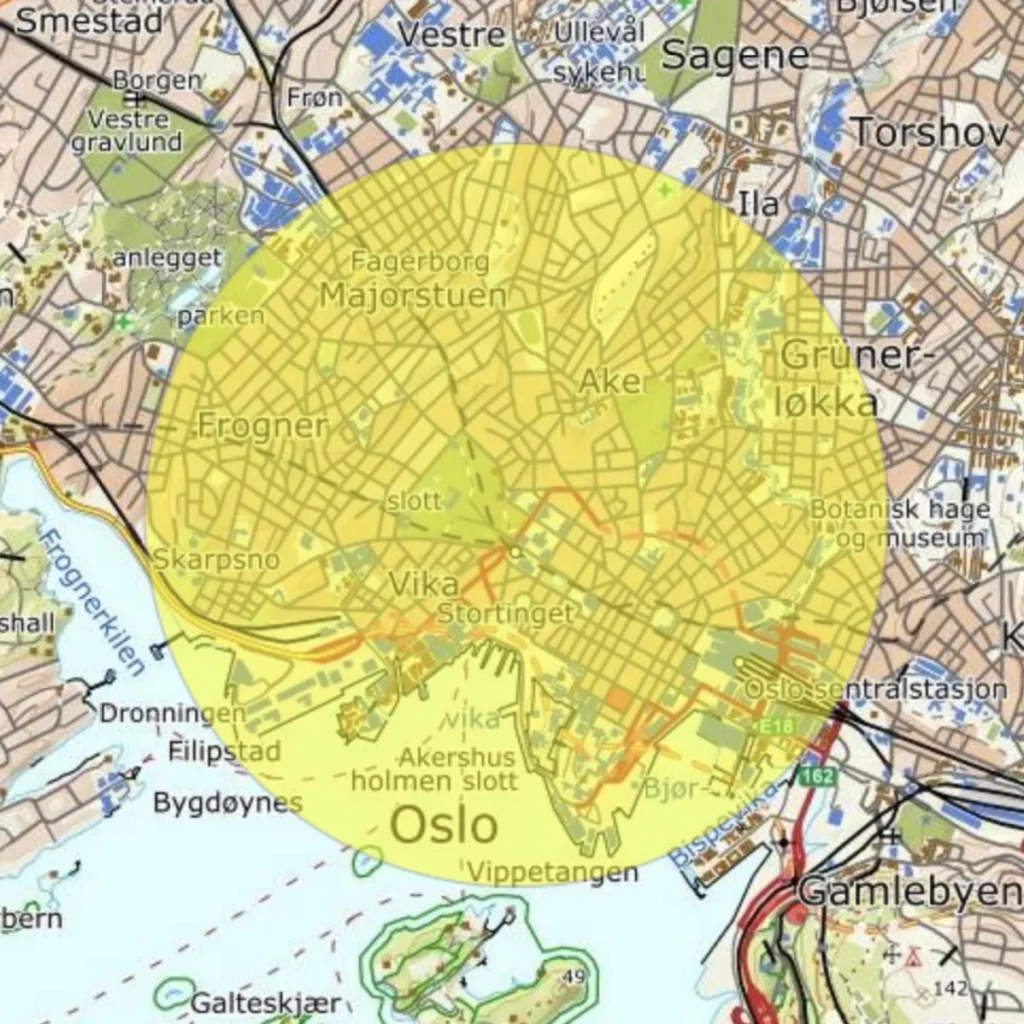 Fines And Penalties For Illegal Use Of Drones In Norway
It is a criminal offense to fly without insurance according to the Civil Aviation Act. The punishment is a fine or even imprisonment for up to one year. Flying without registration also threatens you with a fine or imprisonment for up to three months.
And finally, more detail about the figures when we are talking about "Fines". Let's take a look in their sizes in the directive of the Norwegian police:
Flying in restricted areas: 12,000 Krones and compensation of possible damage
Flying more than 120 meters from the ground will cost you 8000 krones
Flying over people without their permission: 10,000 krones
Flying over mass events will result in a fine of 12,000 krones
Is It Illegal To Fly A Drone Over Private Gardens?
Flying over private gardens is allowed if all requirements are met according to drone regulations. That means that you need to carry a corresponding license and follow rules about distances to uninvolved people. But you also have to respect other people's privacy and follow the GDPR rules when taking photos or videos of others. For more details see datatilsynet.no.
Here is our video on YouTube that we made about drone rules in Norway: