Did you know that insurance is mandatory for everyone who flies drones? As of January 1st, 2021, there are rules for drone operators in Norway. One of the most important points is the availability of valid third-party liability insurance for pilots.
This does not refer to CE-marked toys, but to all other drones used both by hobbyists and commercial organizations.
Why I need insurance to fly my drone in Norway?
Insurance has to cover at least 750 000 SDR or about 9.2 million NOK or 920 000 EUR. The sum is very high as all types of drones are to be insured to the same excess as model airplanes, unmanned aircraft, and all aircraft that weigh less than 500 kg. So practically drones under 250 gr are to be insured the same as 499 kgs aircraft.
Here is a link to the official website containing laws about regulations on minimum sizes of insurance sums for passengers and third-party liability for reference. https://lovdata.no/dokument/SF/forskrift/2004-07-06-1101/%C2%A74#%C2%A74
What kind of insurance do you need for a drone?
This insurance you need for a drone is for your potential liability to others arising from the use of your UAS recreationally and will indemnify you if your UAS is damaged or lost.
Insurance requirements have been in place for quite some time, but insurance companies are in no hurry to offer a new service despite strong demand from both locals and tourists.
Today, only a few insurance companies in Norway offer insurance to their customers. The price of insurance can start from 500 Krones per year, but most often it is sold as additional insurance for existing clients of companies, which makes it quite difficult for many to purchase insurance.
UAS Norway as a non-profit and independent RPAS organization in Norway offers to its member's insurance alternatives, but only for organizations. Private persons can not have drone insurance through private membership and have to upgrade a membership to sole proprietorships or higher. If you are a traveler, then it is not a valid option for you. Hopefully, their offer will be extended to private persons as well.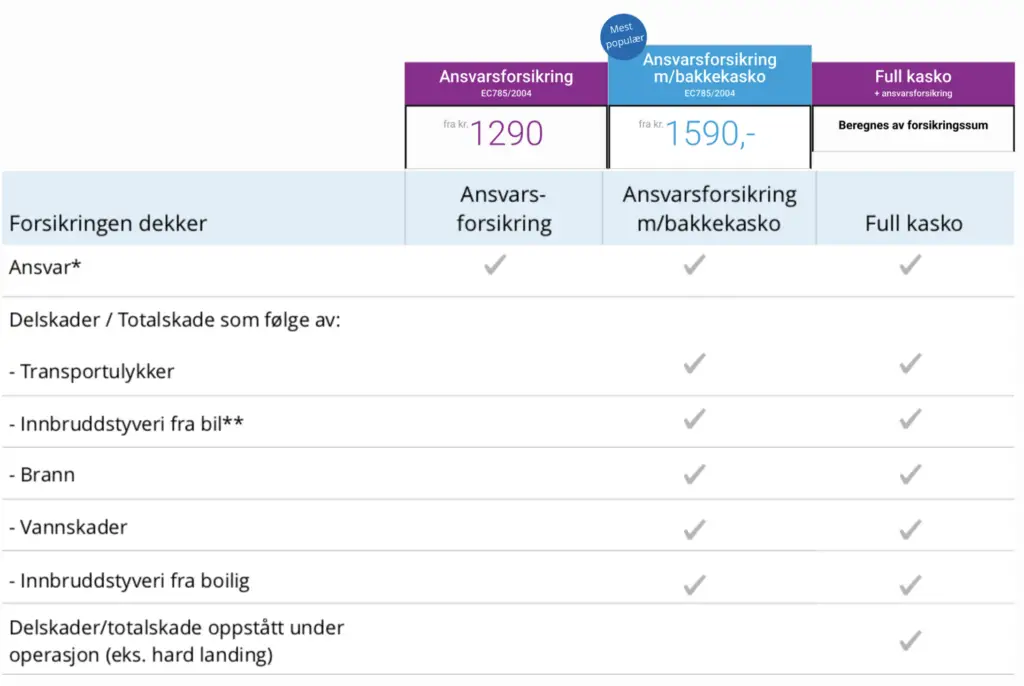 One of the first affordable solutions on the market is Coverdrone. Coverdrone offers specialized drone insurance schemes for commercial and recreational drone pilots in Norway, EU countries, Australia, New Zealand, and even Canada. Comprehensive, compatible aviation insurance where you can easily get an insurance quote online within 5 minutes.
One of the biggest advantages of this insurer is that insurance is valid Worldwide with some exceptions. Full and updated list of countries where the insurance is not valid available during application. Today their insurance is valid Worldwide excluding:
Algeria, Burundi, Cabinda, Central African Republic, Congo, Democratic Republic of Congo,
Eritrea, Ethiopia, Ivory Coast, Liberia, Mauritania, Nigeria, Somalia, The Republic of Sudan, South
Sudan
Colombia, Ecuador, Peru
Afghanistan, Jammu & Kashmir, Myanmar, North Korea, Pakistan
Georgia, Nagorno-Karabakh, North Caucasian Federal District
Iran, Iraq, Libya, Syria, Yemen
Any country where the operation of the insured Aircraft is in breach of United Nations sanctions
What is the average cost of drone insurance?
It is rather hard to find drone insurance as most of them have limitations and prequalification. As mentioned above, some are available for organizations only, existing customers of the company, limited by residence country, or require membership in a club or organization.
The average cost of drone insurance is from 50 to 180 USD per year. This will cover third-party liability insurance and may cover physical loss or damage to the drone, and expenses for wreck removal. However, theft, wear, and tear, damage to your belongings, a bodily injury sustained by you whilst
operating your UAS, fines, and penalties are not covered.
Insurer policy may vary and extended coverage may be available at additional cost.
| Insurance company | Cost of drone insurance |
| --- | --- |
| Gjensidige | 50 EUR / year (for Norway residents) |
| Coverdrone | 125 EUR / year |
| Coverdrone for Droneklubben members | 15.68 EUR / year + 36 EUR / Year Droneklubben membership |