Are you an adrenaline junkie looking for your next adventure? Ziplining is the perfect activity for you! Norway, with its breathtaking landscapes and diverse terrain, offers some of the most thrilling and picturesque zipline experiences in the world. In this article, we'll take a look at the top 9 ziplines in Norway, so you can plan your next exciting escapade.
Zipline Pricing and Availability
Zipline prices can vary depending on factors such as location, length, and difficulty. It's always a good idea to book in advance, especially during peak travel seasons, to ensure availability for your preferred date and time.
Top 9 Ziplines in Norway
1. Voss Zipline
Located in the heart of Voss, the adventure capital of Norway, Voss Zipline offers an unforgettable experience. This zipline stretches 1500 meters long and takes you through picturesque forests and over rivers. Get ready to enjoy panoramic views of the Voss mountains while soaring through the air.
2. Kollensvevet
Kollensvevet, situated in Oslo, offers an urban zipline experience like no other. With a length of 361 meters and a drop of 107 meters, this thrilling zipline takes you through the iconic Holmenkollen Ski Jump. Enjoy the stunning view of Oslo and the fjord below as you race down the hillside.
3. Høyt & Lavt Kristiansand
Høyt & Lavt Kristiansand, part of the largest climbing park in Norway, offers a zipline experience that takes you through the lush forests of Southern Norway. With multiple ziplines varying in length and difficulty, there's something for everyone to enjoy at this family-friendly park.
4. Vikersund Zipline
Get ready for an adrenaline-pumping experience at Vikersund Zipline, situated on the world's largest ski jumping hill. Opening again on May 13th, this thrilling zipline allows you to soar off the ski jump edge at speeds of up to 100 km/h. Perfect for families and groups of friends seeking an extreme adventure, Vikersund Zipline offers a unique and exhilarating experience.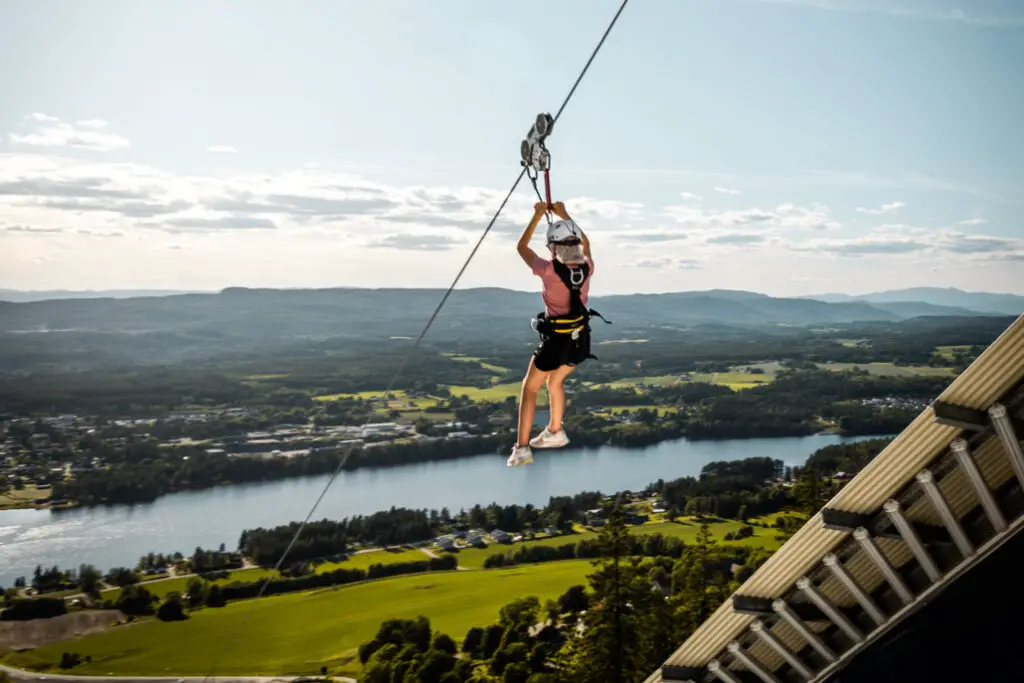 Top Speed: 100 km/h
Length: 540 meters
Vertical Drop: 200 meters
5. Geilo Zipline
Geilo Zipline, located in the popular ski resort town of Geilo, offers an exhilarating ride over the scenic landscapes of the Hardangervidda plateau. Featuring several ziplines with varying lengths and heights, it's perfect for those seeking both adrenaline-pumping excitement and awe-inspiring views of Norway's nature.
6. Namskogan Zipline
Namskogan Zipline is a thrilling ride located within Namskogan Familiepark. With a length of 300 meters and a height of 20 meters, this zipline offers a unique view of the surrounding forests and hills. It's perfect for families and adventurers of all ages looking for a thrilling experience in Norway's countryside.
7. Flåm Zipline
Located in the heart of the majestic Norwegian fjords, Flåm Zipline is the longest zipline in the Nordic countries. With a length of 1,381 meters and a vertical drop of 305 meters, this zipline offers a thrilling ride through the lush Flåm valley.
Be prepared for breathtaking views of waterfalls, steep mountainsides, and the deep blue waters of the Aurlandsfjord.
8. Rypetoppen Adventure Park Zipline
Rypetoppen Adventure Park, situated in the picturesque Meråker region, offers a thrilling zipline experience through dense forests and over sparkling lakes. The park features 28 ziplines, with the longest stretching over 300 meters. Rypetoppen's unique location provides a serene and beautiful backdrop for an adrenaline-filled adventure.
9. Geiranger Zipline
Experience the beauty of the UNESCO-listed Geirangerfjord at Geiranger Zipline. With a length of 550 meters and a vertical drop of 50 meters, this thrilling ride offers an unparalleled view of the famous Seven Sisters Waterfall and the fjord's stunning landscape. It's a must-visit for nature enthusiasts seeking an adrenaline-filled adventure in one of the most picturesque locations in Norway.
Zipline Booking Information
Group Packages
Many zipline operators in Norway offer group packages, making it an ideal activity for family vacations, team-building events, or group outings with friends. Be sure to inquire about group rates and special offers when booking.
Age and Weight Restrictions
Each zipline location may have specific age and weight restrictions. Generally, participants must be a minimum age, usually around 10 years old, and fall within a certain weight range. Always check the specific requirements of each zipline operator before booking.
Zipline Safety Precautions
General Guidelines
Before embarking on a zipline adventure, it's crucial to follow general safety guidelines. Always pay attention to the instructions provided by your guides, and make sure to follow all rules and regulations at each zipline location.
Equipment
Wearing proper equipment is essential for ensuring a safe and enjoyable zipline experience. This typically includes a helmet, gloves, and a harness. Most zipline operators provide the necessary gear and will help you get suited up correctly.
Weather Considerations
Before booking your zipline adventure, consider the weather conditions. Some zipline experiences may be canceled or postponed due to high winds or heavy rain, as they can pose a risk to your safety.
Conclusion
Norway offers a diverse range of zipline experiences, from soaring through urban landscapes to gliding over majestic fjords. With our list of the top 9 ziplines in Norway, you're sure to find the perfect adventure to quench your thirst for adrenaline. Remember to follow safety precautions, and get ready to create unforgettable memories in the Land of the Midnight Sun.
FAQs
What should I wear when ziplining in Norway? Wear comfortable, weather-appropriate clothing and closed-toe shoes. Avoid wearing loose jewelry, scarves, or any accessories that may get caught during your zipline experience.
Is ziplining in Norway safe for beginners? Yes, ziplining in Norway is safe for beginners, as long as you follow the safety guidelines and instructions provided by the zipline operator. Most zipline locations offer experiences suitable for all skill levels.
How much does it cost to go ziplining in Norway? The cost of ziplining in Norway can vary depending on the location, length, and difficulty of the zipline experience. Prices can range from approximately 300 NOK to 850 NOK per person. Be sure to check the pricing and availability for your preferred zipline location.
Can I go ziplining in Norway during the winter? Some zipline locations in Norway are open during the winter months, while others may close due to weather conditions or for maintenance. It's essential to check the operating hours and seasonal availability of each zipline operator before booking.
Do I need any prior experience or special skills to go ziplining in Norway? No, prior experience or special skills are not required to go ziplining in Norway. Most zipline operators provide thorough instructions and guidance, ensuring a safe and enjoyable experience for all participants.