Planning your trip to Norway may come to the point where you either visit Geiranger and continues your trip to Trollstigen, Rampestreken in Åndalsnes, or take the gondola in Åndalsnes – Romsdalsgonolen. But if you have enough time the ferry cruise over on the world's most famous fjord – Geirangerfjord worth your time and money. We highly recommend spending a day enjoying Geirangerfjord!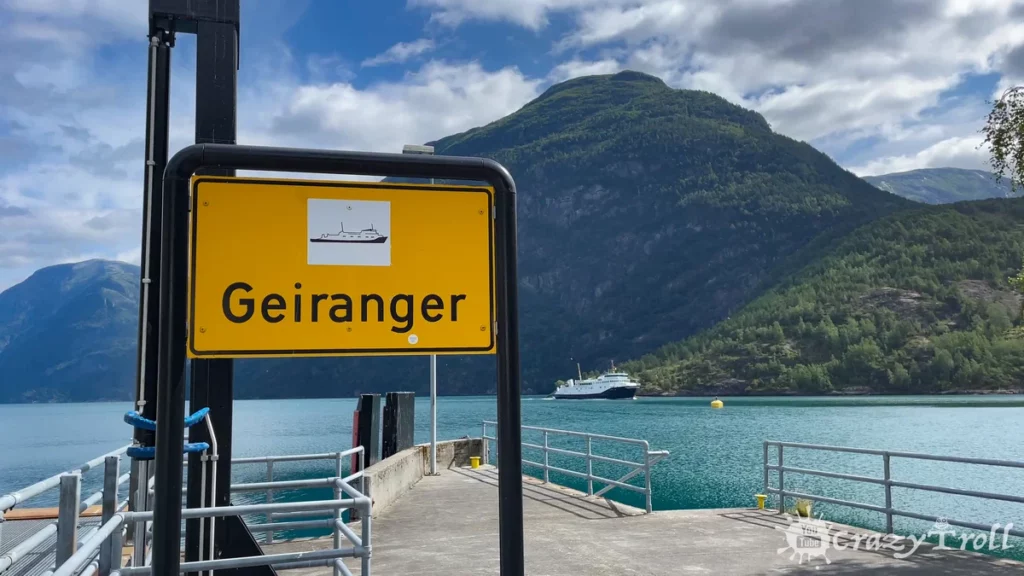 The fjord offers an incredible landscape, surrounded by high mountains, where abandoned farms make the high hillsides even more unbelievable. The trip between Geiranger and Hellesylt passes near the Seven Sisters and Bridal Veil waterfalls.
Geirangerfjord Cruise on Geiranger-Hellesylt Ferry!
The cruise with the Geiranger-Hellesylt ferry takes approximately one hour one way and after a short stop at Geiranger or Hellesylt and taking new passengers departs again.
The tour is guided onboard the ferry in several languages, including English, German and Spanish.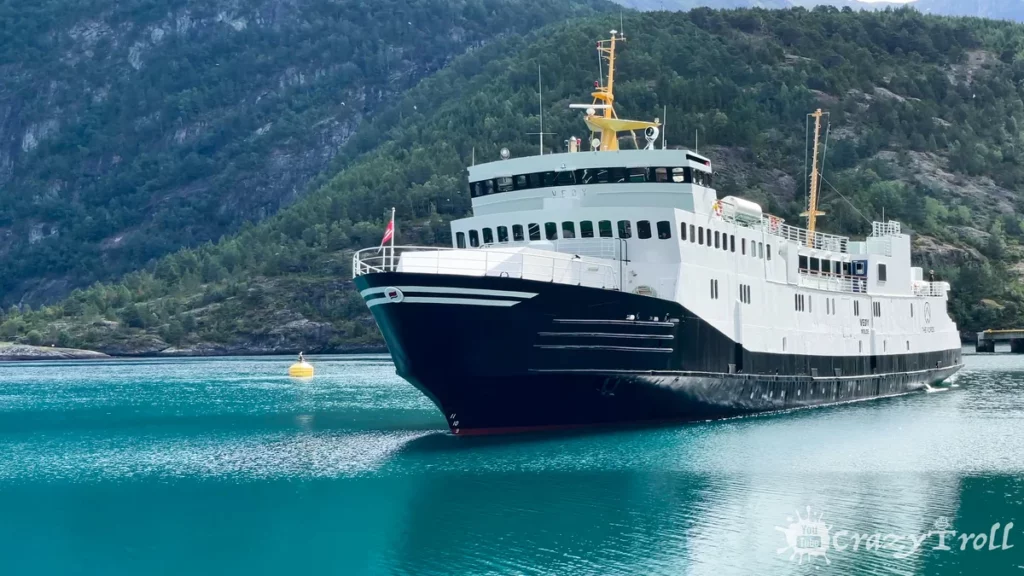 If you are traveling by car, then planning this cruise as part of your route is very reasonable. Cars and buses can travel on this popular ferry, but capacity is limited due to the small size of the ferry. In high season we recommend booking the vehicle space much in advance.
In the summertime, tourists travel through or stay in every day Hellesylt. The ferry "Veøy" cruises on the route between the village of Geiranger and Hellesylt on the other side.
Round trips are very popular as many tourists wish to start their journey in Geiranger and continue their road after the cruise trip to Trollstigen. Worth paying attention to that in May and June, there are only 4 departures for Geiranger and Hellesylt.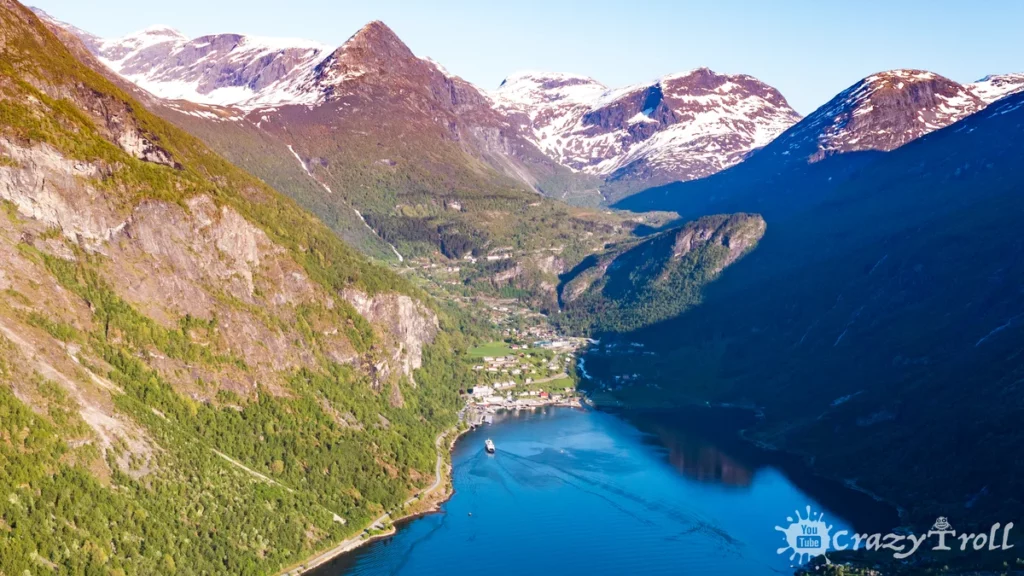 Ferry stays overnight in Geiranger, so you can get stuck in the village if you took the last departure from Hellesylt.
During the summer season, there are twice more departures, but demand grows significantly as well, so plan your road trip to Norway accordingly.
Here is the schedule of the Geiranger-Hellesylt ferry in 2022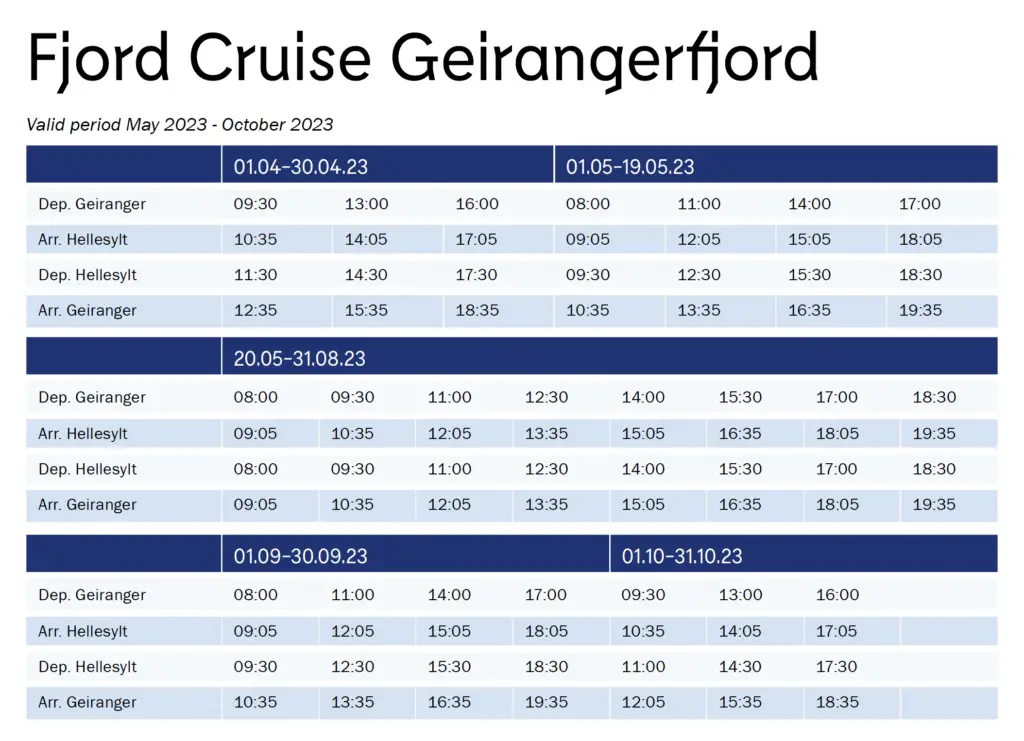 Geirangerfjord Cruise Prices for tourists and cars in 2023:
However, you may sport that the round adult trip ticket is quite expensive. If you are traveling in a car with 2 or more passengers, that "car package" becomes closely priced or even more favorable, so plan your itinerary accordingly.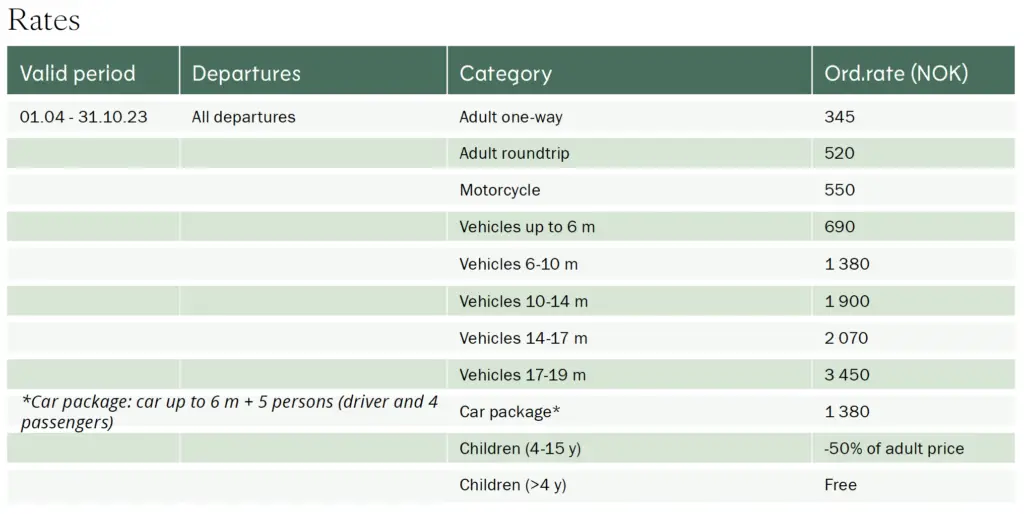 Here you can book your tickets in advance online: https://www.norwaysbest.com/things-to-do/fjords/fjord-cruise-geirangerfjord#booknow
Geirangerfjord Cruise on Sightseeing Ship or RIB boat!
There are also options to enjoy the fjord as a passenger on a tourist sightseeing ship! Cruises are offered by Geiranger Fjordservice, all tours start from the city of Geiranger and are 60 or 90 minutes long depending on the route length.
Cruises are offered by Geiranger Fjordservice, all tours start from the city of Geiranger and have!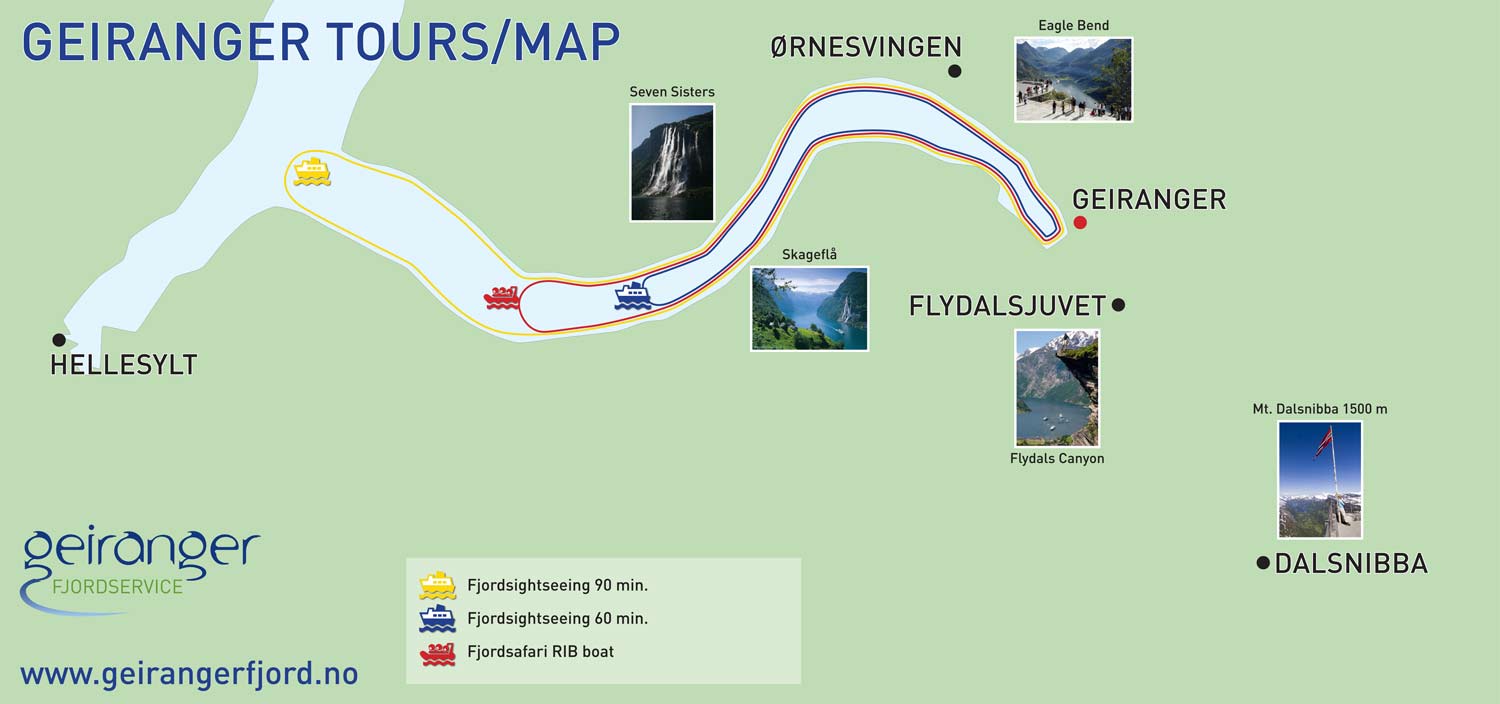 Adrenaline lovers can ride the fjord on a RIB boat! This type of boat combines open-air experience and speed on a rigid inflatable boat.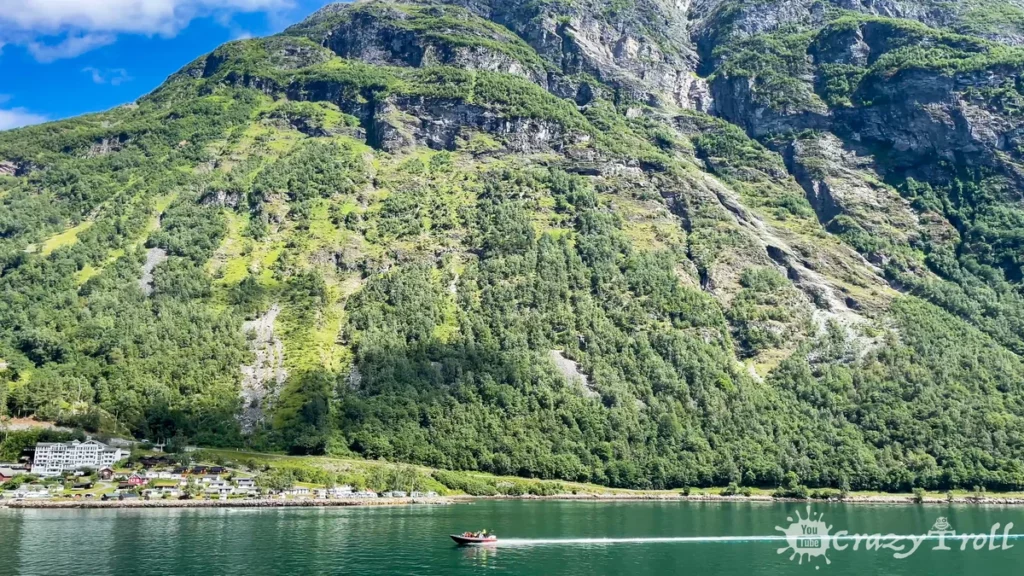 The boat safari takes approximately 75 minutes, during which time you will have time to see the most iconic sites of the fjord, such as the 7 Sisters Falls and Djevel Gjølet. But take warm clothes and goggles with you, as this trip will really be a breeze!
You can book a tour here: https://www.ribgeiranger.no/eng
Boat tour to Skageflå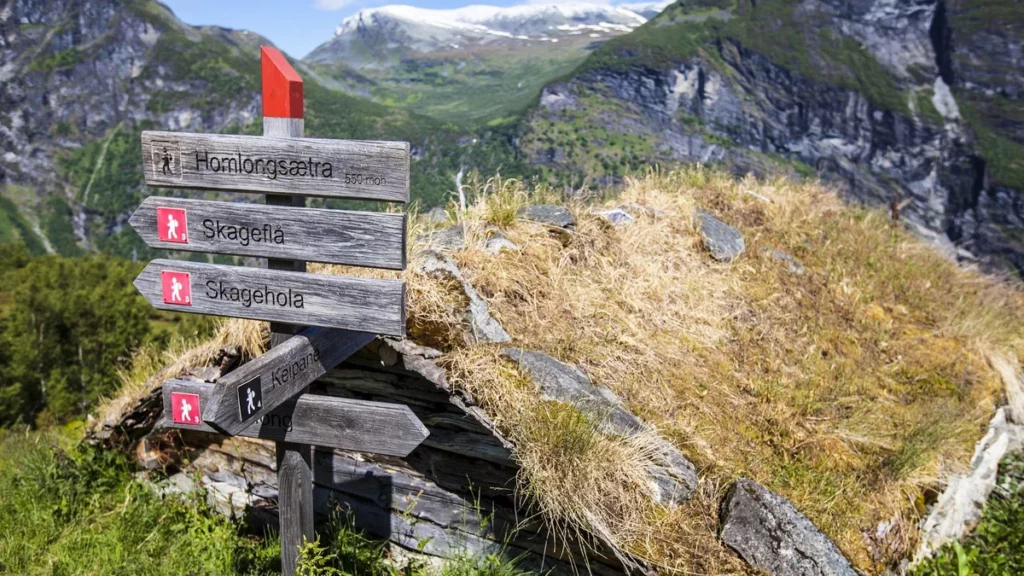 There are many old farms on the shore of the fjord, and you can visit one of them, Skageflå, which has become a symbol of fjord farms in Norway!
It is most convenient to get to it from the water and Geiranger Fjordservice gives you such an opportunity! The tour begins with a boat tour through the magnificent Geirangerfjord.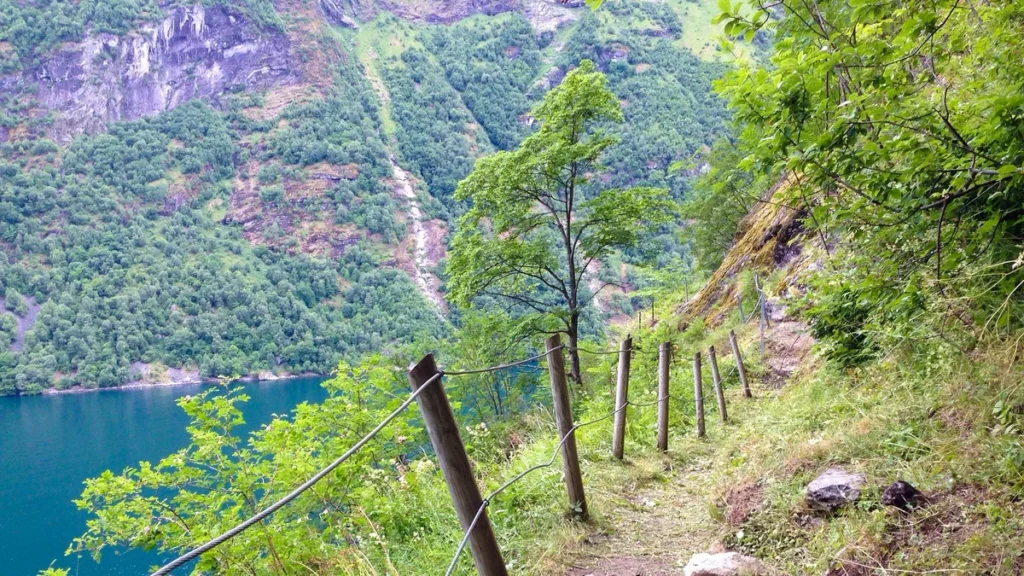 During the fjord cruise, you will see all the iconic sights and on the way back you will have the opportunity to disembark at Skagehola harbor. It is from there that the ascent to the farm begins, which is located at an altitude of 250 meters above the Geirangerfjord, so be sure to bring comfortable shoes and water! The trail is quite steep!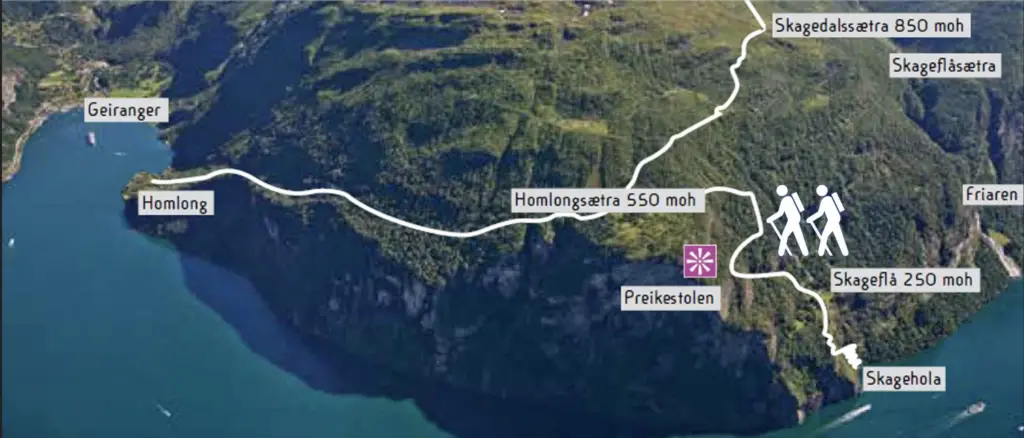 And of course, do not forget your camera, as these will be unforgettable shots of houses with grass roofs against the backdrop of mighty mountains! After seeing the farm, you can continue walking towards Geiranger along the mountain path past another village of Homlongsætra, the journey will take 4.5 hours or more.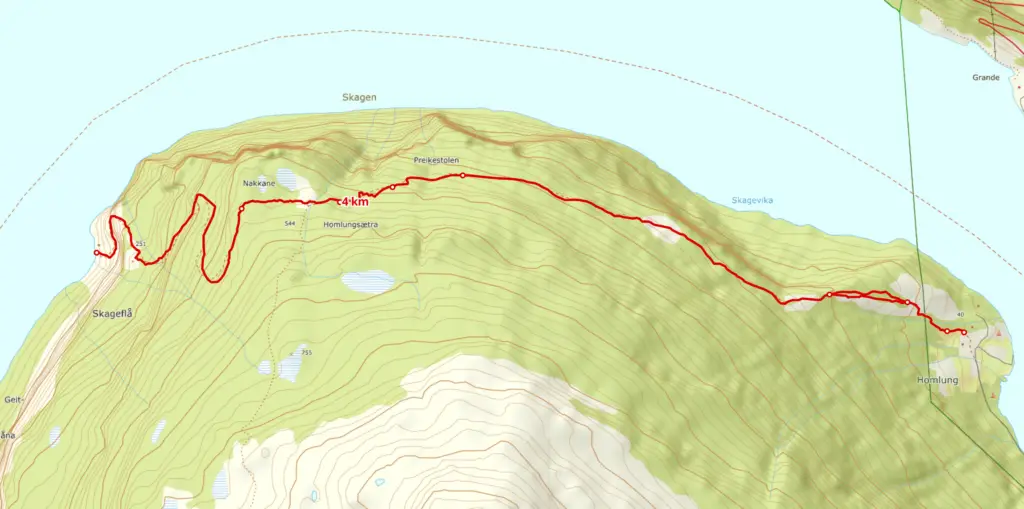 Or you can go down and go back on the ship, this is included in the ticket price. Here is the schedule of stops at Skagehola for 2022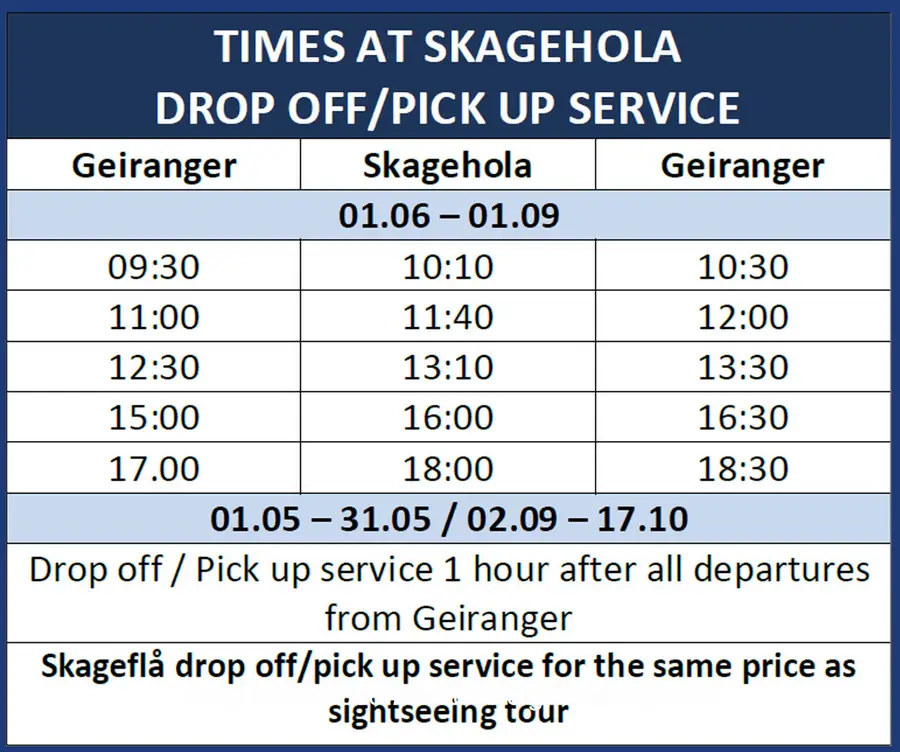 And here you can get acquainted with the prices and times of departure of ships with cruises for 60 or 90 minutes on ships MS Geirangerfjord and MS Geirangerfjord II. Onboard, there is a cafe, an open deck, and an audio guide in 12 languages.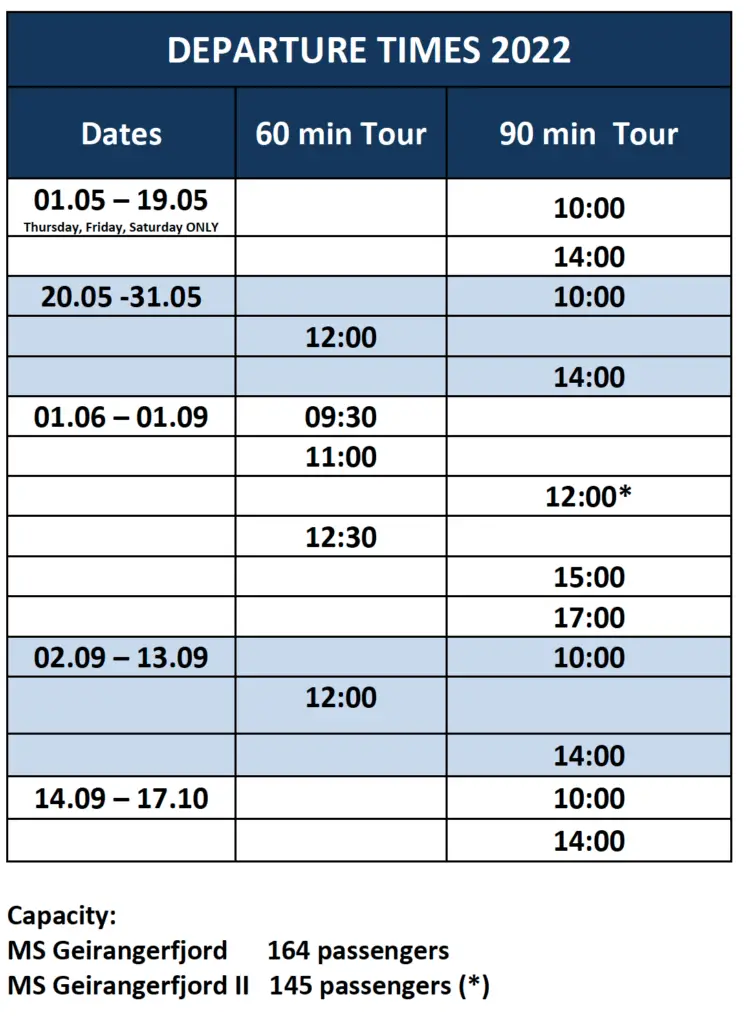 Geirangerfjord with Kayak!
And another option to visit the waters of the Geirangerfjord is to rent a kayak! This can be done at the Geiranger Kayak Center which is located two kilometers from Geiranger in Homlong Bay.
You should consider that the tour can easily take up to 6 hours. Take into account your level of physical fitness, as well as remember that in some places it is still not worth swimming too close to the rocks because of rockfalls.
Don't forget to bring sunscreen, and pack your belongings in waterproof bags. Everything else – a map of the area, a paddle, a life jacket, and a spray skirt will be given to you by the kind staff of the center.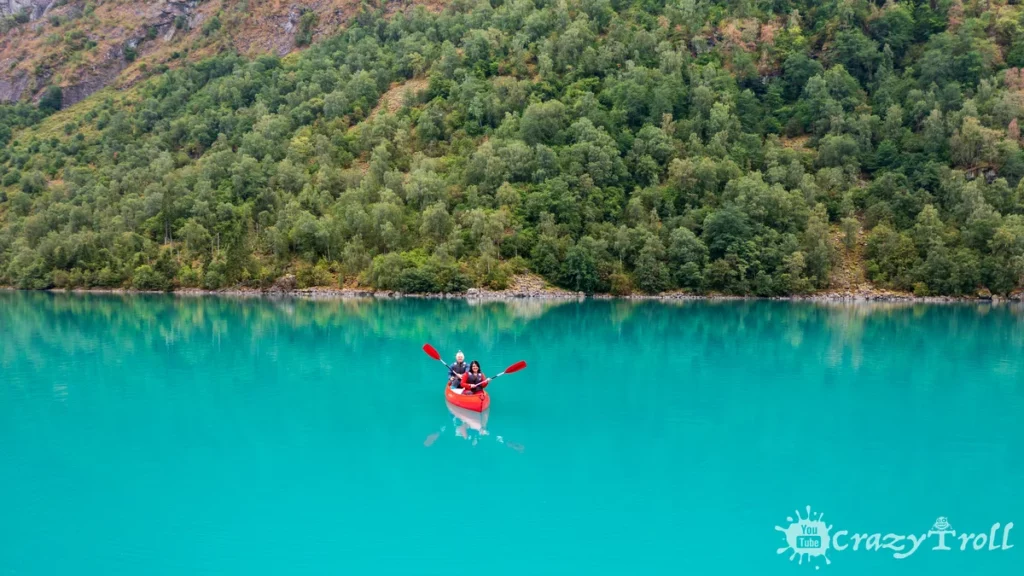 The center is open from May to mid-October. Summer hours are from 9:00-17:00, and in autumn until 15:00.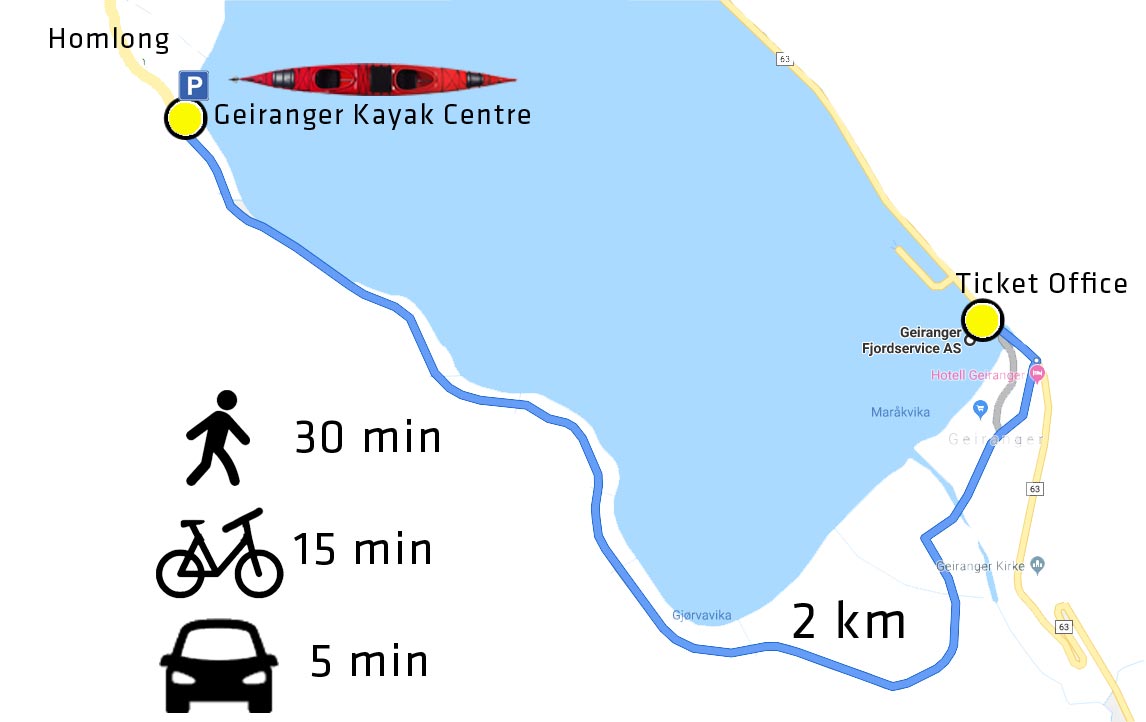 Kayak rental prices in 2022
| Duration | Double Kayak  | Single kayak  |
| --- | --- | --- |
| 1 hour | 480 NOK | 360 NOK |
| 1 – 3 hour | 815 NOK | 500 NOK |
| 3 – 6 hour | 1 190 NOK | 625 NOK |
Kayak rental prices in 2022
Geirangerfjord with Hurtigruten Cruise Line
Geirangerfjord is part of the Hurtigruten cruise line that runs along the west coast of Norway. The advantages of this trip are that you can visit many cities and fjords at once and admire the mighty Geiranger fjord from the balcony of your own room!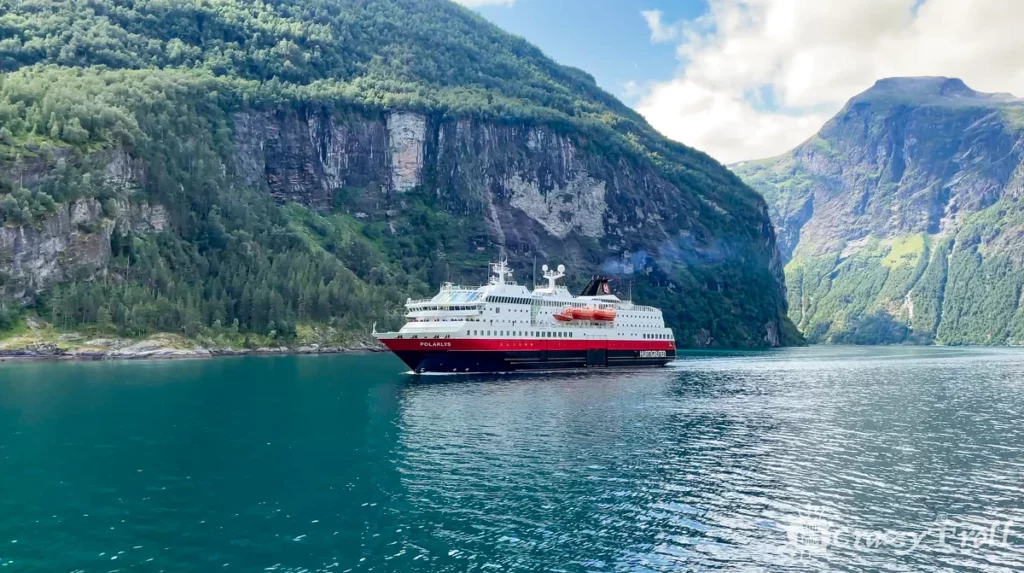 You can find the tour that suits you here. https://www.hurtigruten.no/