All previous season we were traveling with Eriba Rockabilly caravan and ready to summarise some of our findings and observations. Before making a final decision we thoroughly studied the caravan market.
We focused on a small caravan that would be maneuverable, easy to tow, comfortable, and preferable look a bit better than a regular white box-shaped caravan like millions of others on the road.
We actually fell in love at first sight with the Eriba Rockabilly caravan, but kept our heads calm and made a balanced decision. Now ready to make a full Eriba Touring Troll 530 Rockabilly Caravan Review.
So why did we chose Hymer Eriba Touring Troll 530 Rockabilly?
Eriba Troll 530 is a compact, stylish, modern, and lightweight caravan that is suitable for traveling along narrow mountain roads in Norway and stopping overnight in wild places, outside of campsites and is as autonomous as possible.
This full Eriba Touring Troll 530 Rockabilly caravan review contains a description of the caravan and what pros and cons we found in it after a year of use.
The first thing that catches your eye is the unusual appearance of the caravan. Eriba is a caravan with a history, as the first model was released in 1957 and soon became popular and even cult. Eriba Touring models are still produced and their appearance is still recognizable and resembles the first retro caravans but using all modern technologies!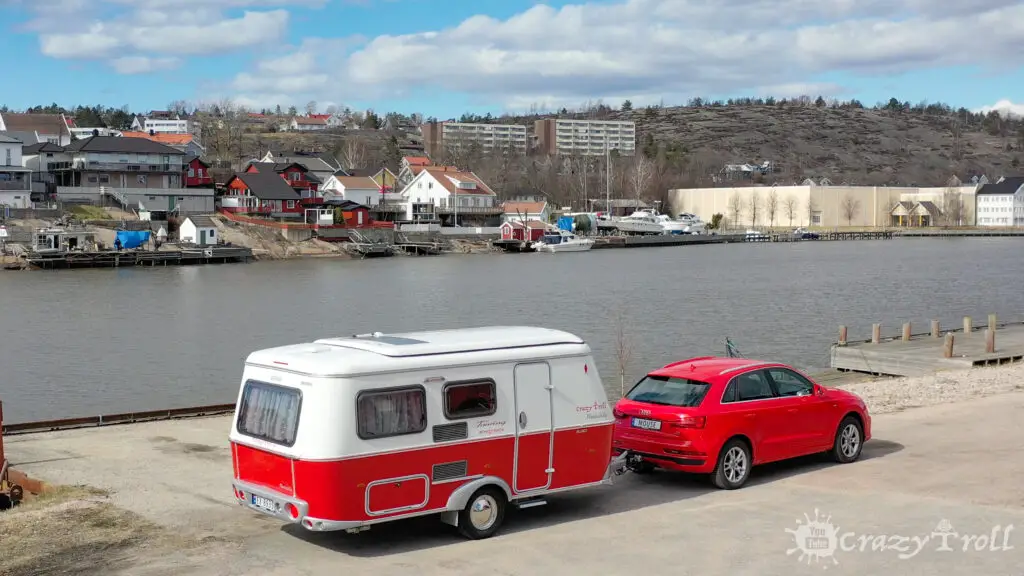 In 2018, two colorful special models of Eriba caravans were presented at the exhibition – Red Rockabilly and Blue Ocean Drive.
When creating the interior, the designers were inspired by the retro design, which is reviving the American way of life of the 50s. It is also worth noting that the unique design of Eriba is based on the principles of aircraft construction and makes the caravan especially aerodynamic, stable on the road, and safe!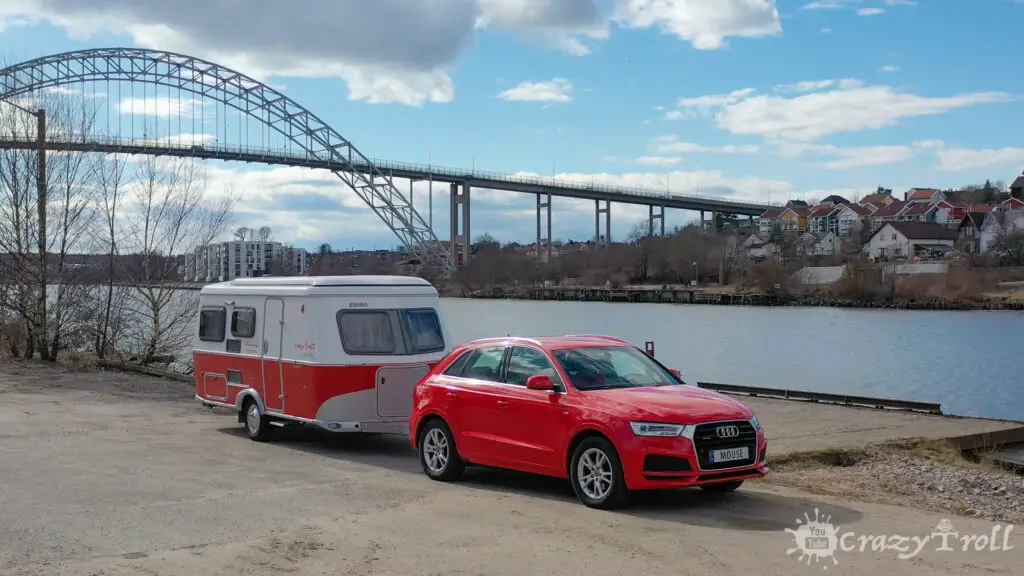 Size and weight of Eriba Troll 530 Rockabilly
When we say that the caravan is compact, we mean that its length is 579 centimeters, and its width is 210 cm. That allows you to drive a car quite comfortably without additional mirrors. Here is a full list of characteristics, layout, and technical data of the Eriba Troll 530 caravan.
And its total weight of 1300 kilograms allows you to hit the road with the regular category B driving license. It is also quite comfortable to drive with the caravan because of the coupling stabilizer, which noticeably suppresses snaking and pitching movements.
Here is our full video review where we were able to show more footage from outside and inside.
And before we go inside, it's worth saying what is still outside:
Access hatch to the toilet container.
There are also coupling for water refill (water tank capacity is 30 liters)
Socket for electricity
Access hatch to gas cylinders storage
Spare tire
Access hatch the large storage compartment under the bed
Outdoors Lightning
And a nice bonus for all Eriba's models is a scaling ladder!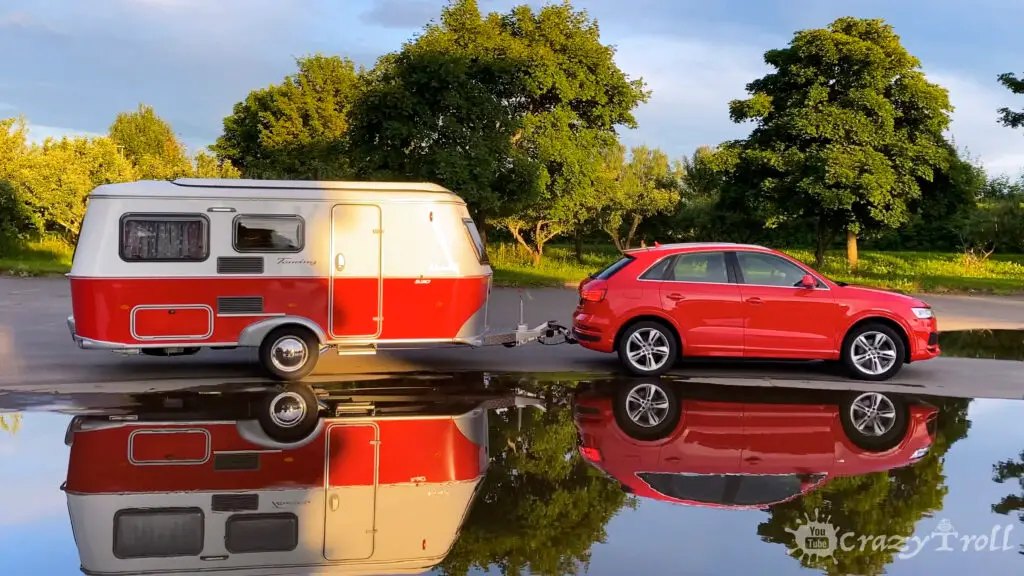 So let's see what's inside the Eriba Touring Troll 530 Rockabilly caravan.
The interior is designed in the style of the 50s with an emphasis on the red color, which makes the caravan stylish and harmonic, both outside and inside. Despite its small size – the caravan has four zones:
Bedroom
Living room
Kitchen
Bathroom
Around the entire perimeter, there are capacious storage boxes on the top and there are as many as 11 peaces! What is very good for such a small caravan and distinguishes Eriba caravan from other compact caravans.
There is a lot of lighting in each area of economical LED type. It can be turned on both with buttons and sensors. Outdoor lighting has two modes, always On and enabled by a movement sensor.
At the entrance there are indicators of water and battery charge level.
All windows and door have mosquito nets. There are also blackout blinds on each window.
We are traveling together, and we can confidently say that we are comfortable in the caravan and have enough space for two adults!
There is also a nice bonus of this model – a pop-top roof with additional ventilation and integrated mosquito net!
And we are ready to give an answer to the question that we had been looking for a long time before buying and could not find it anywhere.
What is a height from floor to ceiling with the roof folded and unfolded?
Overhead height with the roof folded down – 171 cm and
Overhead height with the roof unfolded – 195 cm.
Therefore, very tall people should take Eriba Troll 530 caravan dimensions into account!
Now, Let's take a closer look at the caravan by zones inside!
Kitchen and all equipment that you need on the road trip!
In the kitchen you will find:
Refrigerator with a volume of 70 liters including a small freezer.
Fridge operates on gas, from the power supply, or from the rechargeable battery.
Gas stove with 2 burner hobs.
Sink with tap and additional cutting board. By the way, we remove it while driving, as it shifts from vibration.
On the side, we have shelves and a side flap that acts as a worktop extension.
Convenient lighting above the kitchen.
Under the kitchen, there is a drawer with a cutlery tray and a deep drawer for dishes. Also, here you will find gas switches for the stove, refrigerator, and heater. As well as a socket that works when the caravan is plugged into the power supply.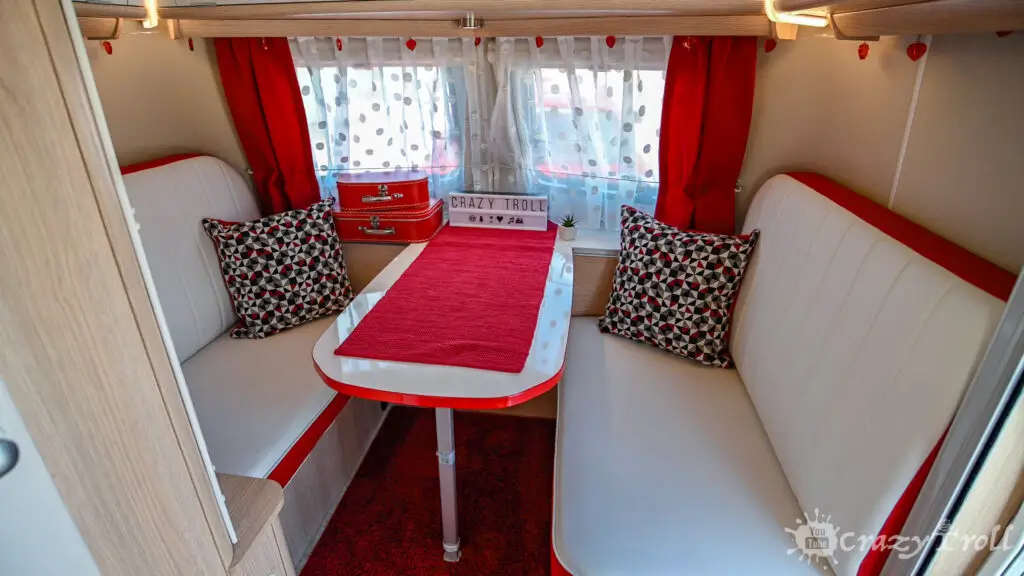 Living room and extra bed in the caravan
In the Living room, there are two comfy sofas near the table. Although the sofas are white, they are made of good materials and after a year of use, they still look like new! Under the left sofa, a 30-liter water tank, and additional storage space. Access to which is not always convenient. Under the right sofa, there is a storage space with side access, so you don't need to lift the seat to get there… and it's convenient.
Behind the sofas, there are two shelves for small things and an electrical socket that works when the caravan is connected to the power supply.
The table is not only comfortable but also multi-functional. It can be taken out and converted into an extra sleeping bed. It unfolds and looks like this. The size of the bed is 198 to 98 cm – The Living Room has different lighting modes, so you can choose the one that suits you best.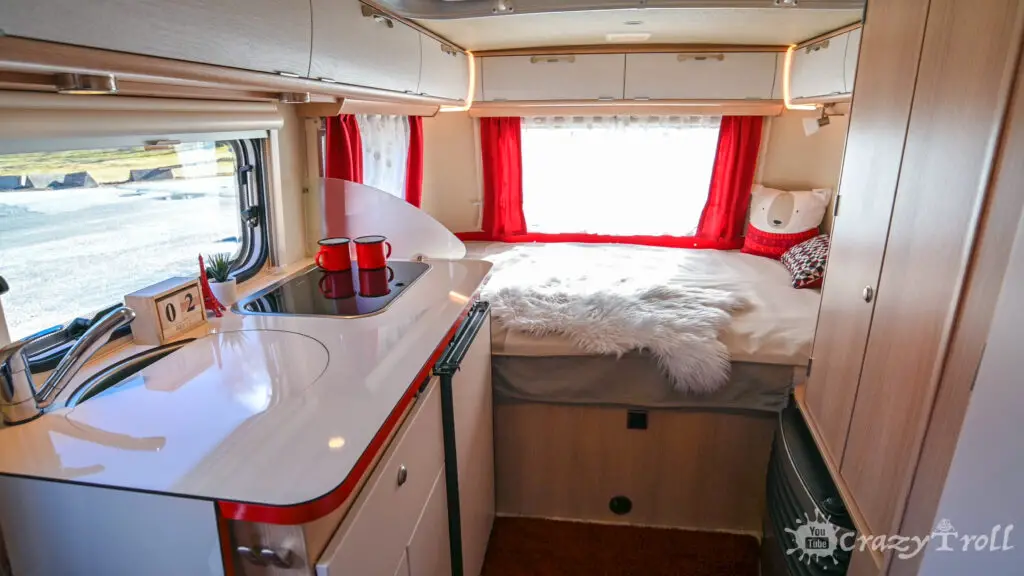 In the Bedroom we have:
200 to 140 cm bed with a comfortable and soft mattress.
There is spacious storage under the bed, which is also accessible from the outside.
Rechargeable battery and Truma water heater, which works when the caravan is connected to the power supply and it turns on here.
Ventilation and a gas sensor above the bed.
The Bedroom has different lighting modes, so you can choose the one that suits you best.
The wardrobe in the Eriba caravan is quite spacious.
Electrical breakers inside the locker and a fire extinguisher.
An additional storage compartment and a heater.
The power of the heater is 3.5 kilowatts and it runs on the gas.
On the sidewall of the cabinet, there is a switch for air circulation, that helps to warm up the caravan faster in chill weather.
As well as a power supply switch to the battery and power socket above.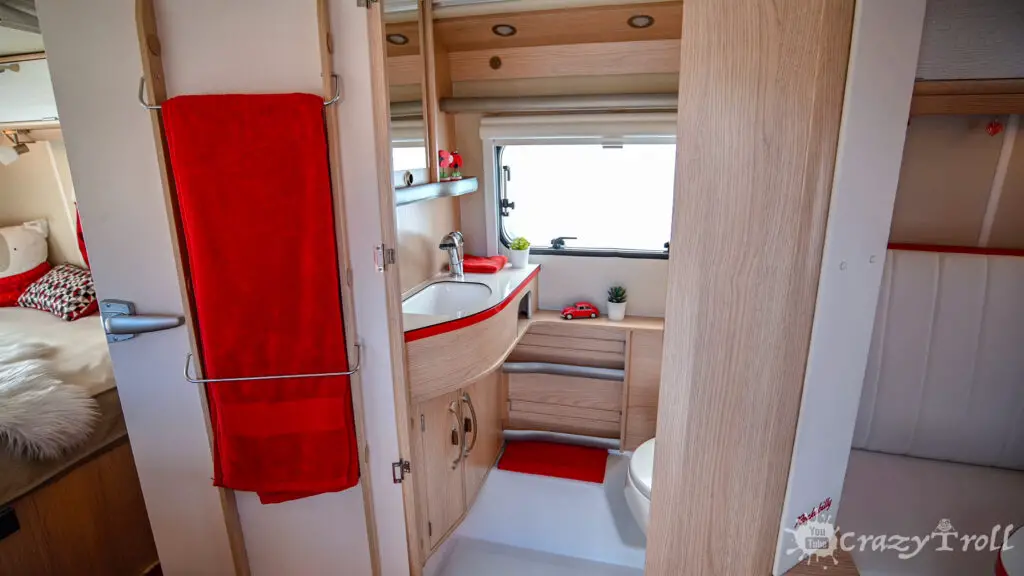 Does Eriba caravan have toilet and shower?
Eriba caravans are equipped with a fixed cassette toilet system, shower, sink with mirror, good lighting, and even shower curtain. The bathroom in Eriba Troll 530 caravan is rather tiny, but here is almost everything you need, including a cassette toilet and shower.
A small sink with a tap that also serves as a shower!
The caravan standard package also included a shower curtain, BUT it is not entirely clear how you can take a shower here, as not all materials look to be water-resistant. Therefore, we took the curtain off and recommend taking a shower outside and use the shower only to rinse your feet inside, since there is a water drain.
Drawers under the sink for storing the necessary things.
A cassette toilet with a flush and a level indicator.
Two sensor lamps above and shelves for personal staff.
An interesting solution was found for the mirror, which rises with the roof
And a small curtain above the door.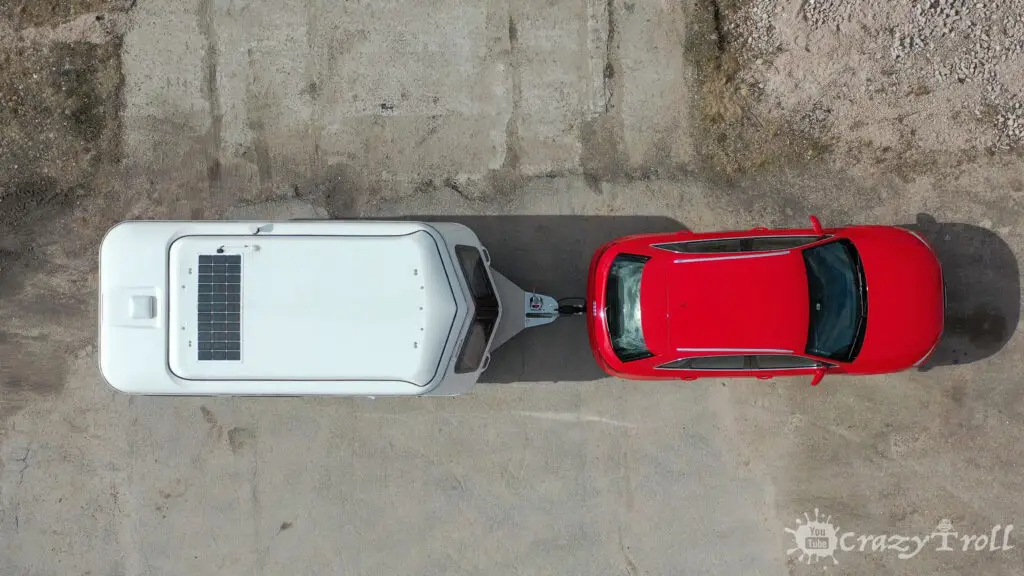 Additional equipment for Eriba Rockabilly caravan
Now let's mention what we have already installed additional equipment for comfortable traveling.
A solar panel on the roof, which is very convenient as it fully charges the battery during the day.
We also plan to install a battery-powered USB socket for charging small devices.
We bought a trailer hitch lock that blocks the coupling device while driving and parked.
Few tips to feel even more comfortable on the Rockabilly caravan.
You should think about installing a maneuvering assistant for the caravan. This will help you to park it exactly where you want it without any stress.
Do not skimp on buying the cover, as the white gloss gets dirty very quickly from the rain and birds.
Use a portable drill when parking the caravan. This is a good way to save both time and effort.
Study the dimensions of the gas cylinders in your country, only one 10 kilo bottle of the Norwegian standard fits in the locker.
Do not step on the front part behind coupling!!! It looks to be solid, but it's only the decor of the caravan!
Be sure to buy a rubbish bin and fix it on the door. They come in different sizes and shapes.
Install the awning if your package does not include it.
If you are tall and traveling in cold weather conditions, buy thermal insulation for a pop-top roof and your staying in the caravan will become more comfortable!
Well, and our main advice – Do not rush, Remember that you are on vacation! There are so many glossy surfaces in the caravan that are so easy to scratch and white materials that are easy to stain.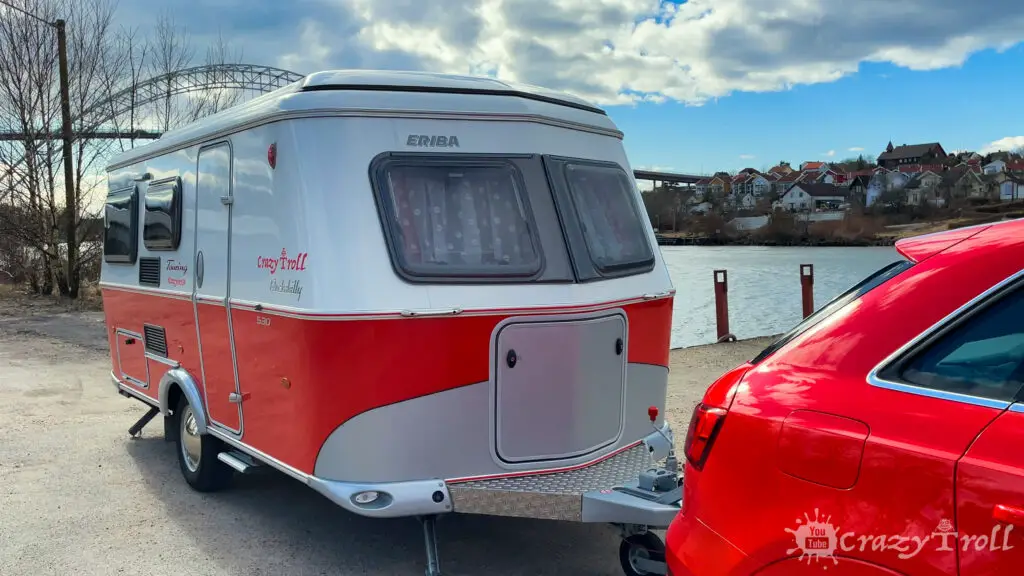 Our overall rating of the Eriba caravan
From us personally, the Hymer Eriba Trouring Troll 530 Rockabilly Caravan gets a rating  – 9 / 10
Since there are small little things that we have already mentioned in the video, but which do not overshadow the important advantages.
Such as stylish design
Compact size
Functionality
and Quality!
And, of course, it's nice to catch on yourself the enthusiastic glances of people you will pass by and who will certainly pay attention to you on the road and in the camping.
We hope this article is useful. We made a video of Eriba Touring Troll 530 Rockabilly Caravan Review that is posted on our channel on YouTube.