For no cost or low cost, you could turn your cushions over, add a duvet or a sleeping mat, add an air mattress or a mattress topper, and add support cushions. Another option is to buy a new foam caravan mattress, which has price options from inexpensive up to the premium range.
A caravan bed often consists of foam cushions which are used on the sofa during the day. The cushions are laid into the bed space at night, but they can be uncomfortable, due to being too firm or soft, and having head-rest or knee-rest pieces, buttons, and gaps between them.
This article looks at the full range of options to make your caravan bed more comfortable, from low or no-cost solutions through to a custom made mattress (which may be worth the investment).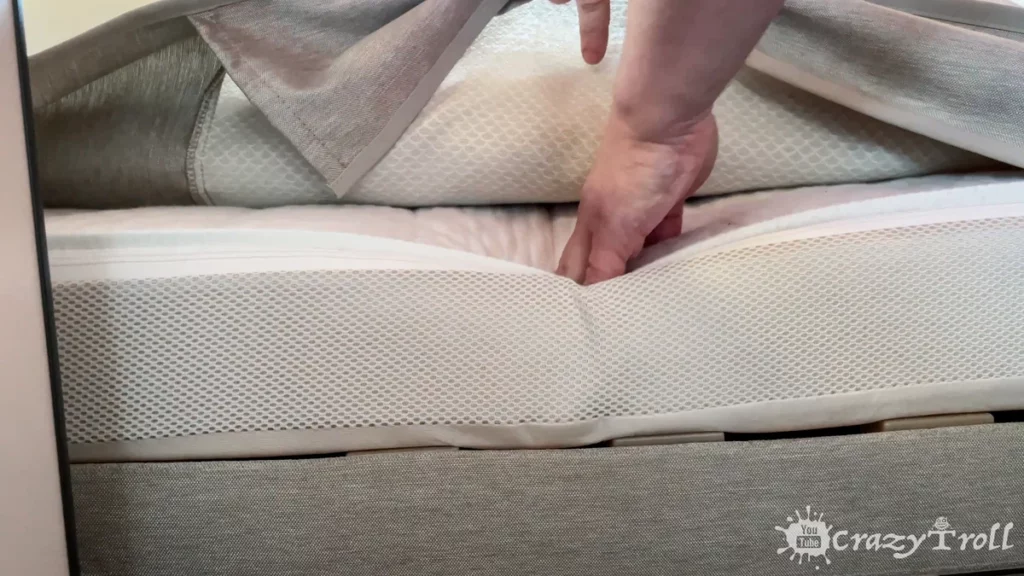 Low or no cost tips for caravan bed comfort
Try the cushions a different way
Many experienced caravanners recommend turning the cushions over, so the surface is smoother and there are no sofa buttons on the top 
Then, lay them so that there is a long cushion running the length of each person's body. This avoids lying on gaps between the cushions
In many vans, this means turning them 90 degrees so they are running across the van's width.
The sofa back rests can be put at each person's head or foot.
Sleep on a duvet
You probably have a spare one in the house: try adding a duvet over your bed cushions for an inexpensive comfort layer. Many caravanners say this makes a difference.
Add a sleeping mat
Sleeping mats made of compressed foam can provide another layer of cushioning and insulation.
They are inexpensive and can be bought from camping shops. You may even have some in the garage, if you have been outdoor campers in the past.
Some sleeping mats have a self-inflating layer, as well as the foam layer. These have air lugs which are opened to let the mat inflate, then sealed up again to keep the air layer in.
These can expand to a couple of inches, which can add quite a bit of extra comfort. 
Sleeping mats roll up to a relatively small size during the day. If you buy two singles rather than a double, it's easier to find spots to pack them away. 
Try an air mattress
Again, you may already have an air mattress at home which may fit your caravan bed.  It's worth trying the addition of an air mattress.
Air mattresses wipe clean and pack down to a small size.  However, they can take time to inflate and be a bother to fill every night.
You will probably prefer using an electric pump: look for one that doesn't take up too much space in storage.
Add support cushions
Sometimes the quality of the sofa cushions doesn't give the right support in places like hips and knees. You could try adding support cushions, such as a between-the knees support, or a bolster behind your back or hips.
Use your own pillow
Experienced travellers suggest bringing your own pillow from home as your body is already cued to fall asleep on a familiar pillow. 
Buy a mattress topper
Mattress toppers are popular for all sorts of beds, especially among people with bad backs or other health conditions. 
Mattress toppers can be foam, egg-carton foam, cooling gel, or a combination of these.
They may also have special zones providing extra support to the shoulders, hips and knees. 
Go to a bed store, which will sell the full range of mattress toppers, and have a lay down on the different mattress toppers before you make a decision.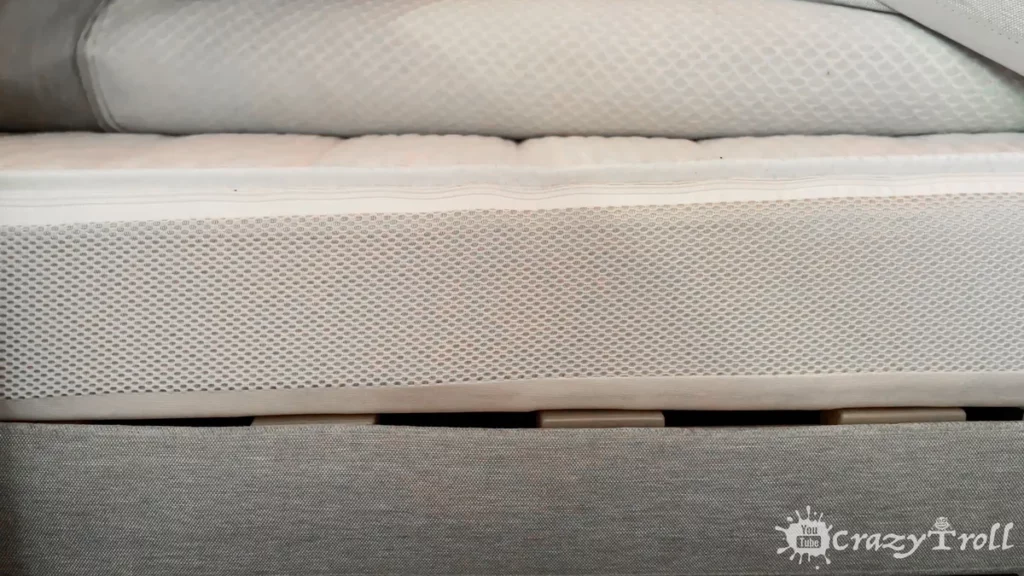 Buying a caravan mattress
The next step in making your bed more comfortable is to consider not sleeping on the sofa cushions, but purchasing a foam mattress instead.
Standard foam mattresses
Foam mattresses of mid-density and standard size, such as a double, are fairly inexpensive off-the-shelf.
Consider buying mid-to-high density foam: the extra expense will be worth it in the long run, as the foam won't compress as much with use, and will support your body better. 
Custom caravan mattresses
Caravans vary a lot in the size of their bed area. You may find that a standard-size foam mattress doesn't fit your bed.
It can still be relatively inexpensive to order a custom size foam mattress: foam shops cut custom mattresses to order and can often provide you with a fabric or vinyl cover.
If you need full support and comfort in your caravan bed – and this may be worth it, because the quality of your sleep will affect the enjoyment of your vacations – consider a premium caravan mattress. 
These can be a standard or custom size and are generally sold through foam/foam rubber stores. 
They have different layers of high-density foam and are made to provide solid support and to last. 
Some are made by foam stores in collaboration with leading indoor mattress factories and have some of the features of indoor mattresses.
They are also treated with anti-microbial treatments to protect the mattress against mold or mildew and dust mites, which may be an important factor for a caravan bed.