After buying a brand new Eriba Touring Troll 530 Rockabilly caravan we started to think about proper upkeep and protection of our new caravan and actually, it appeared that there are more harmful effects than we originally could expect. It was easy to find Eriba caravan covers for our model at a reasonable price!
Why do you need a cover for a caravan or motorhome?
Various harmful effects can damage caravan and motorhome over time and can cause paint fading, loss of shine, rainwater stains. Plastic and paint require protection from UV rays, rain, dust, pollen, bird droppings, and insects.
Let's take a look at what kind of caravan covers we found and how practicable they are.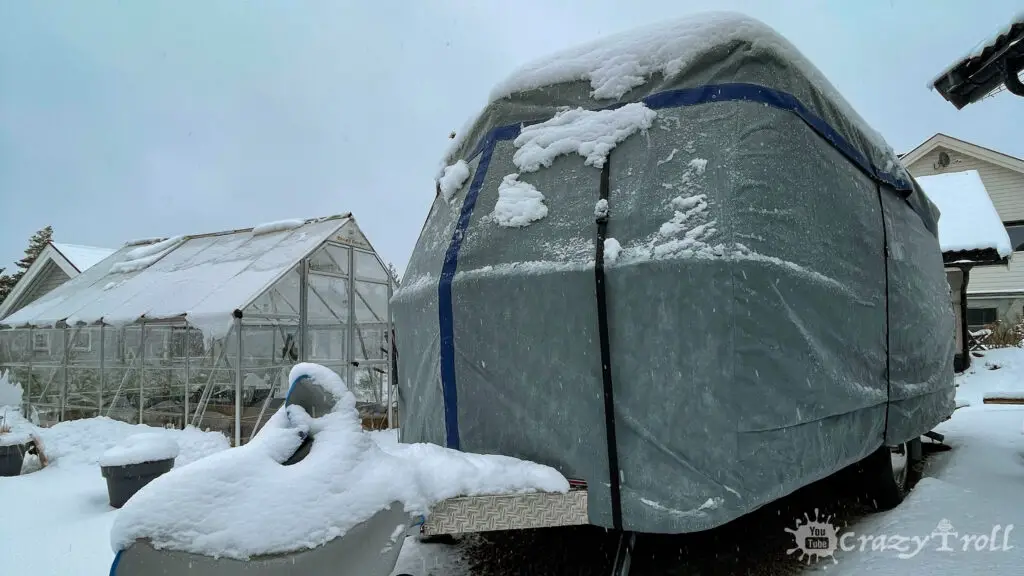 What kind of caravan and motorhome covers exists?
Cover manufacturers offer tailor-made cover that fits perfect for a specific model and line-up for a door, towing covers, and semi-tailored for a range of model defined. Models grouped by caravan lengths and width.
Caravan towing covers give protection against road dirt and even stone damages.
The simplest caravan covers are made of single-layer nylon or even polyester-like top cover. Industry and customer standard – multiple-layer cover. Multiple layer covers are waterproof and breathable to reduce condensation under the cover and well as a soft layer for prevention of any physical damage to plastic or paint of the caravan.
One of the most popular and advanced materials is 3 layer SFS material.
What is 3 layer SFS caravan cover?
3 layer SFS is a three-layer compounded non-woven material with three 3-layers: spun-bond, laminated film, and spun-bond material. The top layer is water repellent and protects the caravan from water. Laminated film is a breathable waterproof fabric produced with breathable micro-porous film located between and bottom layer of caravan cover.
A breathable layer allows condensate to escape. The bottom layer is soft non-woolen material and protects the caravan from scratches or rubbing during the winter period.
The market offers two main options for Eriba Touring models. Original accessory from Hymer Eriba for all models of Eriba caravans and Kampa Eriba Caravan Covers.
You might find caravan covers in local shops, but these are not tailor-made covers and you have to choose covers that fit your caravan by dimensions. Let's take a closer look.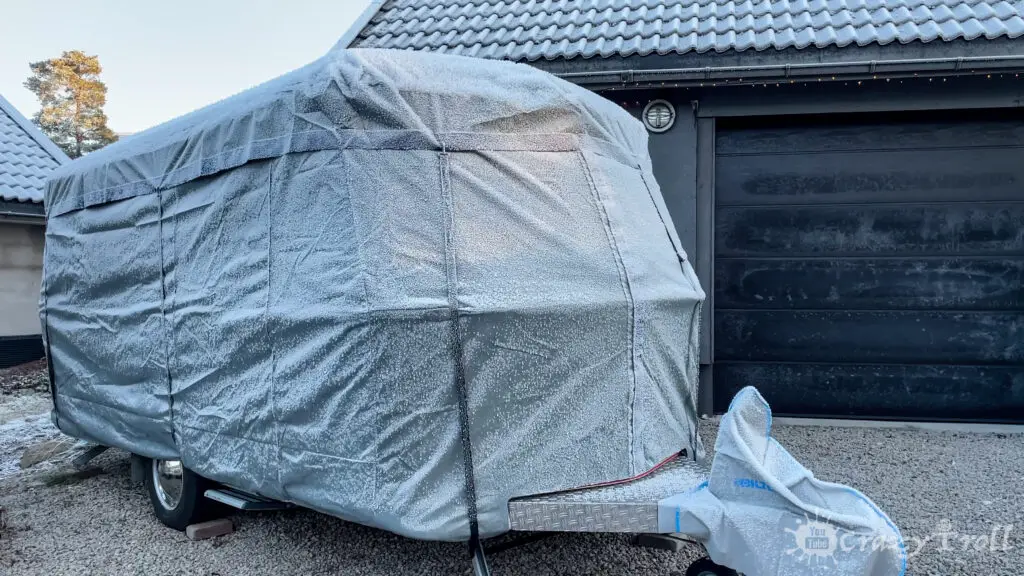 Eriba caravan winter covers from Hymer original accessories
Hymer original accessories offer their own winter cover that is available through a licensed dealer network, therefore listed price may significantly differ from your local dealer offer.
This cover is our first choice for long-term storage outdoor or for caravan winterization. We use it at step 11 in our full winterization guide and included it in the checklist. Eriba winter cover fits for Touring range of model – Familia, Triton, and Troll manufactured after 2011.
Winter cover consists of 3 main parts – two sidewalls and a roof cover and you can put it on quite easily if you have someone to assist. Firstly, put two side walls into the piping strip on the ERIBA Touring via the sewn-on piping.
Then use a hook and loop fastener and attach side walls to each other and form a tight joint. After that, place the roof on top and the roof will overlap sidewalls. Finally, make fast caravan cover soft slings followed in the winter cover set. Open the zipper on the right sidewall and you will get easy access to the caravan door.
Hymer made this winter cover of light and breathable non-woven material (Three-layer SFS-3), which is water-repellent from above and condensate can escape to the outside.
The weight of the full set is about 7 kgs and comes in a convenient bag. Since the cover comes in 3 parts it is much easier to roll parts separately and pack them tight to the bag.
The biggest disadvantage is the price. Hymer set the price rather high at the level of 500 Eur for Eriba Troll caravans, Triton and Familia are a bit cheaper, but you have to remember that it is only recommended price and local retailers sell covers at a higher price. In Norway, we got nearly doubled the price.
Alternative covers for Eriba Caravans
Deiwo caravan protective covers
Probably one of the most common and affordable alternatives is offered by Deiwo. The range of the sizes is close to perfect for are of the model lines. Slight oversize just gives a little move flexibility putting the cover on, but let's take a look closer.
As mentioned above, most of the covers are made of 3 layer fabric, so Deiwo follows the standard for sidewalls using 120 gr/cm polypropylene fibers. But the top part of the protective cover is even enforced with the 4th layer. This 120 gr/cm polypropylene fibers fabric remains breathable and waterproof.
Deiwo caravan protective covers are made in 4 sizes, but for Eriba owners first three have the most interesting size they fit for modern models and overlap with earlier models.
| Size | Lenght Top – Bottom and Width, cm | Corresponds to Eriba Model |
| --- | --- | --- |
| Small | 366 – 427, 235 | Familia |
| Medium | 427 – 518, 235 | Triton |
| Large | 518 – 579, 235 | Troll |
| Extra Large | 579 – 640, 235 | Oversize |
The protective covers are too wide for Eriba caravans, but this makes installation even easier, especially if you have to use it more than just once a year as we do. Straps attached to the cover on each side will definitely help to make the cover sit tight and fix loose fabric on the sides.
Deiwo haven't forgotten about side zips, so it won't limit your accessing caravan, so you won't need to remove cover too early before the road trip on if you will need to access caravan when you already winterize your RV.
Kampa Eriba Caravan Covers
Some retailers have another option for Eriba Touring caravan covers, but at present moment Kampa stopped production for most models and produce storage covers for Prestige and Euro caravan brands. We have requested Kampa to give any details of we should expect their winter covers back to the market or not. If you will find a used set of Kampa Eriba cover you should consider it as a good alternative as it should cost significantly less.
Kampa Eriba Caravan Winter Cover is available for the following models – Eriba Touring Puck, Puck L, Familia, Triton & Troll.
Kampa cover is water-resistant and also breathable and allows moisture to evaporate, but the lower layer is soft and non-abrasive. This material protects from scratches or rubbing during the winter period and protects from moisture, snow, ice, dust, and birds.