A good and reliable trailer hitch lock is the first essential accessory to invest in if you own a trailer, boat trailer, or RV. You have heard or come across a trailer sought out by the thieves because it is easy and straightforward to market again after being stolen.
This is why we wanted a quality hitch lock for our caravan, but it is a must for any utility trailer, RV, boat trailer, or in general for any travel trailer. However, there are many different types of this lock accessible in the market, and without a supportive guide, someone might feel challenged when shopping.
Regular stores offer limited choice, so you might be forced to choose between two options that fit your trailer. Most of our accessories for Eriba Touring Troll 530 caravan we purchased online simply due to better prices and due to wider choice.
Fortunately, I have deep researched and came up with a cost-effective, dependable trailer hitch lock tested and approved to meet your needs and expectations. Therefore, without further ado, allow me to take you through an ultimate guide to fully understand trailer hitch lock.
What is a trailer hitch lock?
A trailer hitch lock is a device made to prevent getting stolen by keeping the receiver and hitch together, with the main lock preventing anyone from lifting the trailer's receiver.
Trailer hitch lock is a small and dependable investment tool that is designed to save us a lot of heartache and headache down the road.
Further, it is essentially the secondary insurance policy for preventing theft of your trailer. We purchased one ourselves and recommend to have one for your caravan or trailer.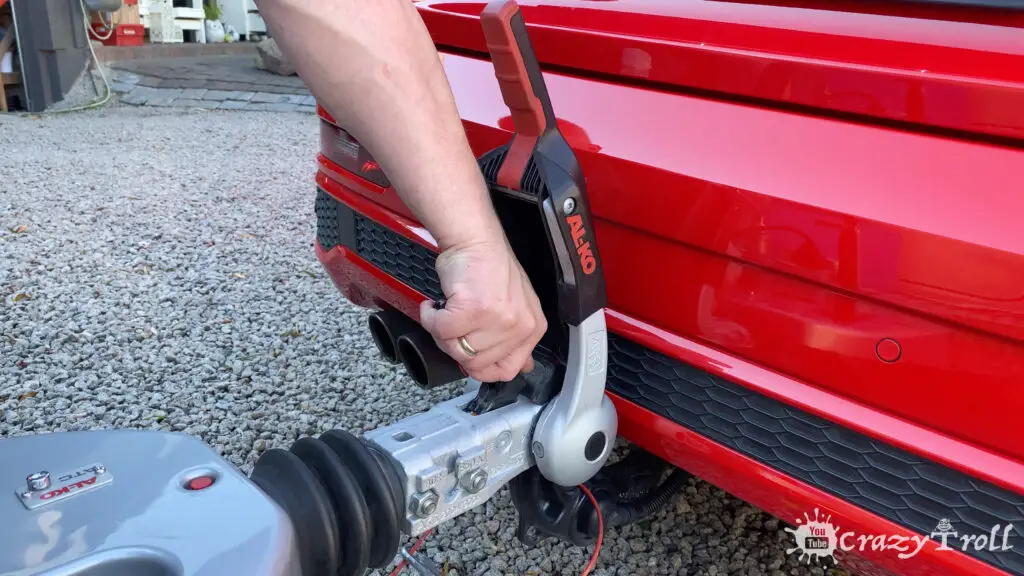 How does this lock work?
Generally, this lock attaches to your trailer's hitch, making it difficult for someone to connect to it without your presence. Besides, someone can hitch this lock since it offers maximum protection and security for your vehicles/ trailers.
The receiver hitch attaches crosswise right to the main receiver hole attached to your trailer. And you cannot detach this lock with a number or key combination.
Further, many of these locks are delivered with more than one metal pin which secures your asset.
How to use this lock?
The procedure is straightforward since they are delivered with locks and keys. Meaning the owner can access his/her trailer anytime. Also, you will be given a detailed tutorial on using your specific locks by the manufacturer since they are different models.
What to do in case the keys are lost?
Most of the trailer hitch locks are delivered with two keys, so another one remains as a spare in case of master key loss. Be sure that you make a copy if you lost the master key.
Some of the locks have an exceptional laser–cut key combination, so it might be a challenge to get a duplicated key. If you misplace both sets, you will need to contact a locksmith to open your lock before you attempt breaking it or eventually remove it by yourself.
Further, you can still contact your producer to know if they can make the replacement keys for your model lock. Below we mentioned methods for reopening your trailer hitch lock if the key was lost.
Besides, depending on your specific lock, the keys might come with a lifetime warranty.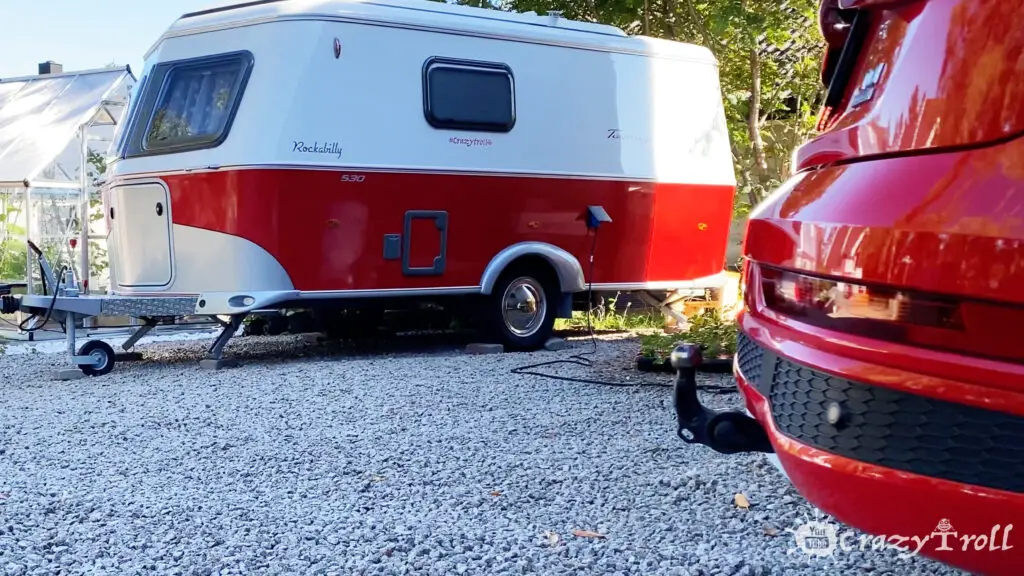 Do you need to invest in this lock?
The simple answer is yes. This lock is made with superior materials and designed to solve our common issues of checking and looking after your trailer now and then.
The lock prevents the trailers from getting towed away and hitched up. The level of security is still reflected in the prices, so worth spending time before making an order. In the overview below you will find that some models give just basic security and might be removed by a skilled person rather quickly.
How to choose an appropriate reliable trailer lock?
There are different sizes, types, and designs accessible in the market. But first, you need to ruler or measure to find the height and width of the opening of your trailer's hitch.
Trailer hitches are divided into 5 classes according to the application, receiver size, gross trailer weight, and total weight at the coupling point or tongue weight.
Hitch receivers have four sizes 1-1/4″, 2″, 2-1/2″ and 3″ and correspond to hitch opening.
| Hitch Class | Receiver opening size | Gross Trailer Weight, lbs | Tongue Weight, lbs |
| --- | --- | --- | --- |
| Class 1 | 1-1/4″ | 2000 | 200 |
| Class 2 | 1-1/4″ | 3500 | 350 |
| Class 3 | 2″ | 8000 | 800 |
| Class 4 | 2″ | 10000 | 1000 |
| Class 5 | 2″, 2-1/2″ and 3″ | 16000-20000 | 2400-2700 |
Luckily, I have done good research and came up with top-rated and valuable trailer locks for you below:
Best universal size – Master lock 389DAT.
This lock suit 25/16, 2, and 17/8 couplers also need a simple removal and installation process. Plus, this lock is manufactured with a superb bright-red finish letting the thieves identify that your lock is secure even before getting closer to it.
Further, it is made with a long-lasting paint coating, making the whole lock resistant to corrosion and rust. Every universal is delivered with an amazing set of keys that are specific for every lock. Additionally, this device features a locking mechanism that is resistant to prying or breaking.
| Pros | Cons |
| --- | --- |
| Rust resistance | Not the perfect for the winter season |
| Easy to install | Key made os softer metal |
| Manufacture with heavy-duty fabric | |
| Bright finish | |
| Exceptional keys | |
Check the price at Amazon: https://amzn.to/39sYBjq
Lock on the budget – REESE 72783
You will love the versatility, affordability, security, and ease of installing this lock. The bright yellow and amazing finish of this lock alerts thieves that this specific lock is much secured even before they get closer. Generally, this lock is compatible with many coupler sizes such as 2, 17/8, and 25/16 inches varieties.
Further, the u-shaped best lock bar locks over the trailer tongue and is made with heavy-duty steel fabric. In essence, the yellow-colored boy is made with lightweight aluminum, and the whole lock is advanced to a new model that is resistant to prying, picking, or drill-outs. Additionally, this lock comes with separate keys.
| Pros | Cons |
| --- | --- |
| Heavy–duty and amazing lock bar | The aluminum body may be a bit susceptible to prying or breaking |
| Affordable Coupler compatibility | It may be removed from some coupling model |
| Many locking positions | Basic protection for the money |
| The key can be ordered | |
| Keyed unique | |
| Easy to use | |
What if you lost the key to Reese 72783 trailer hitch lock?
The replacement key can be ordered from the manufacturer. Contact Cequent Consumer Products Inc as a Reese brand owner at their customer service phone.
There should not be a problem reopening your lock, for more details contact 800-234-6992.
Check the price at Amazon: https://amzn.to/39sYBjq
Superior trailer coupler lock – App lock BRP2516
This is the best trailer hitch lock! Heavy-duty and innovative coupler lock recently in the market, best for 25/16 inches. Besides, this product features a hitch ball that slides into the tongue of the user's trailer before the second portion secures close to the neck of this specific ball, followed by locking.
Further, due to the advanced locking mechanism located on its button, it is challenging for thieves to access and locate your lock when attempting to break your trailer. The material used to make this lock is ducted cast iron and stainless steel, and both are excellent weather resistance, resistance to liquid nitrogen/torch cutting, and corrosion resistance.
What if you lost the key to the AMPLock trailer hitch lock?
AMPLock allows ordering an extra set of keys or if you have lost your key. For ordering a new set of 2 keys you will need a 6 Digit Key Number or 7 Digit Code Number. Both can be located on the key if you need an extra set or in the Control Card followed the product.
For ordering a replacement key visit manufacturer's website – "Key Ordering".
| Pros | Cons |
| --- | --- |
| Quality materials | A bit pricey compared to others |
| Innovative design | |
| Simple installation | |
| Weather resistance | |
| Offers perfect towing | |
| Keys ordered by a unique number | |
Check the price at Amazon: https://amzn.to/3xvK2TY
Al-ko Coupling Hitch Lock – Al-ko Safety Compact
This lock is tailor-made for coupling systems of Alko brand. The main advantage is that it fits perfect coupling and can keep lock while driving and parked being uncoupled. It covers the handle that prevents attempts to uncouple and couple your boat trailer or caravan. It does require additional mounting and weather resistance.
What if you lost the key to Al-ko trailer hitch lock?
Al-ko hitch locks are suitable for lock cylinder replacement, but that means that your lock should be unmounted. The lock cylinder is easily removed by letting go of two bolts from inside the lock and then the cylinder can be replaced.
To order a replacement lock cylinder you will need to contact the official Al-ko dealer or order online. The replacement lock cylinder fits all models of Al-ko hitch locks.
| Pros | Cons |
| --- | --- |
| Quality materials | Can be used only on Alko coupling |
| Fits perfect Alko couplings | Cover range of models |
| Can be kept while driving | Available on the European market |
| Weather resistance | Lost key lead to lock cylinder replacement |
| Simple installation | |
Check the price at Amazon: https://amzn.to/3fnUbJF
Receiver lock – Bolt 7018448
This lock is designed to eliminate the requirement of carrying extra keys for your specific receiver, and still, its more safe locks have recently been in the market.
Besides, this device fits 5/8 inches pinholes, and also it is compatible with other related hitches. Further, the pin is manufactured using long-lasting stainless steel, while the locking mechanism features an auto-return best spring that locks whenever the key is removed.
Additionally, this lock boasts a double ball bearing mechanism for straightforward and smooth operation to prevent thieves from breaking the lock. The auto-locking advanced mechanism aids prevent the user from forgetting to lock since it is designed to lock whenever the key is removed automatically.
| Pros | Cons |
| --- | --- |
| High-quality materials | The compatibility means that the lock might not operate on every car if the manufacturer does not make it for a specific key type. |
| Key compatibility | |
| Protects even in harsh weather | |
| Simple to install | |
| Ensures durability and reliability | |
Check the price at Amazon: https://amzn.to/3HmkGg2
Trailer hitch pin lock – Boyisen
This is delivered with an 11/2 and 15/8 long pin lock. And it is compatible with different tracks due to its security, versatility, and price. Among the best features, you will love on this tool are O-rings designed to get altered depending on hitch size. Further, the 5/8 and ½ diameter locking pins operate ideally with different sizes of hitches.
Besides, the rubber caps are saddled on both sides, which serves as a protective cushion over scratches and abrasions. Admirably, the E-coated stainless amazing stainless steel feels sturdy and looks aesthetic.
Additionally, this lock is heavy-duty coated, which enhanced its shield over rust and dust, keeping the tool much healthy also in the worst weather conditions.
| Pros | Cons |
| --- | --- |
| Powerful construction of the steel | Lock spins – hard lock and unlock under bike racks |
| Come with the powerful structure of the steel | Nothing too major |
| Installation and application is easy | |
| The protections against erosion and corrosion is appreciable | |
| The adjustable band's aid suit the desired hitch size | |
Check the price at Amazon: https://amzn.to/3xSE2Gc
My Conclusion
Trailer hitch locks are heavy-duty and sturdy options for your vehicle. They are the greatest ways of giving you peace of mind when you have left your track going for a meeting, lunch, or other related activities.
And since theft has increased in today's world, you need something super-secure upon your vehicles. We have chosen AL-KO Safety Compact as it perfectly fits our needs parked and while driving and is now in our standard list of equipment and tips for the caravan. In general, Norway is rather a safe country, but it is better to be well prepared, especially taking into account the decent price of the trailer hitch lock.
Fortunately, I have provided a comprehensive guide that will help you understand these locks and why you need one or two. Further, you can still use our above guide to own a reliable and trustworthy tool when shopping.