Towing the caravan is rather simple unless you need to maneuver and tow a heavy caravan with a smaller car. Knowing the main difficulties before you even start your journey will definitely help you not to get into trouble. One of the common problems on the road is snaking.
But what is snaking and how it affects the car and driver? Snaking is the motion of the caravan being towed occurring due to strong winds, oncoming traffic, cars overtaking, unsteady driving, or due to bad road conditions. Snaking can be minimized by a stabilizer fitted to the hitch head.
Snaking is not only means uncomfortable driving but also can destabilize your tow and lead to dangerous moves around the hitch. Snaking at high speed, when your caravan or trailer starts moving from side to side if definitely should be avoided.
How can you avoid snaking of the caravan?
Installing an electronic stability device and the anti-snaking device will help to reduce and prevent snaking while driving.
Having installed Tyron bands will minimize the impact of blowouts, holding the tire and wheel together in case of an accident, allowing the driver to have control of the car and caravan and stop safely.
What is an anti-snaking device?
The anti-snaking device is an electronic device that takes preventive braking if snaking or unstable movement of the caravan. If the anti-snaking device detects that caravan is not in line with the towing car it slightly brakes and brings the car and caravan back in line.
The anti-snaking device works the same as Electronic Stability Programme (ESP) also known as Electronic Stability Control (ESC).
A great example of an anti-snaking device is AL-KO ATC trailer control. The manufacturer recommends having an AL-KO ATC trailer control device to be installed together with the AL-KO coupling stabilizer.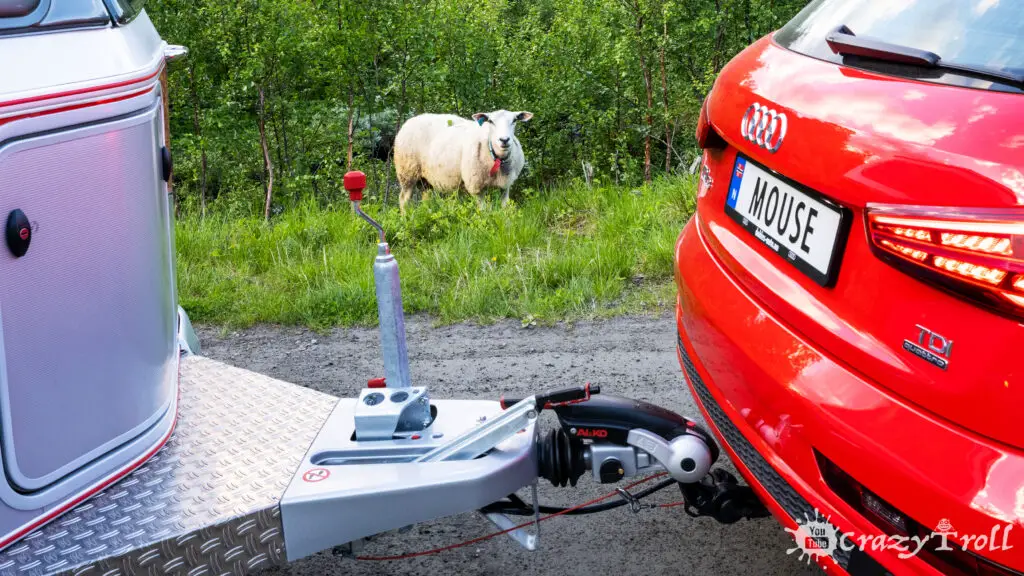 AL-KO coupling stabilizer improves the comfort of driving and critical speed by 20%. The stabilizer constantly suppresses the small swinging and pitching movements of the caravan.
Today, stabilizers from AL-KO and Bulldog are considered the most reliable anti-snaking stabilizers, but market offer development and new models should be considered as well. We bought a caravan with AL-KO coupling with a stabilizer installed and this really helps on the road compared to the regular hard coupling on our utility trailer.
These three elements of your caravan require additional investments, but safety on the road should be prioritized.
If Tyron bands will help you in case of an accident, then a good stabilizer will greatly improve the comfort of the driving.
New models of caravans are mostly offered with preinstalled stabilizers, but you should consider checking the optional package before buying a new caravan as it might be an extra option.
Aside from fitting extras to your caravan, a lot of the risk of snaking can be removed simply by loading and towing your outfit responsibly.
Here is a guideline you should consider before and while driving:
Load your caravan correctly – heavy items to be placed on the floor of lower storage places and light items can be stored in upper shelves.
Verify that caravan nose is loaded within allowed limits, normally under 80 – 100 kgs, and can be found in caravan manual.
Follow "85% rule". This is not a legal restriction, but a recommendation that caravan Maximum technically permissible laden mass (MTPLM) or the heaviest total weight of the caravan allowed by the manufacturer should not exceed 85% of the car's Gross Vehicle Weight (Curb weight, or Kerbweight, or is the total mass of a vehicle with standard equipment and all necessary operating consumables)
Observe speed limits and adjust to road conditions.
Check that the caravan coupled properly and securely.
Verify tire pressure and both for car and caravan as well as wear and tear.