Trying to keep your caravan warm during the winter months can be a real challenge. Cold weather can easily seep into your caravan, leaving you shivering day and night. The good news is that there are plenty of tricks you can use to keep your caravan warm. Those chilly nights will soon be a thing of the past!
How Do I Keep My Caravan Warm In The Winter
Insulation
One of the best ways to keep your caravan warm during the winter months is to get it insulated. There's no way it's going to stay warm in colder weather if the heat is allowed to escape through the walls, windows, and doors!
It will be important to insulate your water pipes in particular. When it drops below freezing, these can freeze over, leaving you without a running supply of water. You can also insulate your caravan floor.
If you can afford to install underfloor heating in your caravan, this will be a fantastic way of keeping you warm. It will even be more cost effective for heating the whole caravan.
Windows
It's also important to ensure that you have the right windows in place. Single glazed windows will lose more heat than double glazed windows. Double glazed windows will give you an extra barrier between your caravan interior and the outside.
You should also check around any windows and vents for any cracked or damaged seals. These should be repaired so as to prevent any heat from escaping.
Another trick to use is to install curtains or thermal blinds in your caravan. These can help to lock in more of the heat in your caravan. They can also deflect any cold that's trying to get into your caravan, and give you an extra layer of insulation.
Install an awning
The heat will be most likely to escape your caravan each time you open the door. So a great way to keep the heat locked into your caravan is to install an awning. If you place a porch awning over the entrance to your caravan, it will be able to prevent some of the heat from escaping each time you open your door.
When it comes to choosing where to secure your awning, make sure not to block any air vents.
Heaters: Gas, Diesel and Electric.
One of the most obvious ways to keep your caravan warm during the winter months is to use a heater. However, as we've mentioned above, this will be pointless if your caravan isn't properly insulated. The heat will only escape otherwise.
Modern caravans are now equipped with powerful gas heaters, for example, Eriba Troll 530 can be well heated with a 3000W Truma gas heater and maintain a good temperature.
If you own a campervan or plan to rebuild a van then you should consider a diesel heater as a great solution for heating. Modern diesel heaters are rather costly, but Chinese diesel heaters most often come in two versions 2kW and 5kW are great substitutes and budget savers. More detailed in a separate guide about Chinese diesel heaters.
Electric heaters are one of the easiest and cheapest ways to heat your caravan. They will of course require a socket for you to power them, but they should be able to heat your caravan so that you're not sat shivering.
However, don't forget about portable or fixed 12 Volt heaters that can be a game-changer traveling in low temperatures or in doubts installing a diesel heater or just worried to have a good backup heater.
Fan heaters and ceramic heaters are also great options if you're after instant warmth. Ceramic heaters will be quieter to operate than fan heaters. So if noise will bother you ceramic heaters will be the better option out of the two.
Heated blankets
You'll be surprised by the difference a heated blanket makes to your cold caravan. A heated blanket can give you a super toasty bed to crawl into at the end of the day. It will feel like being enveloped in a warm hug and will mean that you're able to drop off to sleep much quicker.
Are caravans well insulated?
Most caravans should come with built-in insulation, but this may not always be the case. You may find that some caravans will also be quite cold in the winter if you don't add your own insulation to them. 
One of the places where the insulation will be on the thin side is in your caravan floor. You may need to add some additional insulation here to prevent any heat from escaping.
It's also generally a good idea to add some extra insulation to your caravan to properly ensure that you can stay warm and cozy during the winter months.
Adding something like blanket insulation to your caravan's floor, walls, and roof will give it an added layer. The heat won't be able to escape your caravan as easily with this in place. This will especially be useful if you plan on living in your caravan through the winter.
Can you live in a caravan in winter?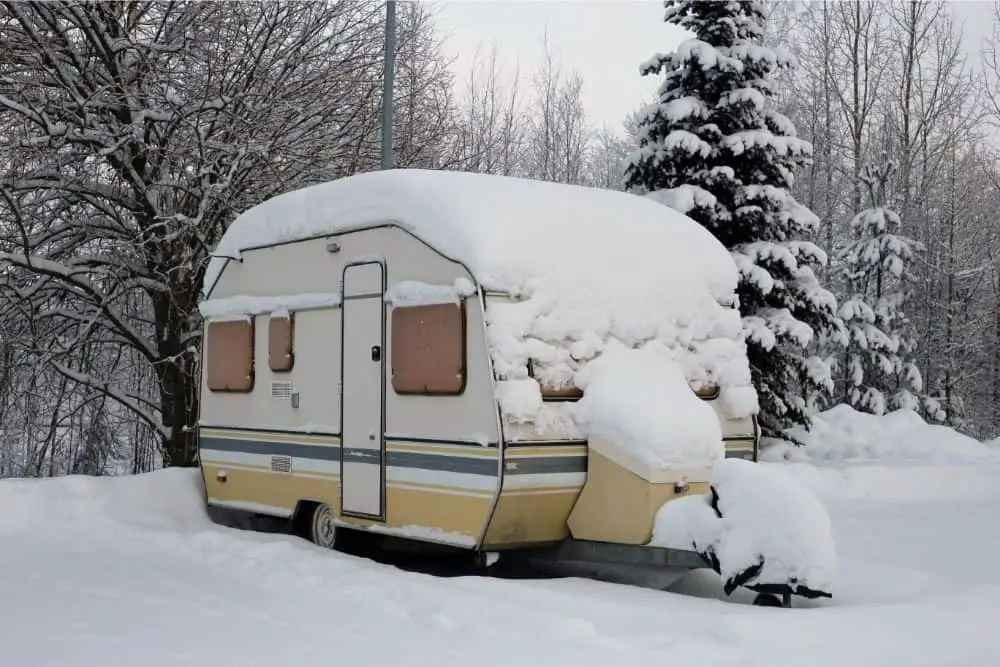 You can indeed live in a caravan during the winter months, but it's important to remember this decision shouldn't be taken lightly. 
Depending on the area that you live in, the temperatures could plummet well below freezing. This will mean you'll have to think about how you're going to prevent your water pipes from freezing over so that you can have a regular supply of water to use.
This is when insulation will become especially important. If your caravan doesn't have an extra layer of insulation, it will be much, much colder during these winter months. Another key thing to bear in mind is that your caravan has some air vents to help with insulation.
Otherwise, condensation will start to build up, which could even cause mold to develop. Using a pressure cooker for your food is also a great way to prevent any condensation from building up.
How do I keep my caravan warm at night?
You're confident about keeping your caravan warm during the day, but what about the night? One of the most obvious ways, of course, is to opt for a heater. However, it's important to remember to choose a low-wattage heater.
If it will be running for between 8 to 9 hours every night, that will soon start to add up on your electric bill. Or it might even quickly drain your generator!
As we've mentioned above, adding a heated blanket to your bed is another way to keep you toasty. You can even sleep with these on the lowest setting so that they don't get too hot. They may even heat the room around you, which will make the caravan much warmer when you wake up the next morning.
The best way to keep your caravan warm during the night is to make sure you've got sufficient insulation installed.
Should I heat my caravan in winter?
It's always a good idea to keep your caravan heated during the winter. This is because when the mercury drops, it can cause cracked taps, split pipes, or even damage your entire water system. You should ensure that your caravan is properly insulated so that it won't be so severely affected by the cold weather.
Remember to keep it well ventilated, too. This will help to prevent a build-up of unwanted moisture which could damage your caravan. Ensure that your caravan has air vents installed for this.
In summary
So there you have it! As long as your caravan has sufficient insulation, you should be better able to heat it through the colder months. Make sure that your floor is insulated, too. 
You can use things such as thermal blinds or curtains to add an extra layer of insulation around your windows. Make sure to check window seals, too. Electric, fan, and ceramic heaters will also be a lifesaver for heating up your cold caravan. And don't forget that electric blanket before you head to bed!