There are many advantages and disadvantages to owning an RV. Many people love the freedom it gives them, whereas others hate the idea of driving around while on vacation. Whatever your preference, it's a good idea to weigh up the pros and cons of owning an RV before jumping straight in and making a purchase. 
The advantages of owning an RV:
Freedom – With an RV, there's no booking hotels or having to wait around for hours at the airport, or relying on public transportation once you reach your destination. Simply hop in and go! This means that you can take spontaneous trips whenever you feel like it, and you'll never have to worry about the roof over your head, as you'll have your trusty RV.
You can live in it – Some people choose to use their RV as a temporary home. This is useful if you're trying to save up money for a house, or if your current home is being renovated. This will save you from having to waste money on motels, and you'll never be too far from home. Most modern RVs come pre-fitted with a refrigerator, stove, bathroom, and even a shower, so you'll have all the basic facilities you need. Some even have more advanced gadgets built-in, such as satellite hook-up, central heating, and air conditioning. 
Packing is simple – As you'll be using your RV over and over again, there's no need to completely unpack it every time you return home. For example, you can keep kids' toys, camping gear, bedding, non-perishable food, and cleaning supplies inside the vehicle, so you know they're always there in the event of a spontaneous trip. 
The disadvantages of owning an RV:
The cost – The thing that puts most people off owning an RV tends to be the cost. The initial cost can be pretty high, especially if you're buying new. But you'll also need to consider the cost of maintaining your RV, rather than just the price of the vehicle itself. You'll also need to consider the costs of insurance, as well as paying for electricity and plots of land at campsites. 
Limited by the road – While an RV brings a lot of freedom, it can also restrict you. If you're replacing your regular vacations with RV trips, your travel locations become more limited. You can only travel where your RV can travel. You'll also need to consider the time taken to travel to each destination- it can take days to travel from one coast of the US to another.
Maintenance – If you own an RV, you'll need to perform regular maintenance to keep it in good condition. First and foremost, you must keep the RV engine and drivetrain in good working order by completing oil changes, tire replacements, brake replacements, tune-ups, and dash AC refills. You must also maintain the kitchen appliances, including the water heater, furnace, rooftop air conditioner, and generator.
After weighing up the pros and cons of owning an RV, you'll need to decide whether it's worth owning one. If you think you'll use it more than 30 days every year, then consider looking into it a little more- it could be more suitable for you in the long run. 
Should I buy a new or used RV?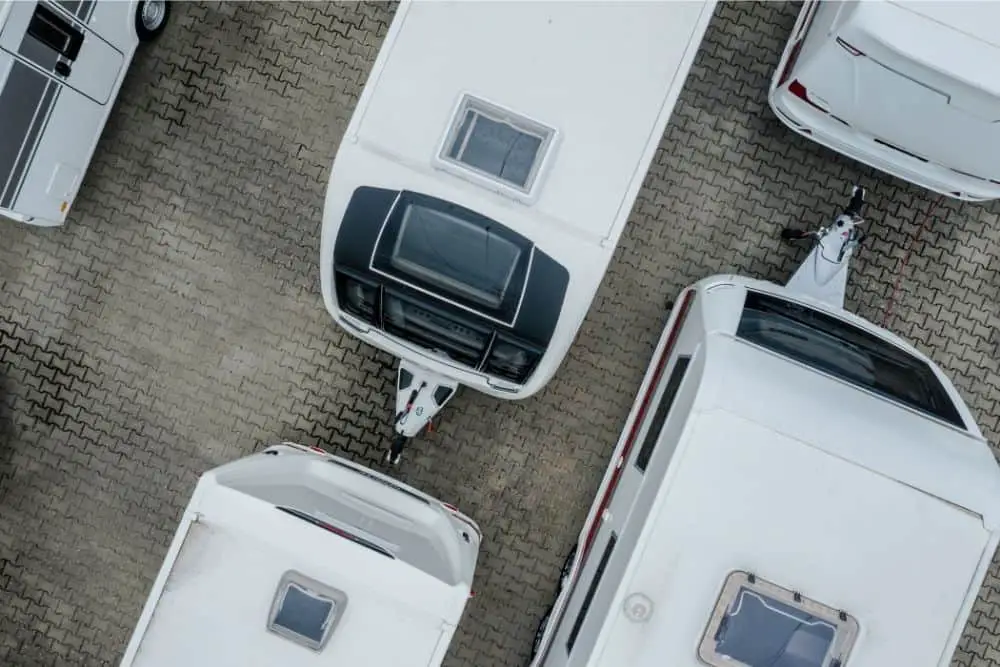 If you're ready to experience the camping lifestyle, you may find yourself wondering- "Should I buy a new or a used RV?" To answer this question, you'll need to weigh up the pros and cons of each. 
A used RV will cost far less than a new RV. It's always worth shopping around and doing your own research, to make sure you don't get ripped off. You also won't have to worry about depreciation in the same way you would with a new vehicle.
With a used RV, you may also benefit from added gadgets previous owners have built in. 
However, buying a used RV has its disadvantages. You should expect some basic wear and tear to the vehicle, and you'll probably want to replace the mattress, which is going to cost you.
There may also be hidden issues that you, nor the seller are aware of. Inspect the RV thoroughly before handing over any cash and check the tires, axles, undercarriage, and frame are all straight and not bent or rusted. 
If you are unsure about assessing these components yourself, bring a knowledgeable friend with you or pay an RV inspector to check over all of the systems. Request that the owner turns on the furnace, air conditioner, refrigerator, water pump, and so on to ensure that everything is in working order.
While buying used often saves money, you might still end up overpaying for it. Perhaps the owner conducted custom work and wants to return their investment. In this scenario, you must decide how much you are willing to pay. Again, do your homework on reasonable market pricing and go from there.
As long as they are not too old, benefit from having been lived in and used! Previous owners may have encountered, and resolved, mechanical or appliance concerns. You'll also find that many secondhand RVs have charming, homey details that were custom-installed by the previous owners. 
Whether you buy a new or used RV, make sure you have a pre-delivery inspection performed, ideally by a professional, third-party inspector. Also, unless you are extremely handy, consider purchasing an RV extended warranty.
We recommend that you conduct your research and obtain a quote from a broker before purchasing so that you can consider it into your purchase price.
With everything taken into consideration, we recommend buying a used RV instead of a new one. This is primarily because of the costs involved with a brand new vehicle and the depreciation rate.
Buying a used RV doesn't necessarily mean buying an old RV. You can get second-hand RVs that are only a couple of years old, but for a fraction of the price you'd pay from a dealership.