Vans are some of the most versatile vehicles; however, most of them are two-wheel drive. The addition of a 4WD system helps to transform a van from a package hauler or family runabout to an all-terrain vehicle. With a 4×4 vehicle, you will have access to a whole new level of capability to a van's existing large storage capacity.
Although the term vanlife might be relatively new, living in a 4×4 van in an adventure is not something new. For years, people have been using AWD vehicles to access some amazing places across the globe. The ability of 4×4 vehicles doubling as a home on the road has grown significantly in popularity among vanlife enthusiasts. With the right 4×4, you can go on an extraordinary adventure.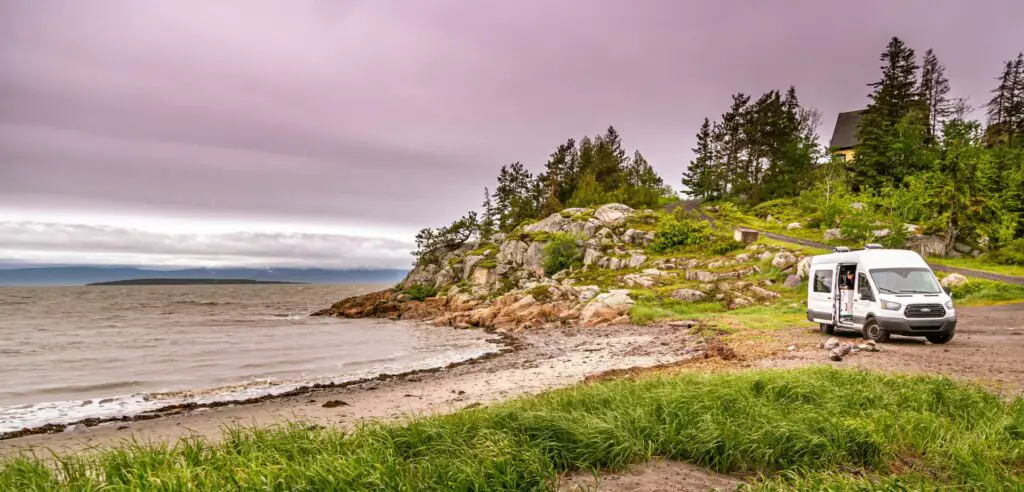 However, with different types of 4×4 and AWD vans available in today's market, choosing one that best suits your needs can be relatively challenging. Fortunately, in this article, we shall be talking through all 4×4 and AWD vans in the US, giving you detailed information on each van. With that said, let's get started on today's topic.
Unlike most 4×4 vans available in the US, the Mercedes Sprinter 4×4 features a unique design; it is operated manually via a button. If you are into off-roading, a differential lock can be optioned to improve the functionality of your van.
Mercedes Sprinter 4×4
The Mercedes Sprinter 4×4 version is an incredible van equipped with two engines; a 3.0-liter diesel V6 which produces 188 horsepower, and a 2.1-liter diesel engine that offers 143 horsepower.
Furthermore, the Mercedes Sprinter 4×4 is limited stock, and it offers a load space of up to 17,000 liters along with a payload of up to 2,890 kgs. These outstanding features make it a perfect 4×4 for off-roading and accessing remote areas with the utmost ease.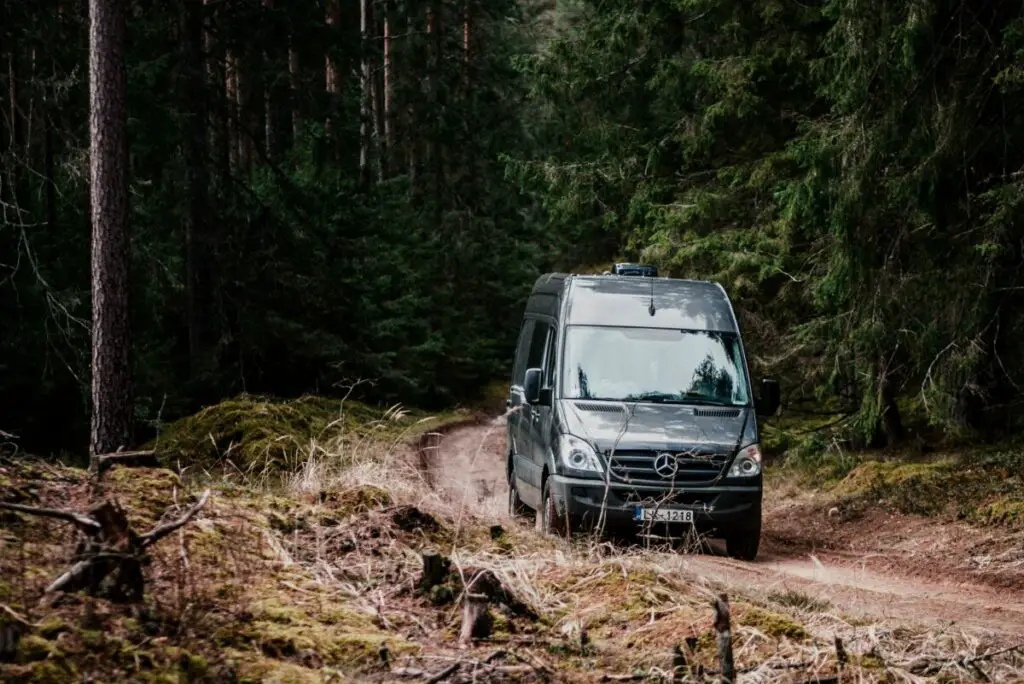 Irrespective of its use, whether it is for commercial use or off-road adventure, the Mercedes Sprinter 4×4 with its selectable AWD impresses off-road with stable driving experience, incredible traction, and top-notch braking effect.
The car also offers various variants, making it one of the best vans in demanding terrain. You will quickly understand why it is one of the most outstanding 4×4 vans in today's market when driving it.
Volkswagen Crafter 4×4
The Volkswagen Crafter 4×4 is Volkswagen's biggest van. When you purchase this van, you will have access to an intelligent parking system, emergency braking, full electronic steering assist, and the latest entertainment system.
Moreover, you should expect to have access to find Volkswagen 4MOTION AWD systems. This van is available in a panel can, crew cab version, and single can, and it can be teamed with a twin-turbo 2.0-liter diesel engine with 175b horsepower.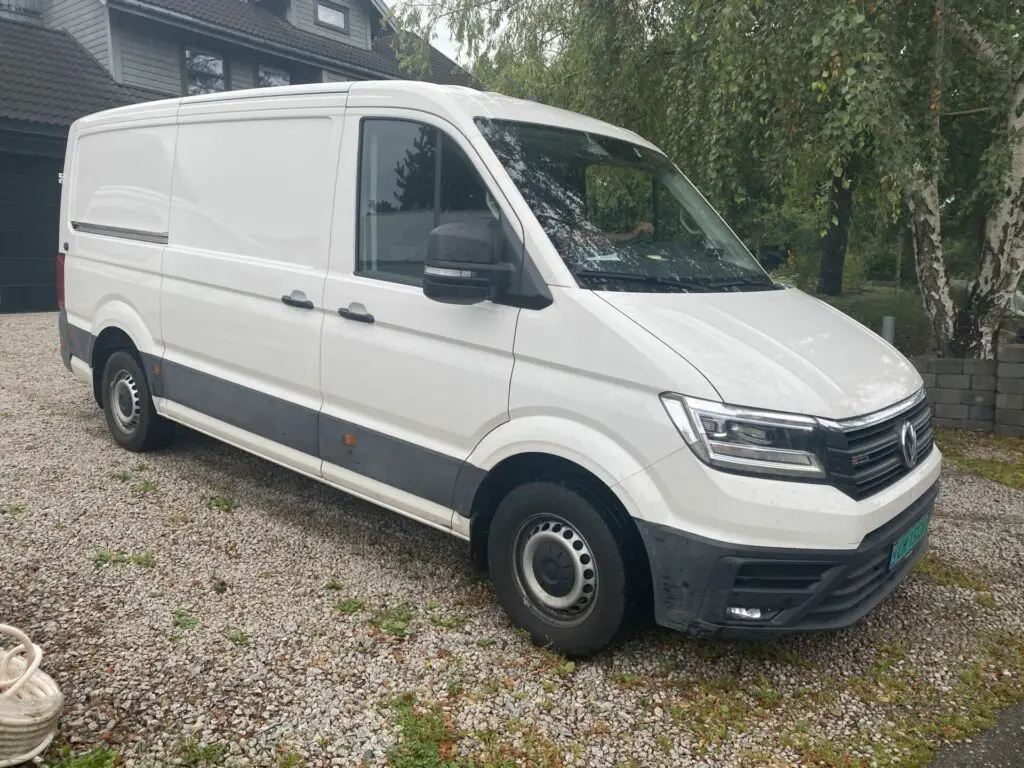 The Volkswagen Crafter 4×4 is also limited in stock and offers a load space of approximately 11,300 to 16,400-liters. Additionally, this 4×4 van provides a payload of around 735 to 2,573kgs. The Volkswagen Crafter 4×4 provides a wide range of choices for buyers, especially if you factor in three roof heights, three body lengths, as well as chassis can options.
The Volkswagen Crafter 4×4 4Motion adds a four-wheel drive to the mix, and the van has been designed to offer extra traction for van users that love exploring off tarmac roads. Its weight load makes it an incredible van for use in exploring and adventures. With the Volkswagen Crafter 4×4 you should expect to have access to some top-notch technology that makes it feel more advanced than its competitors in the market.
Ford Transit 4×4
The Ford Transit 4×4 is undoubtedly a highly dependable van with incredible functionality that has made it sold in huge numbers. Since they have been sold in huge numbers, it is fairly easy to find one in the market.
This 4×4 van incorporates an incredible design, and it features a four-wheel-drive system operated via a switch on a dashboard. Additionally, it is available in both L2 and L3 body lengths as well as H2 and H3 height. It comes in either a 170PS or 130PS version of a diesel engine.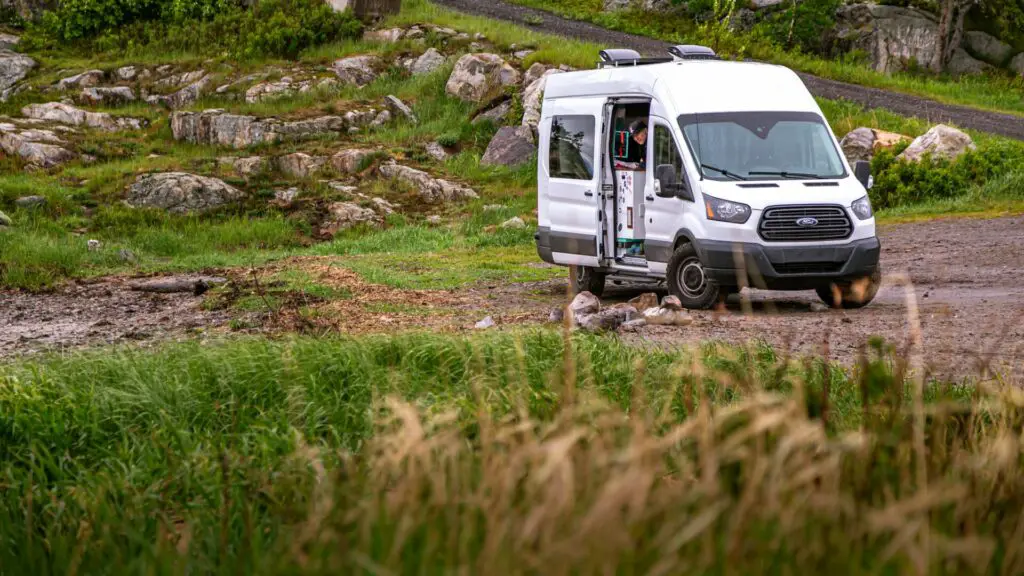 When it comes to loading space, the Ford Transit 4×4 offers a capacity of 15,100 liters along with a payload of up to 2,169kgs. Although the four-wheel drive is a niche on Ford vehicles, it is undoubtedly the best fit in the Ford Transit 4×4.
The sleek look of the Ford Transit 4×4 complements the van's AWD off-road capability, and it will cover a surprisingly long distance off a beaten road- certainly significantly further than most vans are likely to hide. Its top-notch and improved look, along with its user-friendly design, makes this Ford Transit a tough 4×4 van best used for off-roading and accessing remote areas.
Volkswagen Transporter 4×4
The Volkswagen Transporter 4×4 incorporates an innovative permanent 4MOTION all-wheel-drive system that will enable sure-footed progress in rainy, snowy, muddy, sandy places or an area filled with gravel. It has been designed to maintain traction incredibly well while off-roading and offers improved road holding, and increases safety in areas with poor surface conditions.
The Volkswagen Transporter 4×4 is undoubtedly one of the best 4×4 vans for good reasons. This car is highly reliable with a proven track record, and it is known to offer value for its money, considering that they have a load space of approximately 9,300-liters.
Its 4MOTION four-wheel-drive system is among the most complete and complex systems available on the van. It incorporates a great mechanical differential lock, and it comes equipped with VW's smooth seven-speed DSG automatic gearbox. The Volkswagen Transporter 4×4 also offers a payload of up to 1,328kg.
For an additional safety feature, the Volkswagen Transporter 4×4 4MOTION is fully compatible with Electronic Brakeforce Distribution, Anti-lock Braking System, Off-road Anti-Lock Braking System, and Stabilisation Programme. This design makes it a reliable 4×4 van that will help you access remote areas and places where most vehicles cannot access.
Chevrolet Astro AWD
If vintage 4×4 vans are your things, then Chevrolet Astro AWD will be best for you. Back in the 1990s, the North American minivan was red hot. And the Chevrolet Astro AWD was the first domestic van to offer a four-wheel-drive system.
From 1990, AWD was an option for Astro until 2005. Although this van did not have a low-range transfer case, it was designed to offer a relatively high-up seating position along with a V-6 power engine with 200 horsepower from its 4.3liter engine.
In 1995, the Chevrolet Astro AWD was facelifted, giving it a sleek look giving it a full-size van look. The Chevrolet Astro AWD features a partial unibody construction along with a partial frame upfront. Although not hardcore 4WDs, these vans make a perfect platform for a compact camper that can tackle off-road with the utmost ease.
Chevrolet Astro AWD still has strong support to this day from van enthusiasts. The van offers a taller interior along with an incredible cargo capacity which gives it its unique rectangular shape. With its AWD system, the Chevrolet Astro AWD is a van that has seen more than just attention from both overland outriggers and conversion companies.
Toyota 4WD Van
This is another sleek vintage 4×4 van. From 1987 to 1989, Toyota designed their vans in 4WD. They were referred to as Toyota Vans. The Toyota 4WD van is a forward-control vehicle with drivers sitting atop the wheels with the car's engine between the passenger and the driver.
These vans were equipped with AWD systems, including a relatively low-range transfer case if you preferred manual transmission. The car's power came from a 2.2-liter 4-cylinder that produces 101 horsepower along with 135 lb.-ft. of torque. The car features both manual and automatic transmission and a manual as well as automatic locking hubs.
Toyota 4WD Vans; the Liteace/Townace incorporated similar body construction with a solid rear axle with leaf springs along with independent front suspension fitted with torsion bars. These vans were famous for their top-notch functionality; they would run forever. The van was equipped with underpinnings that allowed it to cover all terrain with the utmost ease.
Sportsmobile Classic 4×4
Sportsmobile Classic 4×4 design instills confidence for traveling to some of the inaccessible roads and remote off-grid destinations where most campervans cannot access. Furthermore, the company's rich history in designing adventure vans (from the 1960s) adds assurance.
The Sportsmobile Classic 4×4 incorporates a reinforced fiberglass shell along with an integrated penthouse that pops up on the car's frame. In addition to its 4×4 drive system, the Sportsmobile Classic 4×4 offers all sorts of comfort one would dream of from kitchen to refrigerator, water, toilet, air heater, cabinetry, solar panels, along with other essentials.
Additionally, the Sportsmobile Classic 4×4 features a fully custom floor plan along with different engine choices, including a 6.8-liter Triton v-10 engine and a 6.2-liter Triton V8. Unfortunately, there are no diesel engines currently available in the market.
However, having a Sportsmobile Classic 4×4 is like having a home on wheels. Its suspension and driveline have incredible off-road prowess. Additionally, Sportsmobile Classic 4×4 features an advanced adapter atlas II gear-driven transfer case, Dana 60 rear axle, and Dynatrac Prorock 60 front axle. The Sportsmobile Classic 4×4 offers everything you require to tackle demanding terrain with the utmost ease.
Oasis Sienna Campervan
Oasis is known for designing some of the best camper vans with AWD systems, and they are legendary and reliable, and the Oasis Toyota Sienna Campervan is no different. The interior design of this AWD van houses a Lagun table along with 12 ft3 of draw space, foldable chairs, and hardwood floors.
At the back of the van, you will find a complete kitchen galley equipped with running water, sink, shelves, drawers, along with sizable countertops. The design of this AWD campervan makes it perfect for camping, accessing remote areas, and other outdoor activities.
Ford E350 Camper Van
Since its introduction, the Ford E-series has hugely succeeded the American automaker as a replacement for Ford F-series. The Ford E-350 Camper Van is among the Super Duty designs with strong brakes and springs and top-notch towing ability.
Although its production was discontinued in 2014 and was replaced by Ford Transit, the Ford E350 Camper Van and other Ford E-series vans are undoubtedly highly reliable AWD vans for off-roading. Its design makes it the ultimate Overlanding building platform.
When it comes to versatility, the Ford E350 Camper Van is arguably the king. This van incorporates high-quality and reliable chassis used in almost everything from Ambulances to C Class RV's and basic delivery vans. The best part is that the Ford E-350 Camper Van is relatively affordable despite its top-notch functionality.
Additionally, it is available in different engine options, including a 5.4-liter V8 engine and a 6.8-liter V10 engine. If you prefer diesel engines, you can have access to Ford E-350 Camper Van vans with 6.0-liter and 7.3-liter capacities from 1992 to 2010.
Winnebago Revel
The Winnebago Revel utilizes the Mercedes Sprinter 4×4, which makes it a highly reliable 4×4 camper van. Furthermore, it incorporates a 3-liter turbo-diesel engine which makes it a perfect van for off-road adventure.
The van incorporates a modern design with a sleek interior design with a 79″ by 49″ bed at the back. Below the bed, you will have access to garage space. The van also offers a wet bath, a full kitchen equipped with a single induction burner, above-cab shelving, a removable pedestal table, drawers, and a refrigerator. These top-notch features, along with its 4×4 system, make the Winnebago Revel an excellent van for camping along with other outdoor activities.
Latest-model 2022 Winnebago Revel is built on the 4×4 Mercedes-Benz 2500 it's the 144-inch wheelbase platform of Mercedes-Benz Class B Sprinter. One of the features of this model is that it is all-electric, therefore you don't need to worry about gas bottle refill and propane gas detector.
To meet more intensive use of electricity – there are two 100 watt solar panels installed n the van roof with a total capacity of 200 watts owners will be capable to get about 50 to 60 amps to the battery during the regular sunny day.
Since it is a camper van built on the Mercedes cargo van, the occupant cargo carrying capacity is 1757 pounds, so it has good and efficient OOC for passengers and supplies such as water, food, and gear for outdoor activities.
The Winnebago Revel 4×4 chassis sit 4 inches higher so compared to a regular 2WD chassis on the Mercedes-Benz 2500. Once the 4×4 mode is activated electronically by a driver, the torque is divided between the rear and front chassis. 65% applied to the rear and 35% to the front chassis.
Final Words
Finding a reliable 4×4 and AWD van to convert into a camper is arguably the most exciting part of a build. However, if you are on the lookout for a 4×4 and AWD van, finding one that will best suit your needs can be challenging, but after going through this article, you can comfortably settle for one of the vans discussed here. These vans are undoubtedly some of the best vans available in the United States. As we conclude, we hope that you have found this article beneficial.