We've listed out some of the essential accessories that you'll need in your kitchen. As soon as you get to the end of this article, you will know how to equip your motorhome kitchen.
Have you decided to set up your motorhome kitchen? If yes, then you are at the right spot!
Motorhomes are different from traditional houses; of course, it's because you live in a moving vehicle, and the space is limited. But don't let space fool you into depriving accessories.  You can still make your motorhome kitchen look excellent by including the necessary things.
Cooking will be made easy only when you have the right accessories and gadgets. While you are on the go, ensure you have the basic utensils and machines.
There's a difference between stocking up a regular kitchen and a motorhome kitchen, and this list will tell you what you need to make your motorhome kitchen a great place.
Measuring Cups and Spoons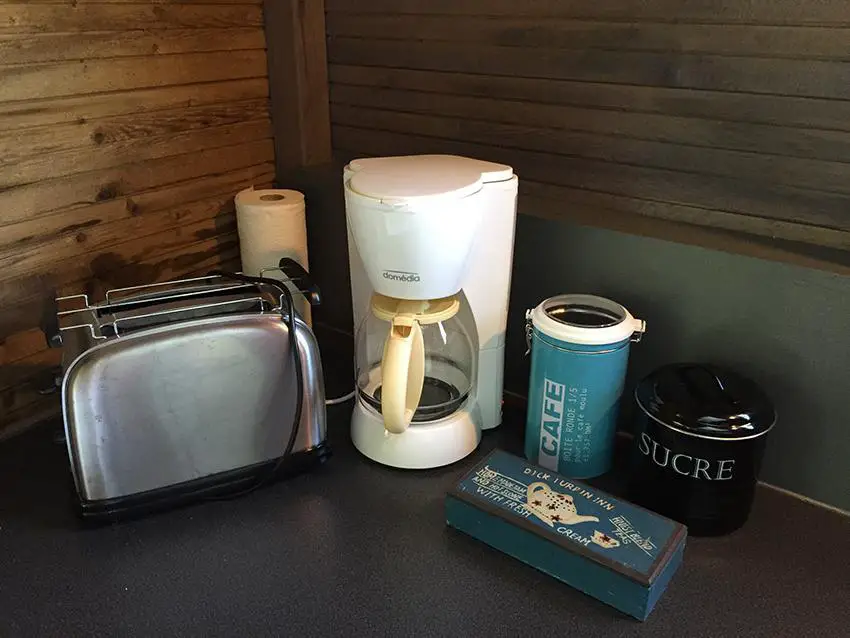 You cannot travel without spoons and measuring cups. These are the necessities for cooking, and your kitchen is not complete without them. Having a set of measuring cups is essential; adding the right amount of ingredients helps you prepare a dish better. You can either get steel measuring cups or go for the plastic ones.
The best thing about measuring cups is that they all can be stored together in the biggest measuring cup. This will help you save some space too.
Measuring cups are bought as a set making the purchase easy for you. Also, go for cups that are durable and have good quality.
Stackable Bowls
After the measuring cups and spoons, another equally important and space-saving product is the stackable bowls.
You get different sizes of bowls that you can store one in one.
Bowls are needed for a lot of things. You can eat food directly from the bowl, fill it with snacks to munch on, or mix flour or anything at all.
Get bowls that are long-lasting and choose the ones with the lid as it's always good to cover the food. So, if the bowls come with a lid, you can use it for storage too.
Cutting Boards
Another essential kitchen accessory is the cutting board. It's as essential as the spoons and bowls. When you are looking for a cutting board, always make sure that they are lightweight and handy.
Since a cutting board is something you'll often be using, inside your caravan or outside, you must be wise in choosing a good one.
You can choose to get a set of cutting boards if you wish to have separate boards to cut different kinds of food items, like meat, fruits, fish, and vegetables.
Many compact cutting boards are easy to carry and easy to store. You can choose wooden cutting boards too. But make sure to find something that doesn't weigh a lot.
You can also buy attractive and colorful boards if you are into decorating your motorhome kitchen.
Microwave Cover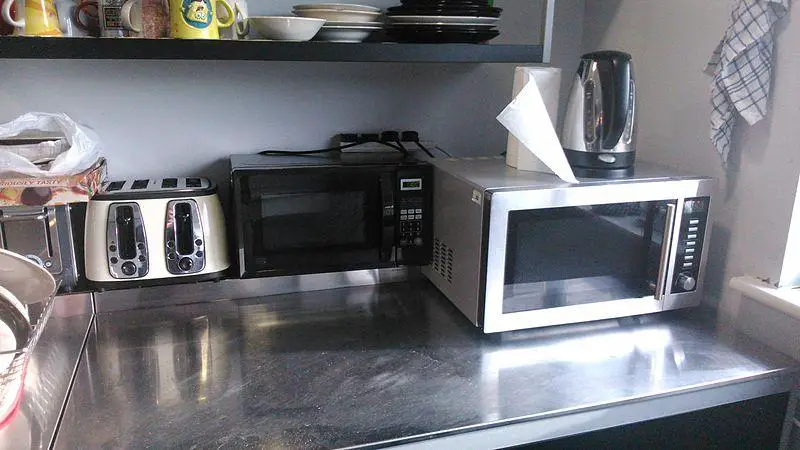 Microwaves have made cooking easier. And having one in your motorhome kitchen is the best thing you can do. But if you are having one, you need to keep it clean.
While you travel on the road, dust might accumulate in and around the microwave. And if it's something you are using for a long time, you should protect it well.
A microwave cover is the one that solves the problem. It keeps all the dust and other dirt from getting onto your microwave, and you can be sure of its performance too.
Save up a lot of time by getting a microwave cover. Find a cover that is foldable, so it becomes easier to place it aside while using the microwave.
Collapsible Strainer
Another great accessory that's worth winning some space in your motorhome kitchen is the collapsible strainer.
You can use this strainer to wash fruits or vegetables. Since it's collapsible, you can easily store it when you are not using it. With this type of storage, this accessory wins most of the points.
If you can't get a collapsible strainer, then you can get a set of strainers that vary in size. These strainers are easy to store too, and they don't take up a lot of space.
You can choose the sizes according to your needs.
Dish Drying Rack
A dish drying rack is one of the best things to have in your motorhome kitchen.
After washing the dishes, leave them on the drying rack. Only when the water is drained completely can you store the dishes in their respective places.
There are dish drying trays that are collapsible too. All the collapsible accessories are the space-savers.
Electric Kettle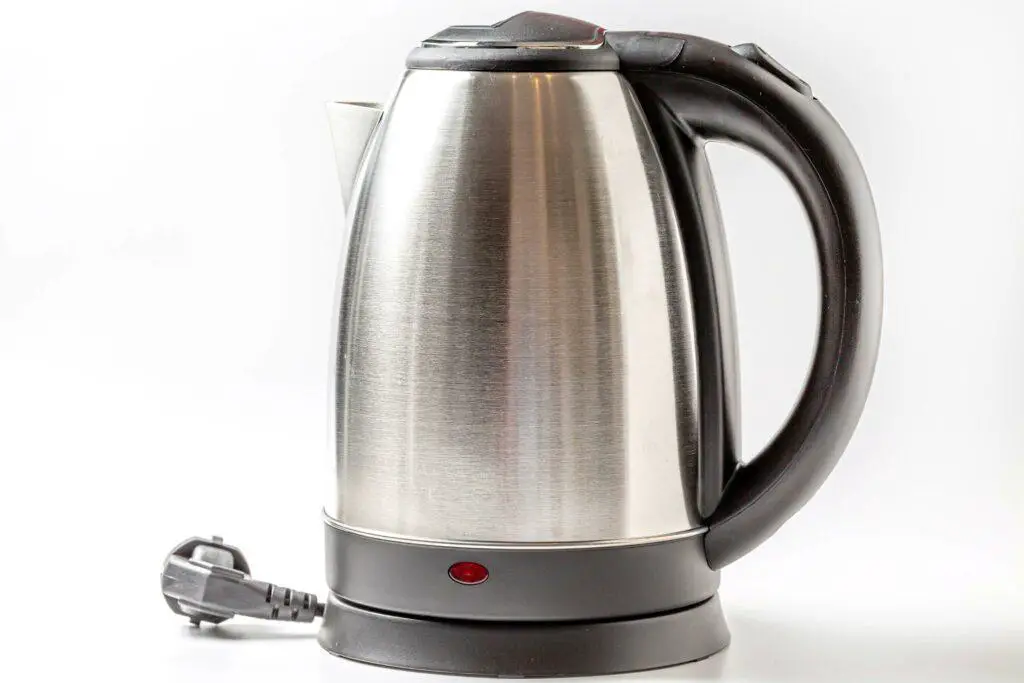 If you like to enjoy coffee, then you should get an electric kettle. It will save you a lot of time.
You can use an electric kettle to boil water, so if you need to make coffee, tea, or any hot beverage requiring hot water, you should get this one.
Find a kettle that can hold up enough water and, more importantly, know how durable it is.
Though an electric kettle could take up significant space on your kitchen counter, its use makes it more prominent.
Slow Cooker or an Instant Pot
Another essential accessory that your kitchen needs is the slow cooker or an instant pot. These help you cook your food faster and make it more efficient.
Like the electric kettle, these might take a lot of space, but they are worth purchasing if you want to save up time and have good food.
An instant pot is most people's favorite. You get your food cooked in minutes. And it's easy to use. You just have to add all the ingredients into the pot and select the kind of cooking like pressure cook or sauté. There's also a keep-warm function which is great to keep your food warm.
Relax and check back when it's ready.
Also, cleaning becomes so much easier when using these appliances.
Organizers
There are a lot of things you'd want to carry within your motorhome kitchen, but setting them could be very hard.
But if you choose to buy shelves, hangers, and draws to organize your things well in the kitchen, it would be great.
Have all the knives and spoons in one draw, then move on to organize bowls and cups in another.
Sort things to help you find them easily. Hanging the ladles and spatulas on the hangers will make it convenient for you.
Garbage Holder
The problem with the garbage holder is that it takes up a lot of space, especially if you have a large bin.
You need a good-sized garbage bin, but if space is the issue, try finding garbage holders that can be mounted on the wall or in the corner of your motorhome kitchen.
You can either get bins or frames that hold plastic bags. Your choice depends upon how much space you are ready to give to your garbage holder.
Pots and Pans that Save Up Space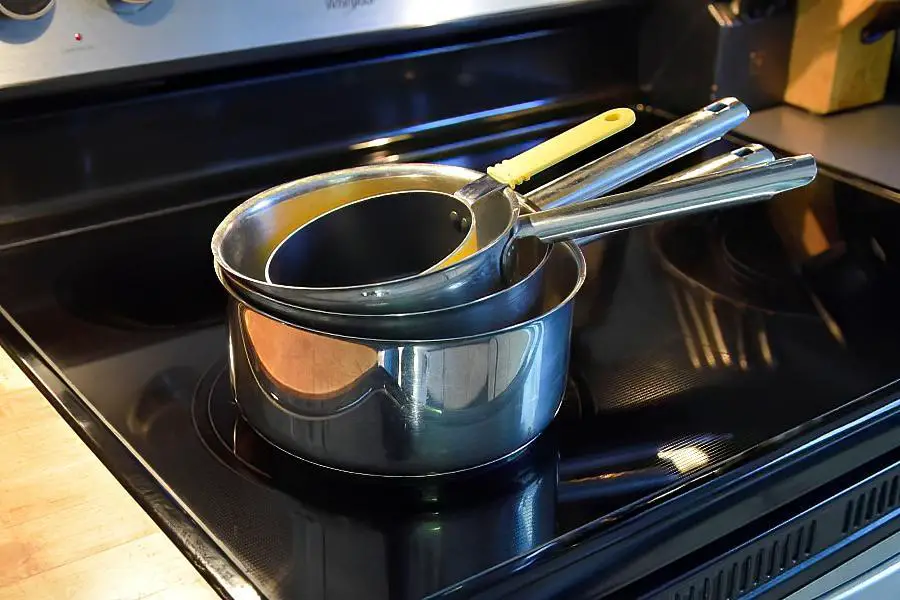 Like the stackable bowls, it would be beneficial to get pots and pans that save up a lot of space.
These are the essential utensils that you will be using to cook your food, so try to get a set instead of buying them individually. When you buy them as a set,  you'll be able to store them well in your cabinet without having them placed separately.
Always consider storage space when you get things. It will help you keep your kitchen well organized, and a well-organized kitchen will help you cook better.
Knife Holder
Get a space-saving knife holder for your kitchen. You can mount it on the wall and have easy access to the knives you need.  
Try to find a good quality knife set that is durable. Having them on the wall will help you save a significant amount of space in your kitchen.
Plates
When equipping your motorhome kitchen, you must make sure that the things are durable and can resist the camping environment.
When choosing plates, go for something unbreakable and indestructible. You need to get the strongest plates for more extended durability.
It's easy to find plates with good material. Also, find the ones that are easy to clean.
Acrylic Tumblers
Just like the plates, you need to be picky with the tumblers too. These things are used more often, so you need to get the ones of excellent quality.
An Acrylic set of glasses has great resistance power and is highly durable.
You can also find some attractive designs that will look great on your cabinet.
Wrapping it Up
We made sure to include the most necessary accessories that are best for your motorhome kitchen. Set up your kitchen with the essential appliances and accessories and upgrade its use.
Most of the accessories on our list are space-saving. We understand how the motorhome kitchens are built, so we created this list with the possible additions capable of making their space into your motorhome kitchen.
Make your cooking experience more delightful while you organize it well.
The ultimate motive of this list is to help you find the right accessories that are necessary, space-saving, durable and will save your time.
Have you decided on what to get yet? We hope you will create a great kitchen space for your motorhome!
We also made a list of must-have accessories for your caravan or motorhome and simple caravan hacks you need to know.