There's an abundance of items that can go into a caravan, but if we're talking about the essentials, here is everything you need for caravanning:
Caravan leisure battery
Electric hook up
Water pump
Water containers
Matches or lighter
Mains water hose – even if you plan on going to fully serviced caravan pitches
Gas – Refillable gas containers are ideal 
Barbecue – Not quite an essential item but caravanning is all about enjoying the great outdoors, after all!
Wing mirrors/Towing mirrors
Washing line or clothes dryer – For wet towels and clothing
Cleaning equipment – For toilet, shower, sink, and kitchen
Generic tool kit – Just in case!
Smoke and carbon monoxide alarm
Fire extinguisher 
Bucket(s) – Great for storage, holding cleaning equipment, and to hold water to put out a campfire 
Caravan step – To prevent injuries
Awning – For extra sheltered space outside
Ground sheet – To keep your awning and the quality of the grass nice and smell-free 
Folding table and chairs – For outdoors dining
Emergency fuse and bulb kit
First aid kit – Including pain relief medication, bug spray, sun screen, band-aids, bacterial wipes or gel, and personal medication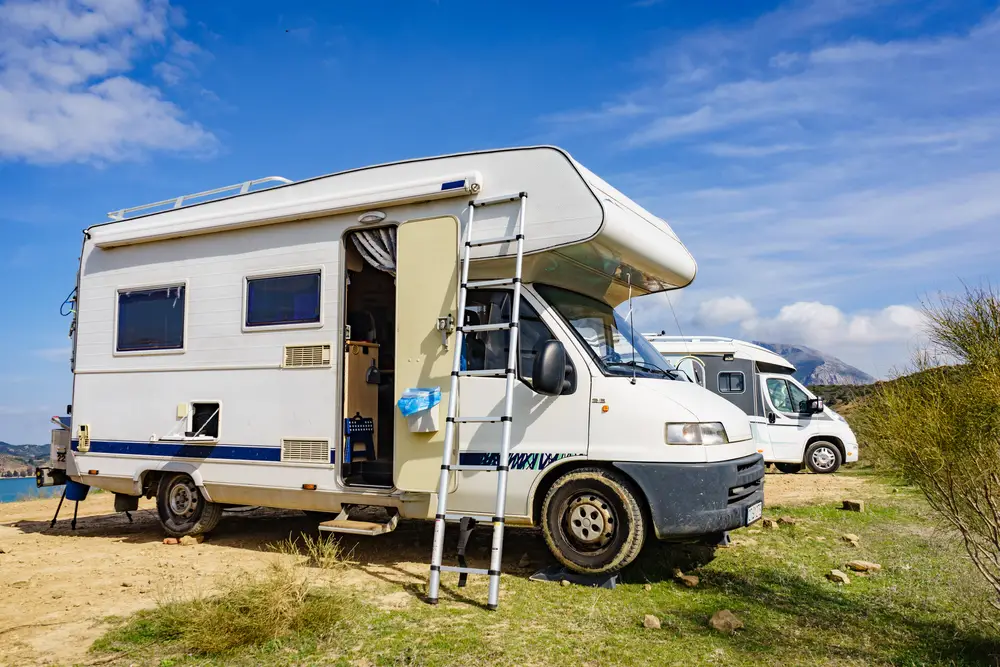 Here are the less essential items for caravanning:
USB Bluetooth speaker
Camping games – Board games, Twister, card games, you name it!
Cutlery, mugs, and crockery
Bedding – Duvet, duvet sheet, or sleeping bags depending on the size of the caravan
Oven gloves, tea towels, and rags
Pots and pans
Cutting knives
Bath towels – Plus an extra one to use as a bath mat (or a bath mat itself!)
Cooking utensils and barbecue tools
Kettle
Random kitchen items like bottle opener, scissors, and can openers – You never know what you might need
Extra clothing and blankets – For when it gets cold
Caravan-safe heater – For when it gets really cold
Fan – For when it gets unbearably hot
The key to caravanning is to focus on the basics you would expect to have in a house. A caravan is a mobile home, after all, so focus on your water and electricity etc. before anything else. Then, fill in the rest of the space with everything you think could be useful!
What Should I Put In My Caravan?
When it comes to putting items in your caravan, you run the risk of either filling your caravan with useless items or not bringing enough stuff for your trip. The key is to focus on the basics above everything else, because an EHU is far more necessary than board games.
If you're running tight on space, you've got to prioritize the essentials. These include:
Electric hook up
Water containers
Water pump
Waste water containers
Wing mirrors
Spare leisure battery
Refillable gas containers
Mains water hose
Fire extinguishers
First aid kit
Once you've ticked off these essentials, then you can afford to pack other basic items (such as tool kits, cleaning supplies, awnings, buckets, and caravan steps).
Then, fill in the rest of the space with miscellaneous and entertaining items, such as a barbecue with a foldable table and chairs, kitchenware, heaters or fans, bedding, extra clothing, and games. 
You've got to think of it as a hierarchy of what you need. Imagine a triangle, with the bottom section of the triangle being the most essential items that would render the non-essential items at the top of the triangle useless. There's no point in bringing towels and bath mats if you don't bring a water hose and water pump, after all. 
Remember, a caravan is a mobile home, which means you've got to fill it with everything you would need in your own house. Of course, a caravan is far smaller than a home, so make sure to get your priorities straight. 
If you're new to caravanning, don't worry too much about forgetting the smallest of things like lighters or bottle openers. You'll remember to bring these when the next caravanning trip comes around. Plus, if in doubt, you can always buy supplies when you're on the road!
It might be worth designating a drawer or bucket to small objects that could be useful in any situation (such as a torch, matches or a lighter, bottle opener, pocket knife, and scissors). It's always better to be over-prepared than under-prepared, after all!
What Tools Do I Need For Caravanning?
Packing tools for caravanning can seem overwhelming because while you want to fill your caravan with every possible tool for any situation, you only have a certain amount of space.
Caravans can be driven on a variety of terrains, particularly some areas that don't have easy access to civilization, which means you don't always have the option to call for roadside assistance in the case of an emergency. Therefore, it's better to bring tools for any potential disastrous situation.
Most of the tools below are needed in general maintenance and winterization, so you might pack a separate tool kit in your garage. 
Here are the most essential tools for caravanning:
Brushes and rags – First and foremost, bring a bucket filled with cleaning equipment such as car wash, kerosene, and hardy brushes. These will be useful for the smallest of cleaning tasks like cleaning the bathroom to cleaning dust out of the engine. 

Lubricants – WD40 will be your new best friend in every situation, from helping parts run smoothly to greasing squeaky awnings.

Wheel wrenches and brace – Changing or fixing a wheel in a caravan isn't the same as a regular car, after all. 

Tire lever – Same as above. 

Electric screwdrivers – Try to get a cordless set to save space (but make sure it's charged!).

Sealant – Leaks in skylights and windows can be a nightmare in a caravan. 

Air compressor – Adjusting the pressure in the tires is essential for driving over various terrains such as sand. A gauge will help with this, too!

Wheel blocks – To secure your caravan when you are working on it while it's on a slope. 

Electrical and gaffer tape – This tape will fix virtually anything. 
You will naturally start your own list of tools to bring when you become more experienced with caravanning, so take our list as inspiration for the most essential tools!